The Second Annual
thecountryblues.com 
Best Album of of 2012 Award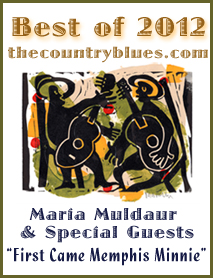 First Came Memphis Minnie
Maria Muldaur & Special Guests
Stony Plain Records, Canada
2012
This tribute compilation to Memphis Minnie is, in some ways, a form of musical emancipation of all women. The blues are undeniably a very male dominated genre. A case can be made that the great pioneer female blues singers never received their rightful place in the blues annals as bestowed on their male peers. Bessie Smith, Ma Rainey, Sippie Wallace, Victoria Spivey, Lucille Bogan, Albert Hunter, Sister Rosetta Tharpe, Big Mama Thornton, Big Maybelle, and even Billie Holiday, were well acknowledged but not always respected and honored in the same way their male compatriots received acclaim – some of whom were exalted and venerated to great, sometimes exaggerated heights. A case can be made that in blues radio, print and performance, the female singers unfairly took a diminished, minor role. In several decades of interviewing blues musicians and reading blues biographies, this writer cannot think of a single instance when a male blues musician has cited one of the great female singers as a major influence on their musical development. No wonder that it has been the mission of today's leading blues women to give recognition and awareness to the women who proceeded them – because these trailblazing classic women should be listened to. The women rightly insist on some respect and honor for their musical inspirations. In 2003, they already paid tribute to Sister Rosetta Tharpe on "Shout, Sister, Shout" and now it's time for the tribute of the musician who has been championed by Maria Muldaur for so many years, someone she has loved since 1963, the one she most often quotes as a major source of inspiration and the musician she has covered most often. Maria Muldaur called out some of her female blues compatriots to take matters into their own capable hands, and voila, here is a fine tribute done with love and admiration.
Let's start by overcoming the likely objections: A fair number of the tunes included on "First Came Memphis Minnie" were previously released. Indeed, all eight tracks featuring Maria Muldaur came from her previously-released Grammy-nominated albums. Only three of the songs on this album are new recordings by Rory Block, Ruthie Foster and Bonnie Raitt. "First Came Memphis Minnie" also features two classic songs from Koko Taylor and Phoebe Snow. Koko's track comes from her CD, "Old School", released in 2007; and Phoebe's from "It Looks Like Snow", released in 1976.
That means, if you already own the albums from which Maria took these reissues, you may just want to get the new tracks from i-Tunes and not pay for the whole new CD.
On the other hand, chances are that most people do not have all or most of these songs, so this compilation becomes a convenience. That having been said, the fact that this "loving tribute" is heavy on reissues is far surpassed by the many wonderful aspects of the album.
Maria Muldaur said of her idol, "At a time when women were 'kept in their place,' both personally and professionally, Memphis Minnie was tough, independent, outspoken, and played a mean guitar! But, she was more than just a guitar hero of early country blues. She ably adapted to newer trends and modernized her style, which helped account for her years of popularity. Memphis Minnie was one of the few figures to make the successful transition from the rural, acoustic guitar-dominated blues of the 1920s to the urban nightclub styles of the '30s, '40s and '50s. She was tough, determined, talented, and courageous enough to defy and overcome all the racial, social, economic, and gender barriers that existed in her time, forging the life she envisioned for herself on nothing but her own terms!"
That may well be an overly romanticized description of Minnie's life and career as some sort of feminist icon, which certainly was not the whole picture, as Minnie (whose birth name was Lizzie Douglas) did not walk an easy road as some sort of superwoman heroine. While she was a successful blues artist in her time, she nonetheless had a hard life that included running away from home as a 13 year old kid and making her way on bawdry Beale Street in Memphis in the turbulent year of 1900, which was, at the time, one of the wildest black entertainment districts in the USA. Besides playing guitar and singing on the street corners, she slipped into prostitution. She was married three times. All indicators are that she fared a bit better in her musical career than most women of her time (or most blues musicians, period) she nonetheless lived a tough life that was not free of exploitation and abuse. Unquestionably, Memphis Minnie was a gutsy woman, a bit wild and headstrong, with all her raw sensuality and sexy juke joint teasing. Mostly, she was a powerful singer and songwriter, an incredible guitarist and a huge influence on all women in the blues who followed her footsteps. She was also a pioneer as one of the first women to bring the electric guitar into her performances.
This album showcases not just some of the great songs written or performed by Memphis Minnie, it brings these songs to life with passion and truehearted love for this great singer. The protagonists honor their lascivious and headstrong heroine with graceful versions of the original. Maria Muldaur's ardent eight covers are exquisitely performed with sheer devotion. Her love for Memphis Minnie comes through unencumbered, as perhaps Minnie's greatest fan and advocate. The set of Minnie's songs as performed by Maria Muldaur is backed by some of the finest instrumentalists in the acoustic blues: Alvin Youngblood Hart, Del Rey, and Steve James on guitar and slide guitar; Dave Earl and Steve James on mandolin
Bonnie Raitt has only one song on this album, "Ain't Nothin' but Rambling" which will drive Bonnie's large fan base wild. Steve Freund accompanies her on acoustic guitar with tasteful subtlety as she takes you back to Bonnie's early days as an acoustic country blues singer, and this wonderful cover alone make it worth to buy the album. Rory Block showcases her refined skills, mimicking Memphis Minnie's sexy charm, on "I'm going back home" which she sings in her sultry, captivating way, accompanying herself superbly on guitar. The late Phoebe Snow's version of "In my Girlish Ways" , backed by David Bromberg, reminds us what a wonderful blues singer we lost. Her captivating rendition of the famed song, so often performed by Maria Muldaur, is sung in her trademark sweet and angelic voice, perfectly and pointedly. Ruthie Foster's version of "Keep Your Big Mouth Closed", also with Steve Freund on acoustic guitar is simply wonderful, a testament to Ruthie's status as one of today's most important blues women.
The late Koko Taylor, one of the true heir to Minnie's legacy closes the album with "Black Rat Swing" backed by a full electric blues band featuring Muddy Water's guitarist Steady Rollin' Bob Margolin on guitar.