The First Annual
thecountryblues.com
Best of Album of 2011 Award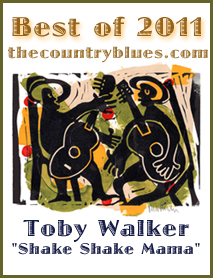 Toby Walker
Shake, Shake Mama
Bug Music
If you haven't heard the whistle of Toby Walker's ten-thousand ton locomotive as it has been chugging along the acoustic blues track with a thunderous roar, it's time to look out and get out of the way, because his engine is fired up and unstoppable. Musically, this is his peak time, right here and now! The man tears it up. Toby Walker with his trademark jaunty hats, has emerged as one of the biggest sensations in the traditional acoustic blues.
There are a chosen few who have come so far that they would make the original performers of the golden era of the blues proud, who are the total package as entertainer, guitarist and singer– who could walk back in time and sit with the original greats, lay down a beat and get them to dance, boogie and shuffle along with him. Toby Walker is such a man and this is his masterpiece. Here he pays loving and respectful homage to the old masters. While he is a great songwriter, this time he gives us covers of the old blues that we all love so well and nothing but.
Walker is a bold, tight guitarist who understands the wide country blues spectrum, delivering an exciting and fun stylistic repertoire. In this CD he gets down to the nitty-gritty of showing his prowess as a fingerpicker and slide player, delivering straight ahead country blues from Piedmont to Delta. He has always been a powerhouse entertainer, and he likes to spice his recordings with humorous hokum & witty double entendres, which sometimes detracted from the music itself because people focus on the entertainment, on the funny puns and witty stories. Sometimes they missed the fact that they were listening to one of the best blues "musical" performers in the country today, as Walker's sheer virtuosity sometimes took a backseat behind all the chuckles and smiles.
This time he sat down to strip away a few layers of the showmanship and concentrated on musicianship. The boy can pick, slide and swing the blues like mad and he is a rich, raspy singer with a perfect blues voice. You don't get to be this good unless you spent a lifetime at it; and, many that do and have reached international fame will tip their hat to Toby because they know he is one heavy cat.
Shake, Shake Mama aptly showcases Walker's masterful virtuosity. There are few people that can swing from Delta to Piedmont ragtime and in each sub-genre hit the sweet spot and reach the pinnacle of technical perfection. He energetically delivers a lovely package of blues covering the gamut of country folk styles on a great assortment of classic blues guitars. Whether its fancy fingerpicking or foot stomping delta slide, Walker shines, supported by his wife Carol Walker on upright bass on most tracks. He did not seek out the most obscure and esoteric songs from the back of the vault; but, mostly takes on well-known, often covered songs. As such he took on the risk of slipping into frequently heard clichés, but no worries. In each case he makes the song his own.
There is just one bad thing about this CD. It is likely to get more than a few good blues musicians to hang up their guitars and go and retire to play checkers, and right about now we need all the blues players we can get.
Details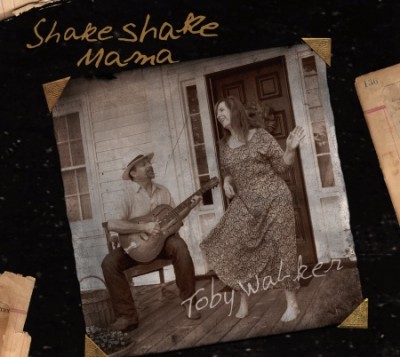 The album starts of with the title cut "Shake Shake Mama" a fingerpicking ditty  in the key of A, by Mance Lipscomb. He stays on the 1968 Harmony 1260 Sovereign Jumbo for another tune, doing a thunderous version of "Crazy About An Automobile" a traditional that most of us know from the Ry Cooder cover. He sounds like two or even three people playing as he rips out a smokestack lightning solo while keeping a hard driving beat on the bass strings on this shuffle. He then barrels into Willie McTell's mournful "Mama Tain't Long For The Day" switching to a 1967 Harmony 1270 Sovereign 12 string, emotively wailing a sad cry with his masterful slide.
He tackles the often covered "Traveling Riverside Blues" in Open G, by Robert Johnson, while managing to give it a unique spin on the 2004 National Tri-Cone – again showing mind-boggling slide prowess. Then he tears onto Blind Boy Fuller's classic "Keep On Trucking Mama" this time switching to the 2009 National Triolian. Then he pulls out Blind Blake's "Tootie Blues" easily progressing into the rag with a swinging lilt, mustering the difficult fingerpicking while keeping the fun in the song. By the time he gets to "Keep Your Lamp Trimmed and Burning" in Open D by Blind Willie Johnson, he flails that little 1900 Columbia parlor guitar with a wicked slide. Again, an often-covered song but arranged and performed uniquely.
Walker plays electric on " I Got To Love Somebody" by Muddy Waters using 1960 Harmony Stratotone with a 1962 Sears Silvertone amp. Things get heavy on "Midnight Special" by Huddie Ledbetter when he slows it down for a rhythmic frenzy using a very cool sounding Mike Hauver Barbeque Bob 12 string guitar in standard tuned down 2 whole steps to CFBbEBGC. Big Bill Broonzy would be proud of Walker's rendition of "Shuffle Rag" played on a 1936 Gibson L-00, an instrumental that aptly shows that Walker's brilliance as a picker. Then, back on the National Tricone, he switches over to a Delta blues classic, "Can't Be Satisfied" in Open G, by Muddy Waters, again demonstrating that his cover can hold its own, even against monsters like John Hammond who had made the song his own. "What's The Matter Now" by Mississippi Fred McDowell comes up next in Open D, as Walker is now back on the parlor guitar to get that real down in the bottoms feel. Blind Boy Fuller does not get left out as Walker does a lovely rendition of the famous rag "Meat Shaking Woman" playing a 1930 National Triolian as if it was the Great Depression. He then kicks up dirt with Blind Willie McTell's haunting "Broke Down Engine" taking the listener way deep into the natch'l blues, and every guitar-playing listener will now want one of those Mike Hauver 12 string guitars.
He gets back to Muddy with a cover of "She's 19 Years Old" which he does in deep Delta style on Open G, sliding on the 2004 National Tri-Cone. A lesser known tune, "Cigarette Blues" by Bo Carter, lets Walker sound just a bit like Lonnie Johnson on National Triolian. The album closes out with "Dry Spell Blues" by the great Son House when Walker gets out yet another classic guitar a 2004 National Style O. By the time you get to the end of "Shake Shake Mama" you feel like you have been to a revival meeting for the old time blues. Everybody is all shook up and their feet hurt from stomping too hard.