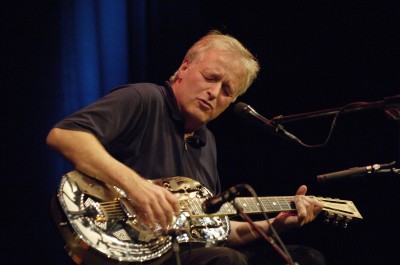 Some years ago, when this writer first played Willie's music on the radio in New York, the phone rang off the hook with everybody asking the same thing: "Wow, who's that?" When I told him it was a German bluesman, everybody was amazed. Willie Salomon is simply one of the best acoustic blues performers in the world, whether people know him or not. This guy is one fine player.
He has a perfect name for a bluesman, being an original Willie, 'cause there's a lot of Willie in the blues. You had Blind Willie McTell, Willie Brown, Willie Dixon, Willie B., Willie Cobbs, Willie Pooch, Willie Kent, Willie King, Willie Foster and now Willie Salomon. That fits well and this Willie is the real deal.
Geographically, South Germany is not exactly a prime launching strip for an international career as a country bluesman as, lets say, Mississippi or Chicago. Ironically, getting gigs for a country blues musician in Europe is probably easier than in the USA nowadays, as the blues is still well respected and even revered all over Europe and there is a loyal and dedicated German fan base. Nonetheless, this musician is not just among the best in Europe, but he's top of the A-list internationally, deserving of wider recognition and awareness. If you are a fan of the acoustic blues and you don't know Willie Salomon, you are missing out because he is an extraordinarily rich acoustic blues voice and has been for 30 year plus. It's time to give this amazing player his due!
Willie Salomon is a German-American who resides in Germany, essentially a German with American roots. His English is native without accent, which helps in international acceptance, as blues fans are sometimes unfairly hard on excellent foreign musicians just because they  can't master accent free English.
Willie Salomon carries a beautifully wide repertoire spanning the entire spectrum and styles of pre-war blues and he can take you from Piedmont to Mississippi Delta, from Betonia to Ragtime to early jazz, seemingly able to master any instrument he touches with amazing musicianship. He carries a true passion and burning love for the music and that comes through note for note. Willie Salomon plays it hot, with feeling and sensitivity, with just the right playfulness and joy to make us remember that the blues is a celebratory music, which always carried an undercurrent of pain. Sometimes people fail to get the essence of the music, even if they mimic it well, because they don't fully understand the core this feeling. That word "authentic" is often misused to imply "sounds like it used to way back when". Often it "sounds like" but just does not "feel like" the deep blues. Willie Salomon has achieved both—mastering the musicianship and carrying on the truehearted feeling of the old time blues. That's more than merely emulating, it is an intrinsic connection with the core feeling of the music.
Willie Salomon is a world-class, top-tier virtuoso fingerpicker, and a wicked slide guitarist, on 6 and 12 string National and Gibson guitars. He also plays a tastefully understated harmonica, with sophisticated styling and phrasing. When he lets loose on the barrelhouse boogie-woogie piano the house comes down. Seldom does a virtuoso guitarist play piano that well. All around, Willie Salomon is simply a wonderful traditional blues master, a living treasure of the acoustic blues, as important in carrying this vital music into the 21st Century as his big-name compatriots.
He performs at some of the best music festivals and is critically acclaimed wherever he shows up. Hopefully he will show up where you are. If not, definitely check out his CDs.
Recommended starters:
Just in Time- Acoustic Music Records and Country Blues- Rough Trade.