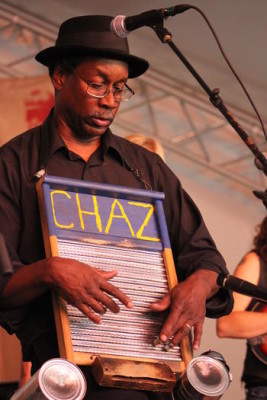 If you want to see Washboard Chaz you have to go to Frenchman Street in New Orleans, maybe to the Spotted Cat or the Blue Nile, or some other club, or at Jazz Fest.
Shit, you might not see him there. You used to, but the event got to big and haughty. If he gets frozen out of there he might again be at Chaz Fest, which the local musicians who were locked out of the increasingly corporate event put on as an alternative. The much smaller but no less spectacular protest Chaz Fest is held on the 3000 block of St. Claude Avenue the same time as Jazz Fest. Chaz has become the iconic figurehead of the local musician's stand against corporate takeover of music.
If you are lucky you can catch him on tour or at a major summer festival or in Europe. Lots of people know him from his appearances in the Playing for Change videos, when Italian slide player Roberto Luti was still busking with him. Roberto had to leave and go back to Italy due to immigrations issues, and now he is in a various combos, among them the swift country blues Washboard Chaz Trio, lately with a very talented but dour slide player named St. Louis Slim and harmonica player Andy Forest. Chaz favors snappy slide players, and Luti always hit the sweet spot, a tough act to follow but St. Louis Slim seemingly keeps up. He unsmiling lad plays it nicely but looks like he is in a torture session, either because he is playing so intently or
Chaz, originally from New York but now a Nola institution, is a superb percussionist, and we can think of no other washboard player who fronts a blues ensemble. He moved to New Orleans in 2000, and is now as much part of the local scene as Irma Thomas and the Wild Magnolias. Chaz is one of a kind. The trio has a deep roots vibe, a tight groove anchored by the washboard and the rhythmic guitar beat. Chaz is a mesmerizing character, a singer with a distinct blues voice, occasionally reminiscent of another great New Orleans singer, Snooks Eaglin.
He was the winner of the 2010 " Best of the Beat" award in New Orleans for "Best Other Instrumentalist", playing washboard, and he has become one of the big attractions for blues fans visiting New Orleans, and he is one of the great country blues performers.
His own biography states, "Chaz has shared the stage with Bonnie Raitt, John Hammond, Taj Mahal, Anders Osborne and Corey Harris among others. He has opened for many blues greats, including Muddy Waters, Robert Cray, Doc Watson and Keb Mo. Chaz's musical talents have been featured on over 100 recordings, including John Hammond's 1998 Grammy nominated "Long as I have You" He has played festivals and clubs from coast to coast, including the Bottom Line in New York City, the New Orleans Jazz and Heritage Festival, Telluride Blue Grass Festival, the American Music Hall in San Francisco and Red Rocks Amphitheatre in Denver. He has played successful International tours, with his band Bleecker St. in Germany, in Holland and Germany with David Booker, and in Japan with Chris Mule.His Blues Trio and Tin Men have performed in Japan and all over Europe. Chaz is also a featured performer in the wildly popular Playing For Change, appearing in videos with Keith Richards, Keb Mo and members of the Grateful Dead, among others."