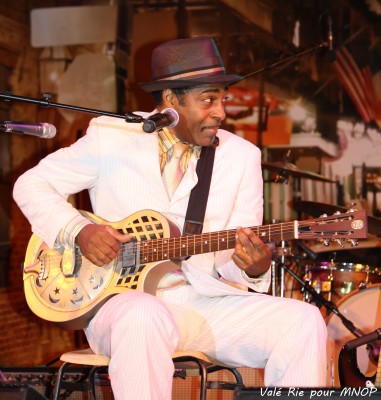 Mississippi bluesman Vasti Jackson, originally from McComb, now residing in Hattiesburg, doesn't like being pidgeon-holed. "I am not a blues-eum," he asserts brashly, with a confident swagger in his tone, "I play acoustic modern blues music." The well-spoken bard is an incisive protagonist for the musicology of African-Americans covering the entire 20th Century, from blues to gospel, from Jazz to R&B, Soul and Funk and he incorporates it all in his music. Mostly, he could not be typified as a country blues musician. He likes paying electric and he is good at it. His long and illustrious career, for example, includes a major stint playing guitar for the great Swamp Boogie Queen Katie Webster.
Yet, his acoustic side has always been an intrinsic part of his musical persona, since his early childhood in McComb, Mississippi, when he listened to his guitar and harmonica playing folk-blues musician grandfather, Samuel Jackson, Sr.  His grandmother Mary Jackson was a religious woman who loved gospel music and the radio of the 1960s and 70s filled his head with the amalgam of the American musical experience. He soaked it all in and played his first professional gig at 15 with local bluesman Big Moody. He studied music at Jackson State under instructors Kermit Holly, Jr., and William W. "Prof" Davis. His other local mentors included Jesse Robinson and Skeets McWilliams.  Vasti Jackson has played it all and done it all, including co-producing Rush''s Grammy nominated CD "Hoochie Man." During his career he has worked with some of the best, including Cassandra Wilson and Michael Burkes, New Orleans pianist Henry Butler and many more.
When talking to Vasti Jackson it becomes very clear that there are very few people who play music who can so clearly articulate the entire African-American and American roots musicology with an almost encyclopedic knowledge. Usually, musicians leave that up to the folklorist and ethnomusicology scholars. Not Vasti Jackson, who talks as passionately about music as he plays it. Not only that, but he loves it all, from sophisticated uptown jazz to shake-it-on-down juke joint blues, from gospel to modern R&B. He talks as lovingly about Alicia Keys and he does for Duke Ellington. He said, "The blues has to grow. Every generation has to find its own form of music.
Vasti Jackson is one impressive character, a man of profound knowledge and of keen intelligence with a deep understanding of music theory and music in all forms. That's one reason why he is a successful producer, performer, actor, entertainer and musicologist, a bluesman who reports that he does not drink, smoke or take drugs.
As a young man he experienced the agony and pain of racism and violence of the 1960s during the Civil Rights movement, when McComb experienced bombings of homes and business, including musical clubs that were pro-integration. These experiences shaped the Weltanschauung of the times, and as a child in that era surely affected Vasti Jackson.
Over the past few years, Vasti Jackson has been active in numerous Robert Johnson celebrations. His recent series of tributes to Robert Johnson include playing the lead character in the 2011 theatrical production of the stage play "Robert Johnson – The man, The Myth, The Music!"  While he appreciates Robert Johnson, he is not glamorizing RJ over the others of his period and he professes admiration for Lonnie Johnson, Tommy Johnson, Big Boy Crudup and many others. Yet, he articulated affinity for the often maligned bard Robert Johnson, "There is a comforting nature in the sweep of Robert Johnson's vast musical expressiveness which extends way beyond the blues," he professed.
There is hardly a musician who hates his job, but there are few who so exuberantly enjoy their musical lives as Vasti Jackson. "I am truly blessed," he told thecountryblues.com,"the music I make is what I choose to make. I am not bound by any external force, not by a record company, not by anyone. I am free. People pay me to indulge in my passion. I am graced with music."