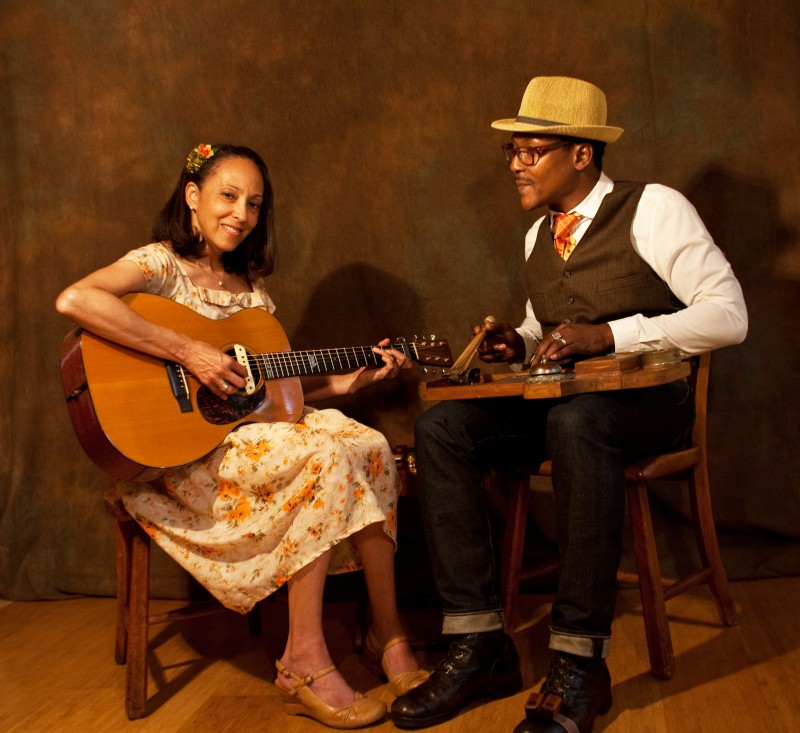 The upcoming next big-thing of the acoustic blues in the Mid-Atlantic, Piedmont tradition, is found in the borough of Queens, New York, with the husband and wife duo Piedmont Bluz. Singer/guitarist Valerie Turner and her husband Ben Turner, percussion and harmonica, continue this rural acoustic blues style in the big city, which is not unusual. After all, this is where the Reverend Gary Davis made his home and where he helped ignite the blues-revival as teacher and mentor to many budding young New York musicians in the 1960s.
The rising duo Piedmont Bluz is not yet well known, but they soon will be.  The Turners are urban, educated, successful African American professionals who are steeped deeply in the traditional country blues with direct lineage to the old time music. They play music for the sheer joy of it – they play it well and take it very seriously, and have worked very hard.
Valerie was a student of the late, great Piedmont blues singer and songster John Cephas, who urged her to carry on the musical tradition. As John Cephas lived in Virginia and Valerie in Queens, she needed a local teacher to supplement her training, so John Cephas sent her to local maestro Woody Mann, who himself had studied directly with Gary Davis. Woody expanded John's mentorship by teaching Valerie theory and technique, by exposing her to a wide range of blues material, and by giving her confidence and encouragement to perform.
Valerie Turner speaks with deliberation, slowly and thoughtfully, each syllable carefully enunciated. She immediately impresses as an articulate, educated person who has spent time perfecting her diction and voice projection– perhaps as actress or a teacher. Indeed, she studied languages and elementary education at Queens College, and joined the noble New York teaching profession, only to find that her mother's calling wasn't necessarily hers. As a linguist, she studied Spanish, French, Italian, Portuguese, Chinese and Russian. Then, she went on to the prestigious New York University to study Information Technology, the field in which she has made her career.
Petite and gentle, Queens native Valerie Turner has always had an interest in music. As a child she listened to everything from folk to classical, and started guitar quite young. As a late teen she found "The Best of Mississippi John Hurt", an album that was a life-changing experience for the young musician. "I was impressed and moved by the complete sound John Hurt was able to get. He played fingerstyle, with the bass line and melody and singing in such harmony and unison, I knew right then and there that this is how I wanted to play. That style, that way of playing, touched and affected me deeply."
Only later would she learn that John Hurt was unusual and that his style was more in keeping with Eastern US blues traditions than Mississippi style*.
Her brother, Jason Wright, was encouraging and fed her newfound interest in folk blues by turning her on to a wider range of musicians, but her teenage peers were less than encouraging. "People were not mean about it but they were not into it. The music I was playing was not popular at all. I did not know anybody who liked this music. But, that didn't matter. I loved it. My brother encouraged me and helped me." At Queens College she followed her new passion at the vast music library, checking out the blues collection and educating herself. "I went home and took all I could from those records, learning riffs and studying every aspect." She connected with the albums of Gary Davis, Elizabeth Cotten, Blind Blake, Memphis Minnie and many other "originals."
She wanted to reach the next level of playing and realized that she needed help from a teacher. Like any smart young woman she conducted a Google search. In an astonishing twist of fate, and in the ultimate testimonial for the efficacy of the modern communications age, she actually found singer/guitarist John Cephas online. So, she was led by the internet to one of the greatest, kindest and most wonderful living practitioners of the Piedmont Blues, the duo partner of Cephas & Wiggins. John Cephas and harmonica master Phil Wiggins were the direct continuation of the great tradition of the guitar-harmonica duo of Sonny Terry and Brownie McGhee. It simply had to be the 'Hand-of-God' guiding her. "I emailed him and found out that he was in Virginia, so we could not meet right away because of the distance. Months later I met up with him when he came up for the IGS blues camp at Columbia University."
There are many young artists who love to be on stage, who relish the limelight and the attention and who sometimes take the stage filled with brash confidence long before they are ready. They learn on stage. Valerie Turner is the exact opposite. She just worked hard for a long period to perfect her sound, practicing in isolation at home without emerging out into the performing world. "I was painfully shy, to the point of severe stage fright. It took me a very long time to muster the courage to get out and play in public. My shyness was overwhelming. For example, when it came time for me to buy a good guitar, for which I had worked hard to save the money, I was too shy to try them out in the store. My husband Ben was very supportive and helped me to eventually emerge out of my shell and get out on stage. I finally agreed to go to Open-Mic nights. We went out of the city, way up north to the Hudson Valley Folk Guild, hours away from here in Queens. I figured, OK, no one I know will see me at work the next day and I won't have to be embarrassed. It took me a long time to get over the fright."
To her amazement, "People liked me."  Indeed!
Then, she and Ben attended the Riverside Blues Fest in Elkins, West Virginia. One of the bands was a no-show. Ben, who Valerie describes as, "My biggest fan, my best friend and greatest supporter without whom I would never have left my room," caught on to the situation and encouraged the organizers to let Valerie fill in the slot, spur of the moment. The empty-handed concert team gave her a shot and she was told "You are on in five minutes." She took the stage, still fearful, but she carried the show and the audience melted. "The entire time this old man was sitting in the front row, looking at me intently. He made me a bit nervous. After my performance I went up to him because I was curious why he was so fixated on me. It turns out that he was Nat Reese, the great Piedmont bluesman. He said, 'You were great. I thought maybe you would need some help up there, but you did just fine.' Unbeknownst to me, I actually opened the show for Nat Reese. I didn't even know who he was then. Later I learned that he was a good friend of both John Cephas and Phil Wiggins."
One thing led to another. At first they went to local showcases. Wherever she played, people paid attention, including at the famous Jalopy Theater, an institution of the old time music in New York. Now, several festivals have their eye on the newcomers and soon they will be a well-known name in the acoustic blues.
Phil Wiggins, one of the world's greatest practitioners of the acoustic harmonica blues, speaks of Piedmont Bluz in glowing terms, "They are just wonderful. The next generation. I just love them."
Ben Turner, who predominately plays washboard and is working on his harmonica chops, is now Valerie's steady duo partner, adding as gentle percussion to accentuate the sound nicely. "Musically I was inspired by Valerie. I had not been a musician before. She is my catalyst. I worked at it to develop a style that would fit well behind Valerie. Mostly I go lightly, with brushes. To a certain point I looked at people like Newman Taylor Baker of the Ebony Hillbillies and Washboard Chaz for inspiration." Originally from Trinidad, he immigrated to the US as an eight year old. Besides being a professional art director/graphic artist, he is a semi-professional inline speed skater who has represented the US internationally.
Ben and Valerie Turner are the type of people who will be successful at anything they put their hearts and minds to, and they are a breath of fresh air to invigorate the old time blues in the most delightful way.
When she went to the guitar store, with saved money on hand to get herself a nice Martin, for which she was ready as a player and on which she had her heart set. The sales clerk convinced the shy youngster to get a lesser guitar, a laminate Ibanez, telling her "You don't need that." At the time, Valerie was too shy to show what she can do to the misguided salesclerk. By now she owns Taylor, National and Martin guitars, including her first "good guitar" a Martin Elizabeth Cotten Signature model. Her favorite, however, is a guitar that she was allowed to purchase from John Cephas' estate, a beautiful cut-away Taylor 915 C.
With some pain in her voice she related an experience at one of the guitar workshops, "I was surprised that I was the only woman there and the only black person. They were all older white guys playing blues. They all had these fancy guitars and I was playing my cheap old Ibanez. They tried to be kind and say, "Hey, do you want to play MY guitar?" as if they felt sorry for me. During one dinner we all went and sat at the tables together and one of the guys said to me, 'What are you doing here? Black people don't play blues anymore. You are supposed to be playing rap'."
Valerie Turner may be a shy, petite young woman, but she is strong and she wasn't going to take that racialist nonsense. "That made me even more determined that I was going to show them. Nobody is going to stop me. I represent this music. I am a black woman and I play the blues."
Photography courtesy of Jack Hirschorn. (C) 2012
*Acoustic blues fans still laugh when they hear that many English fans referred to John Jackson, a Virginia Piedmont player who had never been to Mississippi, as "Mississippi John Jackson"; because, some promoter over in England figured it was a wise marketing ploy, considering that all blues just had to come from Mississippi.