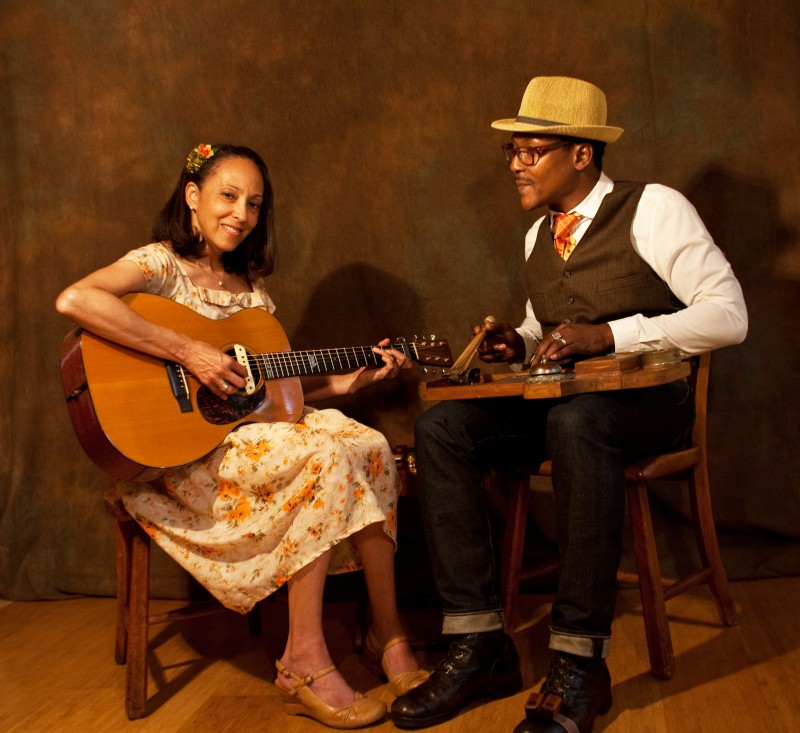 Piedmont Bluz – The True Blues of the Gentle Duo of Valerie and Benedict Turner
By Frank Matheis as published in Living Blues magazine #239. October 2015
 The blues gets little respect in the mainstream media today, relegated to a small slice of the music market. Among people who don't know or understand blues music, some criticize the genre as monotone and repetitive. The popular tendency among the uninformed is to equate it with loud, guitar intensive rock-blues, or the theatrical Blues Brothers clichés. Even among blues fans, electric bands dominate, and the traditional, acoustic country blues has waned. Acoustic blues, the old traditional music, is revered by a tiny audience of loyal, but aging, fans. Even among these aficionados, the Piedmont blues, the gentle and melodic blues style played along the eastern coast of the United States, takes a backseat to the more popular Mississippi Delta Blues. So, what's an acoustic duo playing down-home Piedmont blues to do?
Meet Valerie Turner, who is perhaps the gentlest of the acoustic players, the antithesis of almost every blues stereotype. Think heir to the legacy of Etta Baker or Elizabeth Cotten—but "city folk" with a college degree from a top tier university. Valerie is from the unlikely blues milieu of Queens, New York, and she proudly stands for one thing: the old-fashioned, acoustic Piedmont blues. Together with her husband Benedict Turner, their duo is aptly named Piedmont Bluz. While still relatively unknown outside of the New York / Washington, D.C. scene, their career is just ascending, and they are worth knowing. Hear this duo's unique approach to the historical repertoire of the region, and it becomes evident that Valerie Turner is one of this important folk blues sub-genre's most eloquent proponents.
The Piedmont Bluz duo shatters blues clichés. They debonair duo are educated, professionally successful African Americans who live in a beautiful Tudor house in an upscale neighborhood of Queens, New York. She gave up a successful career in information technology to devote herself full time to old time country blues, while Ben is a competitive speed skater who has represented the United States in international races, is a professional graphic artist and art director, as well as a designer and builder of magnificent washboards. He is a graduate of the Fashion Institute of Technology in New York, where he studied visual merchandising, advertising and graphic design. He is never seen without a vest, tie and jacket and his trademark hat, while Valerie makes her own lovely dresses.
Valerie may be aware of her dual identity as an African American woman playing country blues, but she consciously transcends those roles. She explained, "It's not just that I don't look at myself as a female blues musician. I don't look at myself as a black blues musician. I just look at myself as a blues musician—no race, no gender, no religion—no nothing. I think that it has a lot to do with how I was raised, because to be honest all the jobs that I've held, I've been sometimes the only woman there, or sometimes one of very few women. Certainly almost always the only black person, or maybe one of two black people in an entire department. This has been my career in the computer science field. This is how it was when I went to school, from kindergarten on up through college. So it's become very normal for me I guess, to disassociate from an external identity that people see. You know, when people meet you, they look at you, they know your gender, they know your race. But, I don't see these things because it would have been very harmful for me to think of myself in that way throughout my life, whether it was in school or at work . . . Look, in the beginning blues music was acoustic and it was primarily played by African Americans. If you look at today's blues scene you'll notice that it's gone electric and that African Americans are not as involved as before. While there's absolutely nothing wrong with change, I feel that it's important to preserve the acoustic quality of the music. I'm disheartened by the lack of support it receives from the African American community. It's our hope—both Ben's and mine—that others in our community will be intrigued by seeing Ben and I perform, become inspired to learn more about the music, and perhaps support it by coming out to more concerts."
Valerie Turner's fingerpicking is exquisite, done mostly on her vintage 1929 Stella parlor guitar, and a fancy Taylor 915-C that used to be owned by her mentor and teacher John Cephas. She also carries along a recent model National Style N made out of nickel-plated brass. Lately, she's added a 5-string, open-back 1897 Fairbanks banjo to her arsenal. Valerie reminisced, "From hanging around at the Jalopy Theatre in Brooklyn, I was exposed to a lot of banjo players. I heard Jerron Paxton playing a banjo, I saw Hubby Jenkins. I ran across Dom Flemons, and I said, 'Wow, look at all these great guys playing the banjo. And it sounds so incredible.' So that really drew me in . . . I was looking for a banjo that spoke to me, and I found this one on Bleecker Street in Greenwich Village at Matt Umanov's music store. It was sitting on the floor and was really dusty, and it didn't look as though anyone had touched it for quite some time. But I was really just emotionally drawn to that instrument, and without even hearing how it sounded I knew that that was my banjo. I loved the sound of it. And that's the one I walked out the door with."
Her husband Benedict Turner plays percussion on his self-designed and built washboards, which he plays lap style with brushes and sticks, and he occasionally accompanies Valerie on harmonica. Piedmont Bluz is taking on the world with absolute love and devotion to this sub-genre as performers and dedicated preservationists. Valerie explained, "I simply think of myself as a musician who cares about the Piedmont blues music very much and I want to see it grow and to be preserved. Our mission is to help keep this music going and to not let it die out. So when we perform, we like to present each piece with a brief description of either the song or its original composer or the timeframe in which it was written. This is our way of helping to preserve the music. Without fail, after each gig, people tell us how much they enjoy hearing a bit of history along with the music—how much they learned and they thank us."
A graduate of the prestigious New York University, Valerie speaks deliberately and clearly, explaining that the Piedmont blues, named after the region between the Appalachians and the tidewater of the Atlantic, is native in the Carolinas and Virginia over to Tennessee, but practiced along the entire mid-Atlantic region. The rich folk tradition in the Piedmont country blues owes much to ragtime, traditional Appalachian Mountain music, African American string music, spirituals and gospel, rural African American dance music, and the early white country music of the 1930s. This blues style features intricate fingerpicking with alternating bass and a simultaneous syncopated melody picked on the treble strings. Blind Blake, Blind Boy Fuller, Blind Willie McTell, Rev. Gary Davis and many others along the East Coast made this music style famous.
Valerie continues the tradition not just in spirit but in style. "There are people like Etta Baker, for example," she says, "I admire her fingerpicking very much, as well as I admire Elizabeth Cotten and Memphis Minnie. Certainly there are some contemporary women that I do listen to and admire as well. People like Del Rey and Mary Flower. In some ways I admire Rory Block for being a real trailblazer. And, of course Eleanor Ellis, who has that beautiful, lilting Louisiana style singing that really tickles me every time I hear her. She has certainly been around for a very long while very active in the Virginia/D.C./Maryland area." Valerie has maintained the emphasis on refining her fingerpicking skill. Unlike most acoustic blues players, she never gets loud and rhythmic, never launches an aggressive power-attack or a brash solo. In her style it's all about the finger dancing, the alternating bass line while picking the syncopated melody down on the treble strings.
While she may be a native New Yorker, Valerie has deep Southern roots, like many African American city dwellers: "My father was born in Atlanta, Georgia, and moved north to New York City with his mother as part of the Great Migration of African Americans. My mother never knew her parents, but we know from her birth certificate that they were both from Virginia. Through my two parents—one hailing from Virginia and the other from Georgia—I believe I've got the entire Piedmont region covered. We listened to a wide variety of music at home. My father loved jazz and classical music, while my mother enjoyed a little of everything, but especially calypso music. She played a little piano and used to sing to us all the time—mostly Negro spirituals, songs like Sometimes I Feel Like a Motherless Child, Swing Low, Sweet Chariot, Nobody Knows the Trouble I've Seen—things like that. But she also threw in other songs like Shortnin' Bread, Cotton Fields and Goodnight, Irene, which explains why I came across some Lead Belly albums in her collection after she passed away. She also liked to recite poetry, mostly Langston Hughes and Maya Angelou." Her primary inspiration, however, was not even from the Piedmont region. When asked to define her own sound, Valerie replied, "Oh, I'd tell you I sound probably a lot like Mississippi John Hurt. He was my entrée into this type of music. His music has by far influenced and inspired me more so than anyone else. It's his music that I was attempting to learn when I first started in about 1980."
Valerie Turner has made her mentors proud. Piedmont blues master John Cephas told his close friend Lynn Volpe that he considered Valerie as his star student, the one who would carry on his legacy. Valerie spoke of her teachers: "I've been very fortunate to have had so many talented teachers and mentors. To list them would be really exhaustive. But, I would say that my two main influences were John Cephas and Woody Mann. From John Cephas I really got a good feel for the music. He made me feel the great importance of helping to preserve [the Piedmont blues], helping to keep it alive. From Woody, I got a lot of technical information. I learned to refine techniques. I learned theory. Between the two of them they really expanded my repertoire enormously. Ben and I have both been very fortunate to have had so many talented teachers and mentors. Their guidance and advice have been priceless. Phil Wiggins really stands out. After John Cephas passed away, Phil became very present in our lives. We hadn't interacted with him that much prior to then. And he's a huge talent, as you know. From giving us constructive advice to giving us increasingly challenging opportunities, Phil has mentored us in more ways than we can count. To have that kind of relationship with someone so key in the acoustic blues scene has been a great blessing."
Piedmont Bluz is the only duo in this genre that combines the washboard with guitar as a permanent fixture. Ben explained how he began playing the washboard: "One day I found a washboard in an antique shop in Vermont and brought it home. I just thought it was interesting, especially after hearing Jay Summerour play the washboard at a show that they did in Maryland with Rick Franklin. The following week, Valerie had me on stage playing along with her. That started my career as a musician, because prior to that I had no experience . . . Musically, the way I play is I try to complement whatever Valerie is playing. I have different types of washboards and they all have their own personalities. Depending on what song Valerie is playing determines the washboard that I play, to softly and nicely complement her. The washboard is very loud and people assume that you play the traditional Zydeco style. That's not me.ˮ He elaborated, "I met Newman Taylor Baker—he often plays with the Ebony Hillbillies—and I liked his general style and overall approach to percussion. Aside from being great musicians, the Ebony Hillbillies are really down to earth and sometimes at gigs we would look up and they'd be sitting in the audience, and occasionally they would even join in with us on the spur of the moment, lending their talents and energy to our performance. After creating my first washboard I was inspired to create others, and that led to creating my own kind of custom washboards called 'Darlington,' which is actually my middle name. I curate vintage washboards and bells from all over the world and use these parts to create my works of art, which includes carvings and sculpted attachments. Each one is unique . . . My parents are from Grenada and Trinidad, and I was born in a town called Laventille, in the northwest corner of the island Trinidad. Laventille is the birthplace of the steel drum which is both melodic and percussive, and very prominent in the Calypso music that I grew up listening to. I come from a small family with just one sister and we all immigrated to the U.S. in the early 1970s to find a better life. My parents were very hardworking people and a great inspiration to me. My father and mother both worked long hours, which gave them little time to enjoy with us, but we passed much of the time we spent together listening to all kinds of music, including music from my native Trinidad. Those rhythms are ingrained in me and have undoubtedly helped me with washboard."
Valerie's transition to musician was equally unconventional: "When I began elementary school, the civil rights movement and the Vietnam War were in full swing. Those were interesting times. My mother, an elementary school teacher, worked days while my father, a railroad clerk, worked nights. I went to public elementary, public junior high school, public high school. The City University was the first college I attended, Queens College. I then moved on to New York University . . . [where] I studied information technology. That was the field that I stayed in for about 25 years in various capacities including computer programmer, systems analyst and business analyst. Having done that for so long, I really wanted to make room in my life for something that for me would have a more personal meaning, to play music full time . . . I got my first stringed instrument, a toy ukulele, as a birthday gift at the age of five and taught myself to play simple songs. Other instruments followed, but the ukulele was always my favorite. As I got older, I saved my allowance and eventually purchased my first guitar from Times Square Stores. It was $19.99 and I still have it. My parents paid the music teacher at my mother's school, Mr. Anderson, to come over on Saturday mornings to teach me. He got $5 and all he could eat for breakfast! We were working through the Mel Bay series when he decided to teach a lesson by ear. Well, that was the official end of the Mel Bay books for me! Learning by ear was easier and faster for me while reading music felt extremely tedious. My interest in the guitar was rekindled when I came across Stefan Grossman's Country Blues Guitar book. That book introduced me to a fascinating world of music that still inspires me. I worked at it on my own for a while but decided to look for a teacher, so I scanned the Village Voice and called all the music teachers listed. My only question for them was, 'Do you know who Mississippi John Hurt is?' Only one teacher knew who I was talking about. He said, 'Not only do I know who he is, I can teach you some of his songs.' That man was Jack Baker of the Fretted Instruments School of Guitar and Banjo. I took a series of lessons from him where he corrected my fingering, taught me how to read tablature and taught me a few songs. After I felt comfortable reading tablature, I worked things out on my own, and I stopped going to Jack for lessons. Instead, I worked with material from Stefan Grossman's Guitar Workshop. However, I still wasn't committed to playing guitar and I'd put it down for years at a time. Each time I picked it up, it felt like I was starting from square one again. In 2003, I finally made a decision to stick with it and that's when I reached out and found John Cephas. He suggested that I meet him at International Guitar Seminars at Columbia University. Co-directed by Woody Mann and Trevor Laurence, it was the first time that I'd ever been immersed in an environment dedicated to learning to play blues guitar. I eventually met Stefan Grossman, author of The Country Blues Guitar book that started my journey. These days, I am very pleased to have opportunities to help preserve this beautiful music by performing and teaching."
Piedmont Bluz is returning the favor and has taught workshops at the Archie Edwards Blues Heritage Foundation and at Centrum's 2015 Acoustic Blues Festival in Port Townsend, Washington. Valerie also teaches students via Skype, and she is working on a music book for beginners.
Despite the duo's success, Valerie had a difficult time with stage fright in the early years. Even though today she is poised, articulate, and seemingly in command of the stage, it was a struggle that took her years to overcome: "Yes, performance anxiety is a very debilitating thing. If I knew that I had to perform a week in advance I would be tied up in knots internally for an entire week. If I knew two weeks in advance, I'd be tied up in knots for two weeks. From morning to night it's all I would be thinking about, is what's going to happen: Am I going to be okay? Am I going to make one mistake or ten mistakes? Is the audience going to like me? All these questions would just whirl around in my head, and it's very debilitating. I was stuck in that mode for quite a long time until I spent a solid week making sure that I had somewhere to perform each and every night during that week. The first night, it was horrible. The performance wasn't horrible, but the way I felt going into it was horrible . . . The best advice I ever got on this topic—of how to be on stage, because he struggled with that as well—came from Phil Wiggins. Phil's advice was very simple. He said, 'Valerie, just be yourself.' From that point on I stopped worrying about the fact that most of my contemporaries seemed to use fingerpicks and have a really aggressive attack. I began to appreciate my softer style, and it's been working well. It keeps me calm when I'm performing. In fact, people often contact us, about once every other week, and tell us how much they enjoy hearing a less intense approach. Phil Wiggins was very helpful in that regard."
Piedmont Bluz does not yet have a professionally produced recording on the market, but that will soon come. Their star is rising and they are now getting international attention and have just been invited to a major folk festival in Israel. Stateside, they are getting into bigger festivals and prestigious venues, including the Brooklyn Folk Festival; the Connecticut Folk Festival; the John Cephas Piedmont Blues Festival in Bowling Green, Virginia; Clearwater's Great Hudson River Revival festival; the American Folk Art Museum in Manhattan and, of course, the center of New York folk blues scene, the famous Jalopy Theatre in Brooklyn. In September 2015 they are booked to play at the ArtsWestchester Gallery for Jazz Fest in White Plains, New York, as part of a "Women of Piedmont Blues" concert, along with Eleanor Ellis, Jackie Merritt and Resa Gibbs.
When asked the question of how she would like to be remembered, Valerie Turner was as articulate and accurate as ever, "Valerie Turner carries on the legacy with a very eclectic repertoire that represented a good cross section of early blues musicians, and that she played their music with a lot of heart, with a lot of feeling, with a lot of love."
A lot of love, indeed.
Update Feb. 2017. Since this article was published in Living Blues magazine the duo has made quite a bit of progress:
Valerie has been actively teaching at Centrum, Port Townsend Acoustic Blues Festival (2015, 2016), Augusta, Blues & Swing Week (2016, 2017)
and Menucha, Blues in the Gorge (2017). The duo toured internationally to Israel (2015), Spain (2015), Ireland (2016), Germany (2016)
Ben's Darlington Washboards, his artistic line of custom made, musical washboards, are now played Newman Taylor Baker of the Ebony Hillbillies and Resa Gibbs of the MSG Acoustic Blues Trio, among others. They released their debut CD – Country Blues Selections (2015).
Valerie is actively working hard on her forthcoming book- Piedmont Style Country Blues Guitar Basics (to be published in 2017). Valerie started playing the banjo and Ben started playing bones, and learning how to make bones from Jim Lande of the Archie Edwards Blues Heritage Foundation.