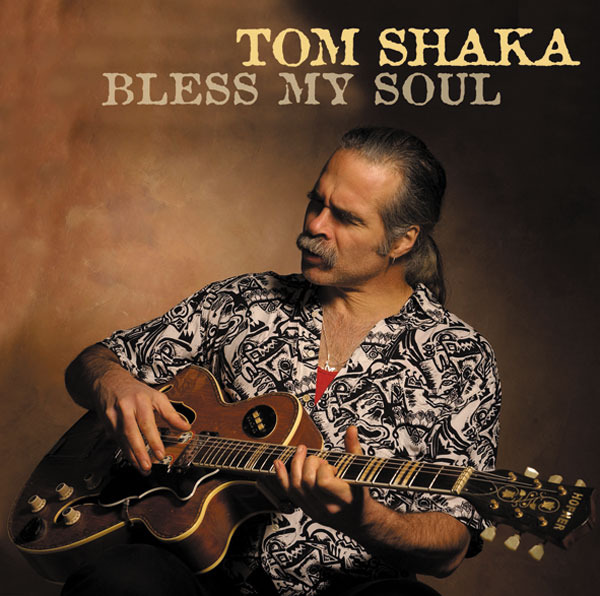 There is this wild guy over there in Germany, an American expatriate originally from Middletown, Connecticut, making amazing music safely under the radar of the mainstream blues scene. Tom Sciacca, aka Tom Shaka, is a hellfire hot bluesman maybe the best deep roots acoustic blues musician you have never heard of, even though he has been performing and recording for over 40 years! 
The list of American blues and jazz musicians who are permanent residents across the Atlantic is long. Piedmont blues picker Michael Roach is in the UK, Eric Bibb in Finland and Tom Shaka near Hamburg, Germany, where he has lived since the 1970s. Some, like Bibb, managed to maintain international name recognition and others, like Shaka, just the opposite. It's a well known fact that the general climate for the acoustic blues is better in parts of Europe than in the US, and that you can make a living there playing acoustic blues, but it is also a fact that sometimes when you go, well, you are gone and nobody knows what you are up to. You can hook up with some traveling American blues compatriots, but the American blues scene is happening here…and if you are not in it, you are out.
His latest, superlative CD Delta Thunder is issued on Thomas Schleiken's obscure little German label Blind Lemon, where Dr. David Evans, notable musicologist and folk roots blues performer from the University of Memphis has also issued a CD. Somehow involved in that small scene, as mentor and facilitator of the tiny German acoustic blues scene, is Axel Küstner, the famed German blues aficionado and photographer who, along with Siegfried Christmann, recorded numerous folk blues musicians in the US in the late 1970s – early 1980s for Horst Lippmann's L&R Records. The pair used an Audi-record Mobile Unit to record. Today, such recording trips would be easy to do with advanced, small and highly efficient recording equipment, but almost impossible due to more restrictive attitudes when it comes to intellectual property. Today people have more sense then to let someone record you and issue records without tight contracts and a team of lawyers on both sides – and without assurance of royalties.
Tom Shaka's life and career decision have kept him out of the blues limelight in the United States, but if he deserves wider recognition. He's played with the major US blues artists that have spent time abroad, like Honeyboy Edwards, Louisiana Red, David Evans and many more. Shaka plays resophonic guitar, acoustic guitar, mandolin, harmonica and ukelele. He sings in a gritty, ethereal tenor, sometimes raspy, sometimes  in a haunting style with distinct lineage right back to the Mississippi Delta singers of the 1920s and 30s. On his own right, he's a superb guitarist and a gritty, down-home singer with astonishing skills. This is some fierce blues, a direct continuation of the original folk blues artists.
He has quite a discography, having released his first LP in 1979. Since then two more LPs and a dozen CDs have been released on various labels, but his records are hard to get in the US, but look for him on i-tunes. Lots of stuff is available for download.
In a time when there are about 500 or so musicians worldwide paying acoustic deep roots blues, according to the best estimate as identified by thecountryblues.com, Tom Shaka belongs in the best in the genre. If you don't know him, dig in! He is one of the premier solo blues acts in the European Blues-scene, and hopefully someone that can play at more festivals and major music events here in the US.