Publisher's Note: Dom Flemons has left the Carolina Chocolate drops and is now working as a solo artist. Check out his new profile here .
An unexpected sensation and a surprising wind in the sails of the Country Blues!  Just at a time when everybody expected the genre to wither, wane and fade away, this band proves that once people get a chance to hear the old time blues and African-American roots music, the response is amazing.
Who woulda thunk it?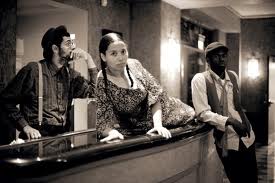 Sometimes things happen in the bizarre world that is the music business in the 21st Century. We had a bluegrass movie soundtrack "Oh Brother Where Art Thou" catapult Appalachian bluegrass music by Alison Krauss & Dan Tyminski into a best seller, certified eight times platinum with 8 million copies sold in the United States. It won the Grammy Award for Album of the Year in 2002, the Grammy Award for Best Country Collaboration with Vocals for Dan Tyminski who sang "Man of Constant Sorrow", an Appalachian traditional gospel song.
Known for their exuberant showmanship, broad roots repertoire and mountain harmonies, The Carolina Chocolate Drops, from Durham North Carolina, are almost that equivalent for African-American roots and traditional fiddle and banjo music. They are famous at a time when it is virtually unthinkable, in the conventional sense, that such an act could prosper, but let it shine. They just had a song "Daughter's Lament" on the soundtrack of the Hunger Games. They are signed to a major label, Nonesuch Records, one of today's premier big record companies, with label mate luminaries such as Ry Cooder, Bill Frissell, Dr.John, Pat Metheny, the Black Keys, Randy Newman and a virtual assortment of today's biggest names in music. Their debut album "Genuine Negro Jig" won them a Grammy. They now play the biggest concert halls and the best festivals. They are famous international stars. How can it be? Not only that, they are young black people playing what is perceived to be unpopular, archaic country blues, African-American string band music from the turn of the Century– the 19th Century to the 20th that is. They are so "uncool" by all conventional standards that it boggles the mind, yet they are as hip as it gets .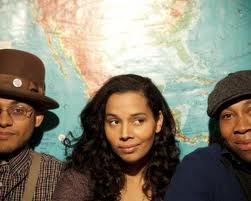 Jug band, fife-and-drum and African-American Songster music is the last thing you expected, but there we go, they proved everybody wrong. The new-minstrel, current version of the band consists of the quartet featuring multi-instrumentalist Dom Flemmons on 4-string banjo, guitar, jug, harmonica, kazoo, snare drum, bones, quills;  the hot and wild Rhinnon Giddens (who critic Randall Roberts aptly referred to as " singer, stringed-instrument player, dancer and all-around show-stopper") on 5-string banjo, fiddle, kazoo; Adam Matta on Beatbox and tambourine; and, Hubby Jenkins on guitar, mandolin, 5-string banjo, guitar, and bone. The enthusiastic and energetic band is a hearty throwback to days of old, real authentic American roots music, digging deep into Appalachian and Southern string music. The repertoire reflects a virtual excursion through the music of the great Depression era. These talented young musicians are as much musicologists as musicians, historians of the great American cultural heritage that was once such an important aspect of African-American culture. Yet, as anyone who knows will attest, these are songs that transcend ethnicity. While black and white society was segregated by Jim Crow, the musicians have always broken the racial barrier. These songs were dear to everyone and sung by everyone, no matter which side of the track they originated from.
This is great African-American music, and it is just plain great American music. Nonetheless, they will be a hard sell in the contemporary African-American community, where interest in the blues and traditional music is quite low, and where the Carolina Chocolate Drops, with their 1930s act and personas, complete with the retro-garb, bib-overalls, and hokum, will seem a bit odd. The black community may have forsaken this music, but the international audience loves it. People into American folk, blues, Songster music of the 1920-30s, are dancing on the table from joy. You get rousing gospel, mountain music, string band and fiddle music, banjo and minstrel music, Piedmont blues, Carolina folk music and more.
Listen a little and you will hear the best of the old time roots musicians come through loud and clear: Sleepy John Estes, Roscoe Holcomb, Joe Thompson, Hazel Dickens, Etta Baker…on and on. It's all that and loads of fun and truly a joy. They are making it on all the charts: bluegrass, folk, and blues, and , young as they are, they are just getting started and the best is yet to come…