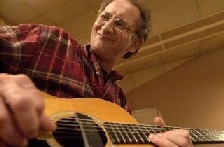 A riveting guitarist, Terry Robb looks more like a librarian or an accountant than a bluesman, but that shows you not to judge a book by its cover. This mild mannered, bespectacled Clark Kent turns into a fiery and sophisticated bluesman that will stun the uninitiated.
Terry Robb is one of the premier stylists and most skilled practitioners of the blues guitar in the US. He made his name on the now defunct Burnside record label from Portland, Oregon, on which he had a series of fine recordings.
Excellent by any measure, he is a versatile roots player, drawing from the wide blues repertoire, with a wide range of open tunings, styles and an affinity for minor keys. One of John Fahey's disciples, Robb is stronger as an accompanist and instrumentalist than as a singer, although he holds his own aptly. His passionate acoustic solo work is innovative and strong. Robb is mostly seen in the Pacific North West and presently records with the Yellow Dog label. The fingerpicking virtuoso is also a well known guitar teacher and producer.
Robb delivers a potent mix of diverse blues styles, ragtime, country and jazz, and is a delightful player in every way.
Recommended Starter
When I play my blues guitar- Burnside