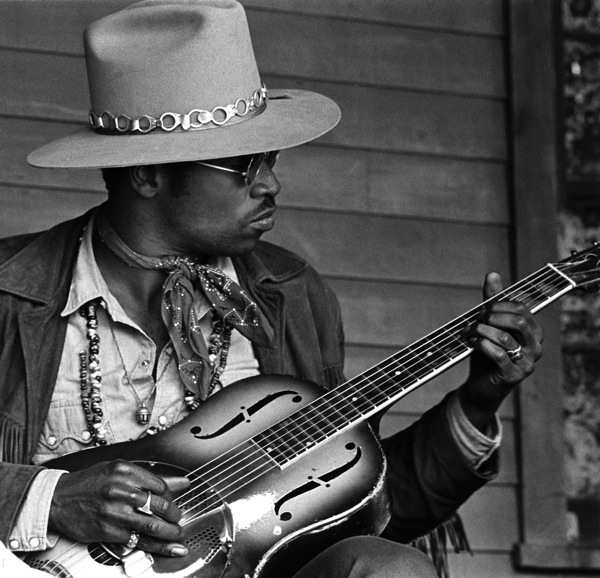 A pillar of the contemporary blues, Taj Mahal was born as Henry St. Claire Fredericks in Harlem  in 1942. He named himself after the famous Indian palace because it came to him in a dream. There had to be some explanation for it, because his real name sounds real good. Over the last four decades he has been one of the most important forces in the revival and continuation of the traditional blues, while infusing an amalgam of sounds, from Caribbean to African into the music.
Taj Mahal was one of the important blues-revivalists of the 1960s, and profoundly influential on scores of blues fans and players who were first introduced to the blues through his music. Notably, he was one of the few African-American blues stars, preservationists and revivalists, who started their career playing primarily to the "new" blues audience. The old-guard blues musicians, Skip James, Son House, Mississippi John  Hurt, Fred McDowell and all those guys, were just being "rediscovered" and previously obscure true folk-blues musicians like John Jackson and John Cephas found a receptive new audience in the burgeoning blues-revival audience that was opend up by people like John Hammond and Taj Mahal. He came on the scene as the "real deal", a black bluesman from Harlem, cultural heir to the African-American experience. That gave him instant credibility with the largely white, young audience of college students and hippies. He introduced them to the old songs like "Statesboro Blues," "Fishin' Blues" and "Corinna, Corinna," and they, in turn, sought out the origins of the music. No different than his compatriots, the musical movers and shakers like Ry Cooder, Bonnie Raitt, John Hammond and Jorma Koukonen, this generation looked to the original blues for material and inspiration, but were not the originators. They took a music that had seen its popularity wane among African Americans and revitalized it, a path that started in the middle of the 20th Century and continues to today.
Taj Mahal was instrumental in that progress, but he never stood still. Like Ry Cooder, Corey Harris and other adventurous spirits, he ventured into African-and world roots music, from Mali to Haiti, from Hawaii to wherever. He kept the blues alive, but was not afraid to make it progressive, innovative and new. All music changes and evolves, or it faces extinction. Taj Mahal is a true master of the genre and a musicologist of the first degree, a man without whom a website like this in the 21st Century would be unimaginable.
Recommended starter:
His 1968 debut "The Natch'l Blues" stands as one of the seminal albums of the blues revival.
"Fishin' Blues" is a song often attributed to Taj Mahal, who popularized it.  However, it is an old song that was originally recorded by Henry Thomas. Like many of his generation, Taj Mahal found it on the Anthology of American Folk Music, the Harry Smith Collection.