By Len Poche, Contributing Writer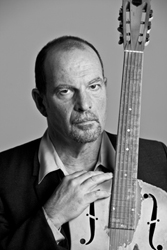 The word that easily comes to mind to describe Steve James is "limitless".
Limitless not just because Steve James belongs to the old-time category of "songster"—the multi-repertoired musician able to play any music requested at the drop of a hat—but because there is a wide range of instruments with which James can play that music.
While James is a complete master of blues playing (his many instructional books and videos attest to that), he is also an expert of folk styles as well. Having played with acts diverse as country guitar legend Sam McGee, rock pioneer Bo Diddley and Memphis blues great Furry Lewis, Steve James is as equally comfortable launching into a New Orleans standard like "Buddy Bolden's Blues" or subtly breaking your heart singing a Ray Charles number, accompanied only by himself on sparse guitar.
The mastery extends as well to his virtuosity on many instruments. There may not be another human being on the planet who has produced more instructional material on blues mandolin playing. In addition, Steve is a master guitar player, both in the standard flat-top style and incredible bottleneck playing on resonator guitars. There's also his banjo playing on top of that, as well as rumors of slide mandolin.
Born in New York, but currently based in Texas, Steve is a performer that travels extensively across the US and internationally. Quite often, he'll perform with guitarist Del Rey, a longtime musical partner. Together, they are dynamite when playing old Memphis Minnie and Kansas Joe McCoy numbers.
The phrase that describes his music best is one of his own making: "retro-postmodern roots balladry". He is the perfect combination of American Primitivism technique of John Fahey with the rhythmic sense of the old blues masters like Tampa Red and Barbecue Bob, which places him a category virtually by himself. Listen to "Fast Texas" for a stunning solo arrangement of lap steel guitarist Hop Wilson's "Chicken Stuff".
Steve James is a musician who is very understated and down-to-earth. His speaking voice won't overpower you, in fact he'll more than likely offer a smile and a wink. But it's with his limitless musical ability that he speaks volumes and volumes.