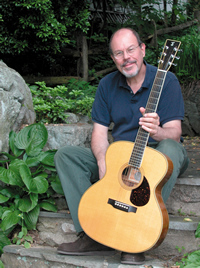 If you play acoustic blues guitar, chances are you learned something from Stefan Grossman, either directly or indirectly. His family derives from Hungary and his name translates as "Great man", and in this case you can take it literally.
One simply cannot talk about people of importance to this genre without tipping the hat to the most masterful musician, teacher, musicologist, producer, folklorist and preservationist of the traditional blues. By now, Stefan Grossman is a venerated, iconoclastic and respected acoustic blues figure of mega-proportions. He came out of the vibrant Greenwich Village, New York, 1960s scene around Washington Square, where so many American folk and blues musicians launched their careers. His friend and occasional collaborator, Steve Katz, formerly of the Even Dozen Jug Band, the Blues Project and Blood, Sweat & Tears, once half jokingly told this writer: "There we were, all these New York Jews playing the black blues." Indeed, the blues had a strong influence on young New Yorkers during the folk revival. These musicians, Stefan Grossman, Happy & Artie Traum, Danny Kalb, and many others, in turn had a powerful influence on the acceptance of the blues by the American baby boomer generation at large; and, they significantly helped to launch the folk, roots & blues revival, thereby reinvigorating the careers of many original blues musicians whose careers had waned.
Many people know Stefan Grossman as the paramount teacher and entrepreneur in what has become the world's largest "blues school", Stefan Grossman's Guitar Workshop. He is one of the most skilled guitarists in the genre, having been a student of Rev. Gary Davis in New York City. He also picked up lessons directly from Mississippi John Hurt, Son House, Skip James, Mississippi Fred McDowell, and others.
His seminal guitar instructional LPs, "How To Play Blues Guitar", with Rory Block, was one of the most important learning tools for the baby-boomers of the 1960s. Even if Stefan Grossman had accomplished nothing else in his life, this record alone was profoundly influential on an entire generation of young guitar players.
His biography is extensive and way beyond what can adequately covered by this short profile. He was in the center of the creative eruption that was the folk scene on Washington Square, and has been a member of the Even Dozen Jug Band and the Fugs, and played with venerable musicians such as John Renbourn, John Fahey and many others. He was a a central figure in the entire history of the folk blues revival.
The huge success he has had as a teacher has relatively overshadowed the fact that he is a superlative musician in his own right, both as stylist, preservationist and performer. He is simply an amazing guitarist with a seemingly infinite knowledge of many esoteric, archaic or nearly forgotten styles, techniques, and tunings. Stefan Grossman can really play. Yet, this writer has never had a chance to hear Grossman live, even though he lives nearby in New Jersey. The fact is that Grossman concerts are rare, if at all.
He has many dozens of superlative albums out, encompassing a vast collection of traditional blues songs. He recorded with Paul Simon, John Fahey, Charlie Musselwhite, and Happy Traum. He was heavily involved with with Shanachie Records of Newton, NJ, recording Shining Shadows (1988), Guitar Landscapes (1990), Love, Devils & the Blues (1992), Northern Skies, Southern Blues (1997), and Shake That Thing: Fingerpicking Country Blues (1998) for the label. He also helped Shanachie launch their Guitar Artistry imprint series.
Indeed, when it comes to keeping the blues alive, vibrant and exciting, there are few people who can claim such an overall prolific body of work as Stefan Grossman.