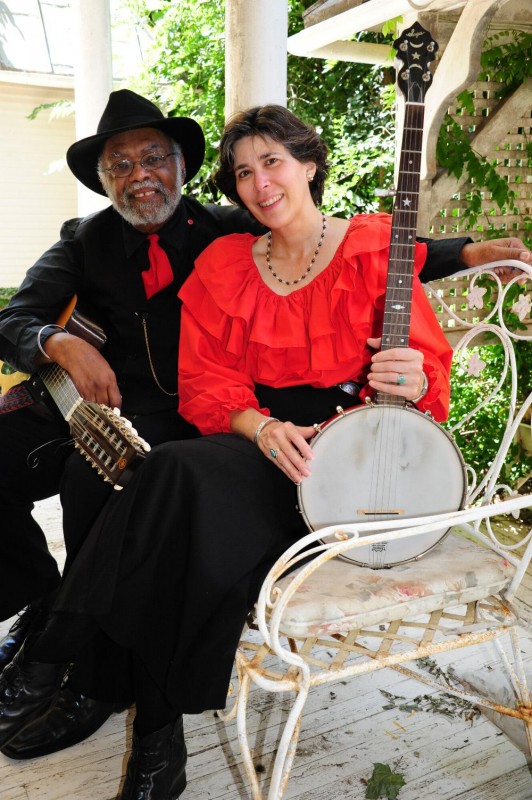 Get the accolade adjectives out. Let's start with wonderful, inspiring, uplifting…and end up with unique, interesting, and special.
A true American cultural treasure, the modern day troubadour husband and wife duo of Sparky (James David) Rucker and Rhonda Rucker, MD, have been faithfully carrying on the roots & blues music as storytellers, historians, folklorists, educators, social activists and blues performers for as long as a tree is tall. Today they are two of the most important voices in American traditional folk and roots & blues music. For 9-10 months out of the year they tour all over the country, and the world, to entertain, tell stories and lead people on a path of discovery. These folks are not just great musicians, they are two brilliant minds converging into a modern day traveling minstrel show that packs a powerful message: They educate without pontificating. They teach without being professorial. They tell stories and spread enlightenment without preaching.
They can hardly be defined as "solely" traditional blues, but just to stay on that topic, Sparky plays banjo, spoons and guitar, both fingerpicking and slide, and he carries on the East Coast acoustic blues traditions and much more. You may hear him perform the gamut of folk music, from Civil War era songs to Civil Rights songs, from Appalachian mountain folk songs to whatever, but at the core, he is a dynamic and exciting acoustic traditional blues performers whose early blues mentors include Rev. Pearly Brown (who taught Duane Allman how to play bottleneck-style guitar), Buddy Moss (who taught Blind Boy Fuller), and Johnny Shines. He also picked up pointers from Babe Stovall, Big Joe Williams, John Jackson, Robert Jr. Lockwood, and many others. The legendary "Blues Queen" Victoria Spivey pushed his career in the 1970s when Sparky joined the Spivey recording family. So when it comes to blues, he's the real deal.
Among his many recognitions are: the Spirit of Freedom Commemorative Medal of Honor, 2014, the Martin Luther King Art Award, 2013; the Howard "Louie Bluie" Armstrong Legacy Award, 2011 – plus several Grammy and W.C Handy award nominations.
Both Sparky and Rhonda were deeply influenced by their early childhood church music experiences: He in the East Tennessee Pentecostal church, with its rich African American spirituals – she in the Methodist church in her hometown of Louisville, Kentucky. She had a piano teacher, Fannie Woods Mansfield, who was also a ragtime player and this ignited a love of roots music that eventually led her to play piano, harmonica, clawhammer banjo and bones with Sparky. Rhonda also taught herself to play guitar, she acted in community plays, and sang in the high school chorus as a teenager.
The couple met when Sparky performed at a festival in Louisville, spark went flying and the rest is history. Rhonda eventually gave up her medical practice to become a full time performer, and the duo was born.
Obviously, the prolific duo are not a bar room type blues ensemble. You are more likely to find them in listening rooms and auditoriums, in folk festivals, schools, libraries, colleges and musical camps and workshops like the Augusta Heritage Center of Davis & Elkins College in West Virginia. They currently have 12 CDs in print, and each has published numerous articles.
The intellectual Rucker's resumé far exceeds the capacity of this profile, and includes syndicated television miniseries, The Wild West …and many appearances and features on radio and TV, including NPR. They performed in prestigious festivals and venues around the world, including the Kennedy Center for the Performing Arts in Washington, D.C., the International Storytelling Center, the Smithsonian Folklife Festival, and many more.
Their special connection with Appalachian people of all heritage, their love of traditional music, their musical diversity and their educational message as historians, storytellers and folklorists leads them to perform a wide ranging repertoire that includes spirtuals/gospel, traditional Appalachian folk songs, songs of the Civil War, blues and much more.
You can call them Modern Day Songsters!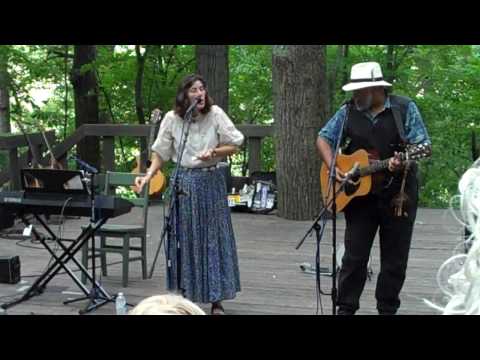 Photo by Pam Zappardino