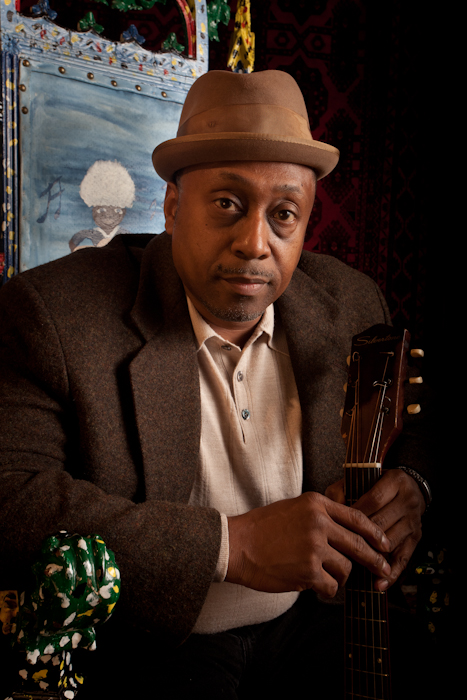 "Nobody will get rich playing the traditional blues, but that's what I chose to do," laments Shelton Powe, who recently started to go by the name of Kotton Powe. He's seen his share of troubles and knows the meaning of the literal blues, for example, he lost his home to the IRS. There is plenty to sing about. He's not the only one among the traditional musicians who are struggling. Very few deep roots blues musicians today are able to make a living without a day job, and most that manage it barely scrape by. Nobody will claim that the truehearted acoustic country blues musicians in the 21st Century have an easy time of it. Yet, somehow, their devotion to the genre is unshakeable. Shelton Powe has the blues deep down in his soul. In some ways, he is the blues. Yet, in an existentialist paradox, the bard would rather be free from the blues, as he sees it, "I wish there was no blues. I wish the conditions it came out of had never been. The poverty. The racism. The hardship. If people had a choice, they wouldn't live like that."
Some places are just better for blues musicians getting work than others. Perhaps, if he was in Mississippi , he would be more famous.  The musicians on or near the Blues Trail from Memphis down to New Orleans at least have the benefit of an interested cadre of blues tourists, who flock to the pilgrimage and seek out any remaining blues artists in the local venues. Perhaps, he would come to the attention of the Europeans who are still actively seeking out the authentic blues, before it all gets lost forever. Shelton Powe is actively using the social media internet to get his name out far and wide. You can find him on Facebook and YouTube and he is casting a wide net. Yet, the Music Maker artist is mostly an unsung proponent of the deep roots folk blues who deserves greater recognition. Still, he is getting there. Not long ago he had a major feature in Living Blues, so things are going in the right direction.
The East Coast, with its rich Piedmont blues tradition, still carries plenty of great practitioners of this lovely blues style. The golden era of the 1920s and 30s forged an important groove in the formation of the acoustic blues. The fingerpicking Piedmont style is rooted in gospel, folk, blues and ragtime. We lost many great proponents of the country blues in the post-folk revival period: Philadelhia Jerry Ricks, John Jackson, John Cephas, Doc Watson, Nat Reese and many more. Yet, while not necessarily Piedmont players, acoustic blues stars Corey Harris and Guy Davis are on the East Coast. The Piedmont scene today includes Phil Wiggins, Eleanor Ellis and up and coming players like Valerie and Ben Turner and Jeff Scott, the MSG Acoustic Blues Trio, and Rick Franklin, among others. Count Shelton Powe among these traditional players.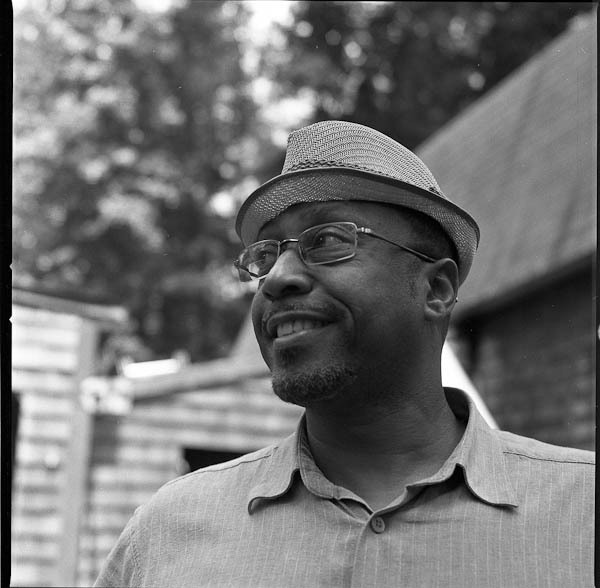 He is plays the real true folk blues – basic, ethereal, gritty, emotive and sincere – a fine fingerpicking guitarist and rudimentary harmonica player. Like many of the East Coast Piedmont players before him, his first musical experience comes from church and family. He sang in the church choir and was exposed to the entire spectrum of African American music, with the entire family full of gospel singers
Shelton Powe was born in Charlotte and raised in Winston/Salem, North Carolina. For a time he lived on Flatbush Avenue in Brooklyn and he now makes his home in Atlanta, Georgia. Despite the long tradition of Georgia blues in the golden era, Atlanta is not a blues town nowadays. If Shelton Powe lived in Mississippi, he might be better known…perhaps on the radar of the European audiences who are still devoted to African American deep roots blues.
When there was still a vibrant blues scene in Atlanta, he hung out and learned from the likes of Cora Mae Bryant, Neal Pattman, Cootie Stark and Frank Edwards.
As of now, he has but one album on the Music maker label "Carolina Blues and Gospel," a nice collection of blues, gospel and ditties. It would be great to see him on tour, at summer festivals and with more CDs to offer the world, but for now at least see his YouTube videos.