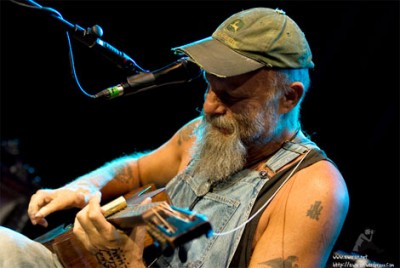 The American ex-pat now residing in Europe is a one man hurricane who plays in the boogie tradition not dissimilar to the Memphis based Hill Country, street-busking troubadours Richard Johnston and Ben Prestage. The nomadic Seasick (Steven Gene Wold) comes out of the juke joint and street busking tradition, having been a hobo and a wild rambler all his life. As anyone who has ever played the streets knows, you gotta be loud, be funky and get them into the boogie. As the great George Harmonica Smith said, "You ain't shit unless you can make 'em dance."
Rough-hewn, tattooed Seasick Steve looks like a day laborer at some grimy dock in the days before urban renewal, or like he just drove a melon truck 'cross country. You'd want to get out of his way if you see him come out of a late night pub at some dark back alley, by the looks of him, but he's really a sweetheart. Call him sweet Stevie if you want (or dare). He got his nickname because, well, go figure …
He gets down with a wildly flailing, hard-rocking backbeat and a funky groove, pounded in a percussive, trance inducing dance beat, often of primitive single chords accompanied by a wicked slicing slide guitar reminiscent of Hounddog Taylor. His singing can be compared to Tom Waits on acid. When he wants to be , he fits the bill as acoustic bluesman. Sometimes Seasick James simply does not qualify as either country-blues or acoustic and sounds like punk-blues. It all depends.
Seasick Steve, Richard Johnston, Ben Prestage etc. learned much from the Mississippi Hill Country masters, the famous forefathers Junior Kimbrough and R.L. Burnside. Seasick, Prestage and Johnston like to play the 3-string diddley-bow type cigar box guitars. Seasick even strips his guitars down to 3 strings. Junior Kimbrough and R.L. Burnside got down with a strange juke joint brew, a magical amalgam of some of the funky boogie of John Lee Hooker, a dash of Lightning Hopkins and a couple of spoons of plain out soul and funk. Both John Lee and Lightning Hopkins could sit solo, all by themselves, and get down to a funky boogie that had everyone in the house shake their booty, because they fully understood the importance of a beat.
Seasick isn't dressing up for an act. He is the real deal. He isn't an impostor who learned the blues from records. He was a throw-away teenager, who lived in the mean streets and survived the hard way, best described in his song "I was born with nothing and still have most of it left". Much can be and much has been said about his hobo-cruising, train-hopping, fruit picking, hard intoxicating, jail-bird, song-and-dance man existence. Those of us who lived that life never did so voluntarily, even for a short period at anytime in our lives, and we know better than to romanticize it. Let others expound on it.
Naturally, all that makes good fodder for the blues, even for a white boy. Indeed, that sad life gave Seasick a lifetime of song material and a dysfunctional life. No education, no stability, no security, no 9 to 5, none of the problems of middle-class suburbia. Instead, he made it on the tough streets on the edge of mainstream in the counterculture. If you look down on people like that when you see them playing on the street for spare change, with cold hands and wet feet, think of this: Seasick Steve has a huge long Wikipedia listing because he's big and famous now. He has bad teeth, wears flannel shirts and overalls and worn out boots and he's more famous than you and me–so there!
In recent years he has made it really big in Europe, especially in the UK. He's all the rage and, thankfully, mostly gets to play indoors nowadays. He appeals to a new blues audience, urban Europeans who may have listened to punk and hard rock. If you like your blues hard-core, rough and tumble, check out Seasick Steve, but beware. This blues is not for the weak-hearted. If you liked Junior Kimbrough, RL Burnside and early ZZ Top, Seasick is your man.
Honestly, when I first heard Seasick I thought maybe it was a really drunk Billy Gibbons. No offense to either of these fine musicians intended.
Recommended starter: Introducing Seasick Steve, the EP