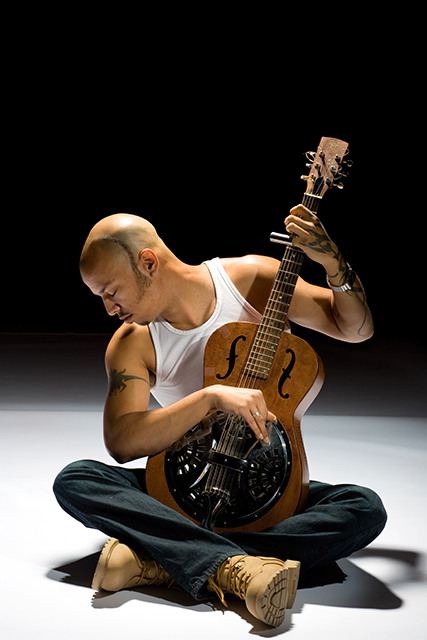 Lately, I have heard a few major pundits declare that the acoustic blues is dead.
Horse manure!
Just listen to Samuel James and a few things will become abundantly clear: the acoustic blues is far from dead because Samuel James sets it on fire and slams it hard like a team of angry insomniac Nigerian drummers in the night; and the acoustic blues ain't just tired and old songs revisited over and over, because Samuel James keeps it vibrant, modern and cool.
So cool that the hardcore traditionalist are confused. He's not going to just give you the old 78rpm records rehashed. If he does a cover of an old traditional, it will be so unique and different that the purists will cringe. On one hand he is as deep as the roots of the blues  go, with traces straight back to West Africa. On the other hand, he is wildly individualistic, a powerhouse of intensity, a man that packs ferocity in his virtuosity in what is unabashedly deep roots, old time, "kiss my ass, I play the country blues and I play it mean, in my kind of way." This guy is not afraid of anyone and can take the blues in front of todays teenagers who have never heard of Skip James or Elmer James or Elmore James or Samuel James. They will think its a new musical form, kind of like acoustic punk. Old blues fans know it's just timeless blues, but Samuel James, a fierce musico makes it new.
Hold on to your hats boys and girls. Samuel James plays rough-hewn acoustic blues, sings with a raspy tenor a la Tom Waits, and approaches his instrument with the fierce attitude of a rocker. He doesn't directly sound like anyone specifically, but he has the skills and hardcore authenticity and idiosyncratic edginess of bluesmen like Son House, Big Joe Williams or modern roots & blues players like Otis Taylor and James Blood Ulmer.
Sometimes he infuses trance like rhythms, other times he picks exquisite fingerpicking style, other times he madly flails his slide across the fretboard. Musically, he is energetic, bordering on manic. He'll cover Nirvana, put blues to the lyrics of rapper Tupac Shakur, or he will play Michael Jackson's Billie Jean as a deep slide blues that would frighten the late pop star, but delight the Fat Possum blues crowd. This guy has no boundaries and that is perfectly invigorating. Like which roots blues player does Rocket Man by Elton John and Bernie Taupin and gives you the chills with it? Which bluesman writes songs about French existentialist Albert Camus while sounding like Short Stuff Macon?
There are many wonderfully individualistic attributes about this artist. First, he is an accomplished and skilled guitarist. When he puts the emphasis on the instrumentalism, he is stunningly exquisite. Lyrically, he is just as interesting. While he does play some traditionals, always a bit untraditionally, he also has a repertoire of excellent originals with solidly consistent, interesting and poignant lyrics. The new songs he wrote not only contribute to the vibrancy of the acoustic blues in the 21st Century, but he again breaks barriers of traditional form. Lots of today's blues song writers follow the traditional blues verse consisting of a single line repeated four times, or the common current structure : the so-called AAB pattern, consisting of a line sung over the first four bars, its repetition over the next four, and then a longer concluding line over the last bars. Samuel does it sometimes and other times not. He goes freeform, a bit wild, but always makes it work. Musically, if you are looking for traditional 12 bar over and over, forget about it. Keeping up with Samuel James is like keeping up with Joseph Spence.
Harmonica ace Phil Wiggins played with Samuel James while they were on "Modern Blues Masters" tour in Russia, together with bluesman Guy Davis. When speaking of James, Phil Wiggins is reduced to a short phrase of emphatic astonishment, "Wow, Samuel James, that guy is really something. That guy can do it. Unbelievable, amazing stuff, but not easy to follow."
It's a music that is seemingly simple, which of course it is not at all, even crudely primitive to the ears of the uninitiated. Like Phil Wiggins said, it is actually complicated and difficult. Deep blues fans understand the sophistication, the beauty and passion in the music, the feeling that shakes you up just a little, a bit disturbing, something to rowl you up. Always unadorned, sharp edged, teasing, stinging, disquieting. This blues will make you think.
This amazing young player has made a name for himself and the acoustic blues worldwide, and he is well on his way to becoming one of the major purveyors of the genre, along with Corey Harris, Guy Davis and Alvin Youngblood Hart. No matter what, Samuel James is on of the most exciting acts in the acoustic blues today. Check out his epic trilogy on Northern Blues – 'Songs Famed for Sorrow and Joy' 2008; 'For Rosa, Maeve and Noreen' 2009 and the absolutely brilliant masterpiece 'And for the Dark Road Ahead' 2012. His new record is called 'Aphorisms, Bumper Stickers, Truths and Rhymes', available as download only.
In some ways, the poetic substance of this artist is brilliantly witty, literate and at the same time always a bit shocking, in your face and fearsome, yet so beautiful.