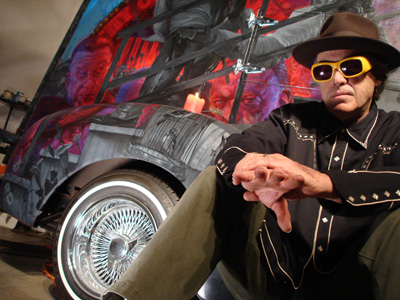 The problem with delineating and focusing on one genre is that all too often musicians with wide-ranging and diverse styles are excluded from other Blues directories, because they can't be pigeonholed into just one thing. Case in point: Ry Cooder, a truehearted musical adventurer. Not here in "The Country Blues." Just because Ry Cooder has moved in many musical directions and is by all means a multi-faceted musician, does not mean he is less of a traditional blues player. In fact, he may be among the best practitioners in the genre.
Ry Cooder, a brilliant composer, instrumentalist, singer, producer and musicologist extraordinaire, has always been a superlative roots player with a deep affinity for the traditional blues. He meets every definition of excellent as a slide guitar player and fingerpicker. Ry has been renowned for the many film scores he composed and performed, among them classics like "Paris, Texas" by German filmmaker Wim Wenders, with a soundtrack featuring deep-blues slide guitar by Ry Cooder. Ry has reached phenomenal international acclaim and is regularly mentioned as one of the top guitar players worldwide. He has mastered Hawaiian slack key guitar, jazz, blues, Tex-Mex, Cuban, and many other guitar styles, and he is not half bad on the mandolin. Most contemporary listeners have found their love for Sleepy John Estes through Ry Cooder, who was deeply influenced by him. Ry incorporated a broad range of roots influences, from every part of the musical spectrum, but when he sits down and plays the blues you know that you are experiencing a transcendental moment. (Ry referred to the slide blues of Blind Willie Johnson by the same reverent term).
If you singularly focus on Ry Cooder's traditional blues work, it is best to look at his earlier recordings, although it is an element in almost everything he has recorded with the exception of the topical albums (with The Buena Vista Social Club et al in Cuba, the Japanese recordings with Sakitshi Kina, etc). Those fortunate enough to hear Ry live will often be treated by superlative renditions of country blues and when they do, it is a truly unforgettable experience.
One could write a book about the many techniques and styles that Ry incorporates, among them his amazing intonation, but his slide playing alone puts him into a tiny, elite group of those of were able to master seemingly every technique recorded in the age of the original bluesmen. Ry Cooder, more than any other, has carried this music forward to the present day with passion and devotion. He is one of the most eloquent and elegant guitarists on the planet and he plays with such sensitive feeling and soul that the term "guitarist's guitarist" could have been coined for him alone.
Recommended starters:
Boomer Story 1972
Into the Purple Valley 1972
Paradise and Lunch 1974
Paris, Texas 1984