There is this amazing woman down in Orlando, Florida, who will infatuate you with her spirited, upbeat blues. Her acoustic blues is not exactly old school, and a case can be made that she is more of a bluesy folksinger than a folkie blues singer, but let others argue about those fine points. She certainly has the acoustic-pop-blues, R&B Joan Armatrading, Ruthie Foster, Toshi Reagon, Corinne Bailey Rae vibe going and is not necessarily going to conform to those hardcore purists who require strict adherence to the old time 12 bar blues. Ruth King delivers original, light-hearted acoustic music with a heart in the blues, and it's all good.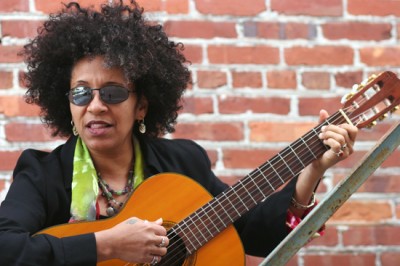 Ruth King, singer, guitarist and songwriter, projects a magnificent radiance in her soulful and sensitive music. The enthusiastic bard is a regular fixture at the House of Blues at Disney.
She may now still be relatively unknown, regionally popular and not internationally recognized, but she will hold her own against her famous peers, not only because of her strong, soulful singing, but her original songwriting and stylistic accessibility. Her rich, strong voice and R&B sensibility make for a potent mixture.
Says Ruth King, "My whole life I've waited for the chance to be an old, black blues singer and this year, FINALLY, I turned 50. Not that 50 is all that "old" per se, but that – along with the beginning twinge of a gray streak in my hair – I'm becoming believable. It's exciting to me that for the past 31 years I have been able to make my living as a singer/guitarist entertainer."
She lived her life and has a story to tell: "… beginning with being black and having been born to a mom who is white and was living with her racist parents in the South while it was illegal for the white and "negro" races to mix, let alone bear children. Next, my mother and I survived being on the 5th-story burning hotel window ledge when I was 4. She jumped out the window without a hope and somehow her hand met a ladder extended that would not reach up to our floor. Once she did and began climbing down the ladder, I slipped falling through the air to be caught by a firefighter on the ground. She also fell and was rescued from atop the lobby roof moments before the entire building collapsed into itself in flames before burning to the ground (St. Regis Hotel Fire, 1964)."
Ruth King's blues carries a joyful, celebratory feeling. As an African-American woman doing original music, she is not tying herself closely to predefined notions of how the acoustic blue needs to be, shying away from mere emulation of the old music. Instead, her exuberant, upbeat music seems to be a form of catharsis, a way for her to overcome personal struggles and to express artistically her own hard life experiences without lamenting.
The bard has much to sing about and her own story is one of inspiration, perseverance and overcoming personal struggle– and the power of music to help us heal and survive, "Music is spirit and can bring good gifts to life. I am a true believer. The first portion of my adult life was marked by substance addiction and subsequent drama and vulnerabilities. A survivor of childhood abuse, violence and neglect, I found myself quite lost when the results of drugs and alcohol dependency were added to the picture. Gratefully, I had music to keep me alive until recovery would find me and take a-hold."