Call him a wizard, a supernatural sliding wonder. He may well be among the most skilled bottleneck slide guitar players in the world. The bottleneck slide world usually divides into two camps. There are the sensitive, traditional stylists who keep it basically simple, and mostly go for the feeling, the groove and the heartfelt emotive sound– Ry Cooder, Duane Allman, Bonnie Raitt and Elmore James come to mind. Then, there are the flashy technicians and speedos, with new-guitar styles, like Sonny Landreth, who put much emphasis on dazzling shows of virtuosity and showmanship. Nothing wrong with either approach– it depends on if you want to get moved or be impressed by technique. The real true blues can grab your heart just by the mournful bending of one single note, so who needs guitar demons? Well, guitarists surely love innovative and dazzling guitarists, Still, often other guitarists are amazed by style, but the rest of us are left cold, bored by excessive noodling and an emphasis of technique over soul and feeling.
Then, there is masterful slide guitarist Roy Rogers, Blind Pig recording artist, multiple Grammy and WC Handy nominee, who seemingly has managed both worlds and has been on top of the US blues scene for two decades. He can dazzle the most demanding taste for articulate technique among the finger-gawking crowd, and play with such heartfelt emotion that he will satisfy those who long for the old slide blues guitar styles of the traditional masters. He is a brilliant virtuoso and a sensitive, player who was guitarist and producer of none other than John Lee Hooker, one of the greatest bluesmen of all times, and that's saying something. Indeed, John Lee Hooker is said to have adored Rogers style and capability and is quoted as having given the amazing compliment, " I just can't say enough good things about Roy. He plays so good. Some of the best slide I've heard, best blues I've heard. He gets real deep and funky, and he masters whatever he plays."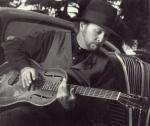 Rogers is a consummate musician who has played with some of the most significant musicians of the 20th Century¬– Miles Davis, John Lee Hooker, Taj Mahal and many others. He also did some fine work with his friend and frequent collaborator , San Francisco Bay area harmonica ace Norton Buffalo, who just recently lost his battle with cancer. The two were an insurmountable duo, and their series of records rank among the best in the genre. Choose any and it's a perfect pick. Certainly, Rogers will often take the blues-rock route with his hot band, The Delta Rhythm Kings, but he has recorded plenty of brilliant acoustic blues and is one of the stalwarts of the acoustic blues.
Roy Rogers is uniquely talented and a superlative virtuoso, but a player who is as tasteful as he is skilled, and most importantly, one whose blues carries the deep roots feeling, a fierce groove and a wildly beautiful, but dirty sliding blues.