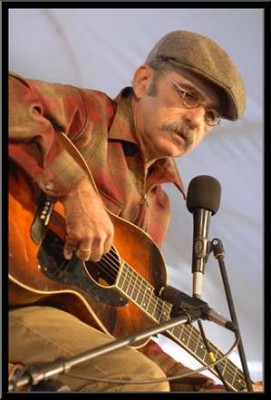 Right now, as you read this, Roy Book Binder is probably cruising in his motor home someplace along the East Coast on the way to some small concert hall, as he has done for the past 45 years.
The bard has paid his dues in keeping the old songs alive. The storytelling, hard-rambling "hillbilly-bluesman," Roy Book Binder, travels the country  as the contemporary version of the itinerant bluesman. Who knows how many miles he's traveled. He likes you to know that he is, in fact, a successful man who has managed to make a good living, doing what he loves, sticking to his guns and running his own record label. He is proud of the fact that he gets "good gigs in good places". He told thecountryblues.com, "I don't play gigs in places where I wouldn't go socially. I don't play bars. The bar blues scene is not my thing. I am just a folk player. Until I started my own label, I didn't know you could make money from selling records. I had recorded plenty of them, but I never really got paid by the labels. So I started my own."
For six months out of the year he tours in his motor home, the other months he gives private lessons in Florida for lucky musicians who want a chance to learn for one of the old masters.
He learned his own blues from the Reverend Gary Davis (along with so many lucky young musicians who happened to be around NYC in the mid-60s) and Pink Anderson (check out Pink's Folkways records). Today, Roy Bookbinder is one of the last of the "second generation" of the venerable musicians who started their career during the folk and blues revival of the 1960s. "With Doc Watson, Robert Lockwood, Honeyboy Edwards and them gone, I have to carry on. I am just another man who has done a full gone around. I am doing what I love. It's a good country to do it in, to play the old music. It all adds up to a living. I never compromised all these years with commercial music. It's not that I don't like it. I just only play folk music. That's all I can do. I carry on for all those guys and now I am the old guy myself. When I think back on all those musicians I learned from, I am older now than they were back then when their music charmed us."
The modern-day retro songster keeps the Piedmont tradition going, a term which he disdainfully refers to as " academic" , yet it is the best way this writer knows to describe the music of his teachers. He applauds his contemporaries like John Hammond, Rory Block and Paul Geremia.
Bookbinder, as anyone who has seen his show will attest, is just plain fun. The consummate and enthralling entertainer is one of the few guys who actually deserves the title "living cultural treasure". Oh, the stories he can tell.
Not only is Book Binder a terrific guitarist, he is a true songster with a giant repertoire; he is virtually a walking encyclopedia of folk music. He ventures across the spectrum of old-time folk with a seemingly endless song list, although in fair warning, he will recycle his jokes. Book Binder is fundamentally a blues & Ragtime rooted troubadour and one of the last great characters in a land where the culture that he represents, a heritage that traces straight back to the turn of the 19th to 20th century minstrels, is almost lost. Not only the but he is also a songwriter. He shared with the country blues.com that he will soon release a new album of all original material.
His parting words during his recent interview with thecountryblues.com was for the new generation of folk blues players "Love what you do. Have a good attitude but elect nothing…but, you never can tell."
Recommended Starter:
"Live at the Fur Peace Station" is a fine introduction to this artist. The live recording combines his witty, dry humor and storytelling with some great blues renditions.