Like her compatriots Bonnie Raitt and Maria Muldaur, Rory Block established herself as part of a small cadre of blues-revival women from the 1960s Greenwich Village Folk scene. While Bonnie Raitt reached international fame and Maria Muldaur at least had a big hit, Rory Block never reached stardom, as majestic as she is, in part because she stayed close to the old time blues.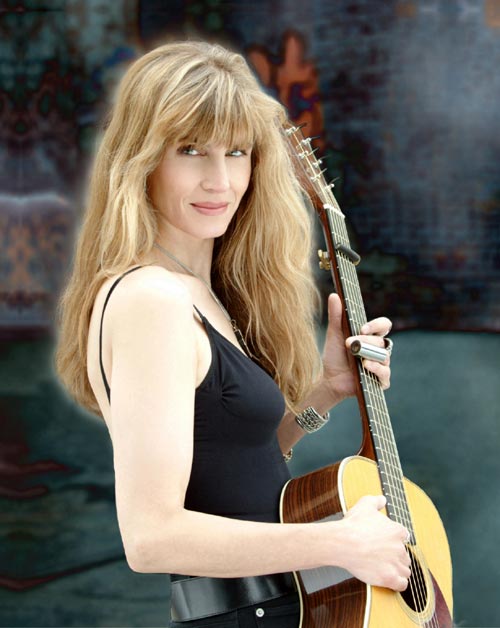 Referred to by many blues aficionados as "The supermodel" of the blues, let's get out of the way that she sure is sexy, hot and fine. That's not intended as sexism. She has done more for the positive image of strong women in the blues than anyone. As one of the leading women in male dominated field, she has gone her own way, emancipated, proud and headstrong. Sexuality always has been an integral element in the blues, going back to the sexual innuendo and provocative songs of Bessie Smith and Lucille Bogan. The blues women have never exactly belonged in the church choir and always used a little playful sex-appeal, and Rory Block kept to the tradition. If political correctness runs counter to that, so be it. When Rory Block delivers the old Bessie Smith songs, she plays up that same sensuality and it is an inseparable part of her blues. Still, she is as much a feminist as those who lament sexuality in blues.
Rory Block , distinguished and revered, feisty and stunning, she is also one of the foremost singers in the genre. Well known for her affinity for Robert Johnson, she has transcribed his music and offers instructional DVDs to the hordes of Johnson followers. Rory has got Robert Johnson down pat and few in the world can play his songs with such truehearted feeling and sincerity. She is an electrifying and spellbinding performer, whose skill and passion is seemingly boundless. There are not too many white girls that have 5 coveted W.C. Handy awards on the mantle, like this purveyor of the old time traditional blues. She also plays a wicked slide guitar and stomps her boots so hard the beer glasses rattle. Rory Block has been a leading, fervent proponent of the traditional blues from the get-go and is in the big leagues on every level, a passionate and authentic singer who understands the blues and truly carries the torch of the old masters, a superstar of the acoustic blues.
She never had a hit. That means she never got the big bucks. But when it comes to the blues, she is as big and important today as anyone. Everyone loves Rory Block, who has it all – and it's all a ball of impassioned fire.
Recommended Starter:
You can start with any of her Rounder albums, which are all consistently good. She is so passionate about her love of Robert Johnson's music, so it is a good idea to start at a place where the artist feel at home "The Lady and Mr. Johnson", her tribute to Robert Johnson on Rykodisc 2006.