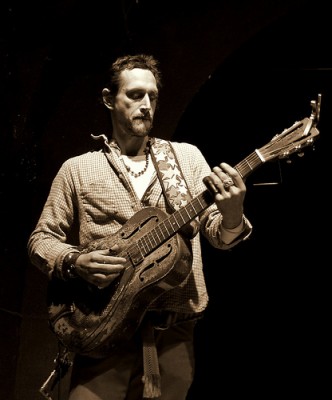 There is a certain beauty in that a hotlicks, ragged Italian blues slide player with a metal bodied vintage National guitar would end up becoming a symbol for post-Katrina New Orleans along with a washboard player. Long live street music!
This amazing slide player, from Livorno, Italy, had been a street musician in Europe until he found his way to New Orleans, where he hooked up with Washboard Chaz, who himself had emerged as famous street busker down in the Big Easy. They made a name for themselves, only to get Luti noticed by the Federalis, and Luti was recently deported back to Italy due to visa problems. Rejoice, we can now once again all feel safe and secure with the comforting knowledge that the Department of Homeland Security has kept the USA safe from invading subversive blues guitarists.
Luti and Chaz appeared on the blues scene outside of New Orleans like a shooting star in the night. They issued a rare and hard-to-find 2004 album "Dog Days" as the Washboard Chaz Blues trio, with Ben Maygarden on harmonica. It was a big hit among the small group of deep roots-scene aficionados, but was barely noticed by the blues market, as it hardly made it outside of their street gigs. The CD was mostly distributed by people who carried it back to their hometowns, after visiting New Orleans. After all, the street busking blues trio were remarkable country blues musicians and not exactly marketing savvy street musicians with managers and record labels.
They played the New Orleans Jazz & Heritage Fest to the delight of blues fans, but largely remained under the radar until they were included in the remarkable "Playing for Change" Project. Both musicians were suddenly propelled into the global spotlight when they were featured in the film, and accompanying CD, in this worldwide musical outreach. In this unifying project, international musicians were recorded at their own locales to join together in a universal song for peace.
Luti, for those few who knew him before and those who were astonished by him in the "Playing for Change" video, is an amazing blues player. He took a very prominent role in the film and showcased his power as a tasty slide player with his swampy deep blues style. The trio has subsequently been propelled to international fame. Rumor has it that one of their songs will be featured in an upcoming Werner Herzog film and that they will soon tour Europe. Great things are underway for Luti. Keep tuned! He is one of the finest players today, a man who plays with such passion and exuberance that all eyes and ears should be upon him.
Interestingly, since this artist profile was posted, Roberto Luti has the most views on www.thecountryblues.com, and he is by far the most searched, most  popular artist, with more page views than all the famous blues stars of the acoustic blues! You gotta love it!