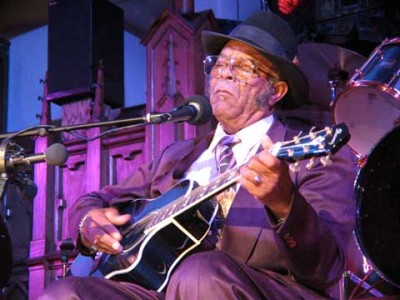 Robert Belfour is a powerful and expressive blues player in the North Mississippi Hill Country style. He was born in 1940, in Red Banks, Mississippi. Since 1968 he has lived in Memphis, Tennessee, where he worked construction for 35 years. He was only able to emancipate himself and devote to music late in life. Belfour's father, Grant Belfour, was a sharecropper who played a resonator guitar in a style similar to Charlie Patton. When Robert was 13 his father died and Robert had to go to work to support his family, yet he kept on playing the guitar. Young Robert grew up steeped in the local hill country music scene listening to Othar Turner and Syd Hemphill's gospel. He was a neighbor of Junior Kimbrough, who would later be signed to the same label – Fat Possum Records. He always makes a point to elaborate that he is a self-taught player who learned from blues records, and was not taught by Kimbrough, even though the two knew each other. He also often articulates that the Mississippi hill country is not the delta: "'I ain't no Delta blues man. I'm from Red Banks. It aint nothing like the delta, it's hill country."
Robert Belfour, who is always seen in dapper and debonair attire, started to play on Beale Street in Memphis in the early 1980s. He is widely acclaimed in Europe as one of the original American roots blues players. Here in the US, he was first "discovered" by Dr. David Evans, musicologist and musician, and professor at the University of Memphis. Dr. David Evans recorded Robert Belfour at the Memphis State University and included him on the collection "The Spirit Lives On, Deep South Country Blues and Spirituals in the 1990s." issued on Hot Fox records from Germany.
Even though he left the hill country more than 40 years ago, his music is pure, unadulterated hill country style. After all, Memphis is not that far from home and it was the natural destination for many of the hill country players. This music is characterized by percussive, repetitive riffs, a droning syncopated driving beat, often with esoteric open tunings and overt African rhythms that take root in early slave traditions. Often a single chord is carried, in what is known as "one-chord style". This was best explained by Junior Kimbrough, "My songs, they have just the one chord, there's none of that fancy stuff you hear now, with lots of chords in one song. If I find another chord I leave it for another song." Often the fifth string is vibrated unfretted so that a droning note is repeated over and over, in comparison to the walking bass line of the Delta and Piedmont traditions. This creates a tonal harmonic sound reminiscent of banjer music from West Africa. Indeed, due to the cultural isolation of the hill country region, the musical roots of the blues style can be traced to the earliest slave traditions, including fife and drum music. The hill country sound is sometimes called "stomp" because it is easy to dance to, with a repetitive drone that is trance inducing.
He often plays in Spanish tuning DGDGBD and in E position standard tuning tuned low, but his tuning range widely among the more unusual versions of open tuning.When listening to Robert Belfour an indirect comparisons can be made to the music still played in Mali and Senegal. Malian guitarists such as Ali Farka Toure or Salif Keita could sit in with Robert Belfour and carry the same rhythm and percussion without advance practice and without missing a beat. Yet, Robert Belfour's stye also has a solo note style that is sometimes reminiscent of the "primitive blues" of J.D Short and Shortstuff Macon. Robert Belfour sings many of the songs often found in the repertoire of hill country musicians. The standards like "Poor Black Mattie" are all there. He got the nickname "Wolfman" because of his rich voice, (which is somewhat reminiscent of Peetie Wheatstraw to this reviewer, but that comparison is of course a stretch).
In an interview with bluesinlondon.com, Robert Belfour told the story of conflict that is so often repeated by African-American blues players, articulating the perpetual struggle between the sacred and the profane. He was quoted to have said "…But there was just something about the guitar, I couldn't let it alone – I just had to keep messing with it. Just something about it… Something would always worry me to go get it and play it. I can't place what it is… In later years as I've got older and experienced in music and stuff and that guitar, well it's just something the good lord wanted me to do. I had to make my own choice of which one to do – church or blues! I used to sing in the choir in the church. I used to play church songs but I chose the blues on account of when I first got recorded the person that pushed me wanted to record me in the blues. Now I do blues but I don't put my whole soul in the blues… I still believe in the man upstairs…"
Belfour has several records on the Fat Possum label and he is on the recipient roster of the Music Maker Relief organization, a labels which supports the aging blues players and markets their recordings. He has achieved quite the fame and is featured in many international blues festivals. Unquestionably, Robert Belfour is a living cultural treasure of the blues, one of originals of the genre.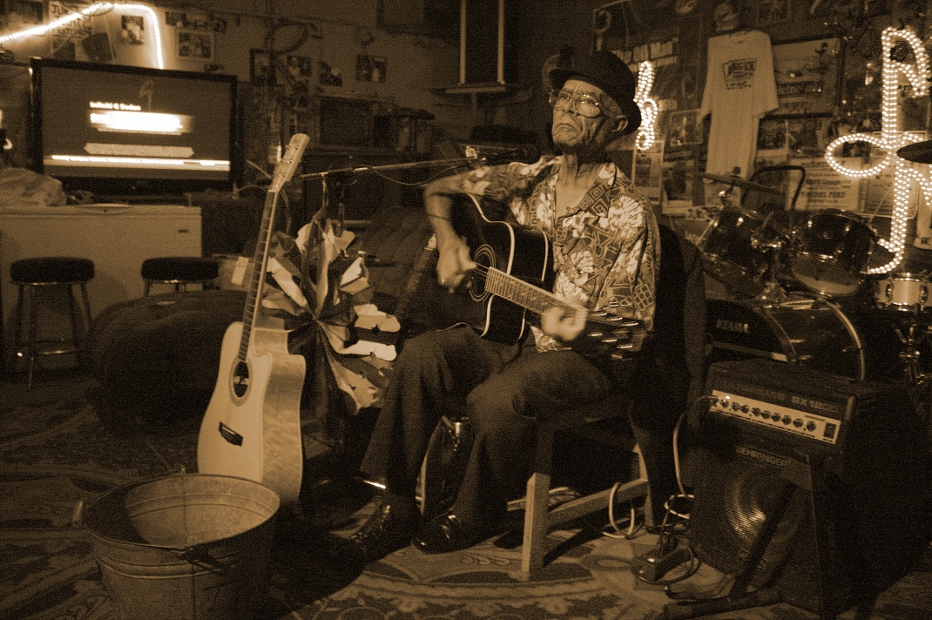 We gratefully acknowledge that the above photo is provided by courtesy of David Pearson, a renowned photographer and blues fan from Herefordshire, England. Check out his Flickr profile here. His portfolio can be viewed here.
Copyright 2011 – David Pearson, all rights reserved.