"You can sing the blues about anything. You can sing the blues if someone killed your pet chicken." Robert Lowry
Editor's Note: Unfortunately, in 2011 Robert Lowery  suffered a stroke and is currently not performing. We wish him a speedy recovery and hope he can soon resume playing.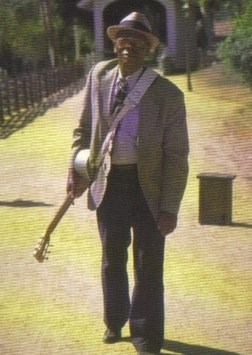 Bluesmen don't get old, they just keep on keeping on long after others retire. It's part of the mystique. There is this old blues guy in Santa Cruz, California, who was born down in Shula, Arkansas, in 1932. Robert "Bob" Lowery  carries on the Arkansas and Mississippi Delta blues as one of the greatest living cultural treasures of the genre. His own bio reports: " He grew up in nearby El Dorado, close to the Arkansas-Louisiana border. He and his eight brothers and sisters worked on a farm raising cotton, corn, peas, potatoes, and other crops." He is a frequent duo partner with the superb harmonica player Virgil Trasher.
In 1967 Lowery headed west from Arkansas to Oakland, California and played as a sideman for Big Mama Thornton when she played the Beachcomber club on Beach Street in the early 60s. For most of his career he was regionally known in California and has made a living ever since the hippies embraced him during the blues revival. Indeed, Lowery had stopped playing the blues completely. He reported "I was walking down the street one day in the early 1970s and then I heard this hippie kid sit at the side of the road playing Key to the Highway. I said, wow, look at that, the blues is back and I went home and got my guitar out and started playing again." Right at the peak of the blues resurgence he found a receptive audience in Santa Cruz and he has been there ever since. Not but a few years later in 1974, all the hippies went to hear him in his first major concert appearance in 1974, at the San Francisco Blues Festival, and he was a hero of the California blues scene blues ever since. he was invited again in 1976 and 1984. The bread and butter came from the young white hippies. He reports that his most colorful memories are of playing for hippies at the old Club Zayante: "It was like some old shack…when they started dancing in there, you could hardly walk, the whole building would be shaking!"
Today he is an internationally celebrated singer and guitarist. He's played the New Orleans Jazz and Heritage Festival, Philadelphia Blues Festival, Eureka Springs Festival back in Arkansas, the San Remo Blues Festival in Italy and the Northsea Jazz festival in the Netherlands, and many other festivals. He even played for the inauguration celebration of fellow Arkansas native President Clinton! The thing about Lowery is his amazing agility and finesse as a guitarist. He is as nimble as any young Turk, on his trademark National resophonic. He can slide and fingerpick and for anyone who wants to hear the truehearted, gritty, authentic old blues, Lowery is an incomparable treat. He sings in a rich tenor and carries accompanies himself in the typical Delta guitar style, rhythmic, deep-roots sound, gritty and rough-hewn but sweet. Nonetheless, he has been largely under the radar in the blues world and he is largely unrecognized for his musical contribution, for example, having been left out of major blues directories. He has been recognized internationally late in life and only now is getting his deserved respect and acknowledgment. His recent recordings encompass two albums on the Orleans label; in 2000 "Rainin' down blues" on the German Wolf label and "Playing on the street" in the same year on the Orchard label. Both are exceptionally wonderful and easy to find, even on i-tunes.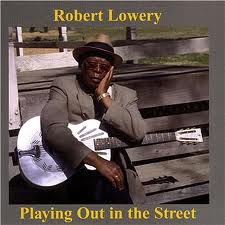 Like thousands of others he was influenced by the famed Robert Johnson.  Actually, when listening to Lowery you get the whole spectrum of old Delta blues, from Tommy Johnson to Robert Johnson and there is a definitive resemblance to Big Joe Williams at times. Truly one of the last of the greats, Robert Lowery will take you back to the original era like few people can.