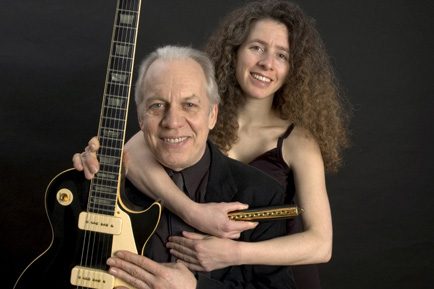 Some people claim that Annie Raines is one of the best female harmonica players in the acoustic blues, which is not true at all. In fact, she is one of the best harmonica players, period. Paul Rishell is as perfect a guitarist/singer as they come, a raging slide monster on the National resonator. Together, they are one of the most potent blues duos in the world today, and it is fair to say that they are the righteous heirs to all the great duos of the bygone golden era of the blues. Paul and Annie, the tier 1 duo, are active on the international blues circuit and the blues workshop scene, and idolized by anyone who hears them play because they are simply unrivaled.
These guys have honed their craft and meshed into a tight and delightful blues experience. Not enough praise can be bestowed! The duo musicians complement each other in harmonious syncopation, a seamless fit of perfection.
The first notable thing about this amazing duo is the sheer versatility and range of blues styles they have incorporated. Paul is a revenant blues stylist, a virtual encyclopedia of blues guitar tunings, picking techniques and his repertoire of blues styles seems limitless, from ragtime to Mississippi Delta, from Songster to Piedmont, from Memphis to Chicago styles, he does it all beautifully and emotively. When he lets loose on the Delta blues slide, you realize that he is one of the top blues guitarists, a guitar-hero of the acoustic blues. Annie has likewise conquered the best of the old harmonica styles. You can hear Hammie Nixon and Sonny Terry, but also Little Walter influences, to build a rhythmic country blues harmonica sound so full, rich and dynamic, there is nothing missing.
Together they swing like mad, laying down a reveling, funky, boogie, deep-roots blues as true and exuberant as it was in the days gone by. What a venerable celebration of the blues.
Recommended starter:
"I Want You to Know", Tone Cool