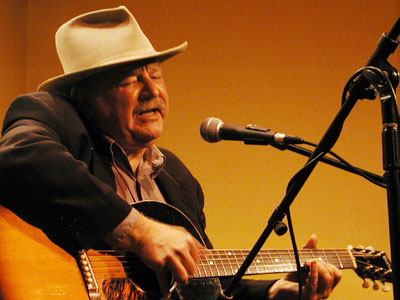 An amazing player on 6 &12 string guitars and harmonica, the affable Geremia is one of the notables and nobles of the traditional blues scene. A smooth and superb stylist, singer/songwriter and instrumentalist, he deserves a place at the table with today's best traditional blues practitioners. Geremia, a snazzy fingerpicker, hung out with Son House, Howlin' Wolf and Skip James, and now he's the old master in his own right deserving a mountain of critical acclaim. He is also a hot-licks harmonica player.
The blues are intrinsic to Paul Geremia as "Amen" is to the church. A dazzling range of tunings, finger-picking styles and vast song repertoire, always true to the pre-War blues of the 1920s and 30s, keep his music incredibly interesting. He is one of those performers that has mastered the style and directly continued the old traditions. Close your eyes and listen to Paul Geremia's husky tenor, and you'll believe you are back in some old holler in 1936.
So when it comes to keeping the blues lively and happening, he deserves a feather in his cap. As a songwriter, he manages to infuse fresh and interesting song lyrics into a platform that is very true to the old music. Basically, he is a traditional blues purist all the way. He's the real deal and purists do not need to worry about him straying far from the path. His own path led him to the life of an itinerant bluesman, and after 40 plus years on the road, the boy has learned a thing or two about the country blues. A friend of Pink Anderson, he has played with Yank Rachel and many others.
Like most of the traditional blues players who have been devoted to this music over many decades, Geremia is a cultural treasure, a walking blues encyclopedia. When it comes of preserving traditions of Skip James, Blind Blake and all those guys, the Red House Records artist is a pillar of the heritage. When it comes to new blues in the old tradition, his rank with the best. A Paul Geremia show s an evening well spent. Here is an artist of the first degree, deserving of more recognition and respect.
Recommended Starter:
Pick any of his Red House releases and you have a winner. "Self Portrait in the Blues" is as good a start as any.