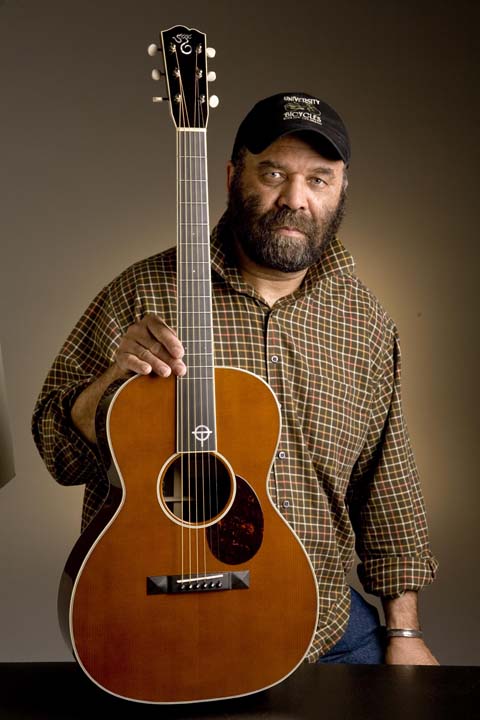 Taylor blurs the line of musical eclecticism and conventions, and redefines the word "original" in a sea of blues-homogeneity. He is to the blues what Edvard Munch is to painting: socio-psychological expressionism, bombastic, raw and brilliant. The debut album by the multi-faceted black American was mysteriously entitled "White African". Since then he has maintained a steady flow of releases, often accompanied by the lovely voice of his daughter Cassie. Taylor from Boulder, Colorado, and was one of the first artists signed by the brand new, promising Toronto blues label- Northern Blues.
His deep and ethereal acoustic blues carries the hell-fire lament and anguished expressiveness of the old blues from the Deep South, in subject matter, feeling and instrumentation. His songs cry out about lynching, being in the wrong place at the wrong time, false accusations, and violence; and, universal themes like hunger, love, despair and a dying child without money for medical care. The concept of race, whether as expressed through racism or racialism (Nelson Mandela's word for the geo-politics of race) is a core element of Taylor's underlying artistic statement. Taylor delves head-on into the core of this blues thematic of pain, suffering and hardship, with a fury fueled by anger and outrage. His moan nonetheless succeeds to entertain, as he is able deliver redemption and the catharsis that has always been at the heart of the universal appeal of the blues.
Part of the intrigue of this artist is that he, like many of the early blues players, started off playing pre-blues folk music. Taylor was first a banjo picker – an instrument that he has since reclaimed for African-American musicians. His music seems influenced by the pre-blues Appalachian banjo sound of Doc Boggs and Roscoe Holcomb. Not so surprising, because they, in turn, took their root in the music of the 19th Century black banjo songsters and minstrels, whose music traces straight back to West Africa. Later, Taylor picked up harmonica; and, the guitar- that he plays like a banjo, with the same fiery, untamed picking and strumming style. On top of that, he is even reminiscent of Malian string music. His guitar and banjo plucking sometimes sound like the great contemporary Malian guitarist Boubacar Traore. Always a bluesman to the core, he's got Lightnin' Hopkins' hypnotic, trance-like groove, with an emotive, slow and deliberate tone, and enough feeling to burden a lifetime of pain.
Taylor is like no other, laying down wickedly exciting blues that is gritty, ethereal and rough-hewn and will surely rattle your britches.
n a major coup, Otis taylor managed to get the theme song for the movie Public Enemy. Check out the soundclip below.