by Australia correspondent Julie Fox. Photo by Gerard Anderson.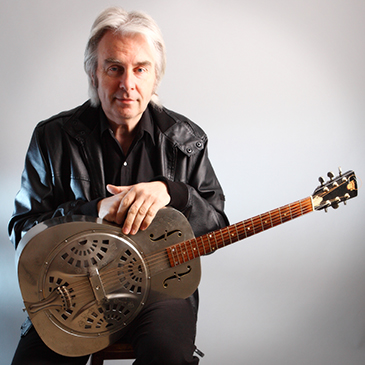 Melbourne based performer, Nick Charles has spent the last 30 years honing his melodic fingerpicking style and writing skills. As the ultimate travelling troubadour he constantly negotiates the musical highways throughout Australia, New Zealand, Europe, the UK and USA. His music encompasses an eclectic mix of acoustic roots, including blues, folk and early ragtime, pre-war jazz, Delta and Piedmont.
This masterful guitarist has been described as Australia's virtuoso of acoustic, blues and roots guitar music. The Black Rose Acoustic Society in Colorado, USA, described him as "a world class stylist and composer." 
Befitting someone of this high standard, Nick Charles has taken out many awards, with the most recent being: Australian Blues Song of the Year 2013 and 2014, Melbourne Blues Apreciation Society's award for album, Song and Artist of 2014, and the Port Fairy Folk Festival Artist of 2014 (Australia's highest folk accolade. The previous year it was John Butler).
He has toured with John Hammond, Ralph McTell, Robyn Ford, to name a few, as well as opening for BB King and performed at every major Australian festival, numerous times. Overseas tours have included performances at the Edinburgh Festival and six times at the prestigious Walnut Valley Festival in Winfield Kansas (the home of fingerstyle guitar).
Charles revealed that his love for this style of music first began in his early teens with the music from the Beatles and Stones, and having discovered the roots of it began an investigation back from there. "Once I finished up with country blues of the '20s and '30s I had found my reference point, my focus." This focus landed squarely on artists such as Big Bill Broonzy, Blind Blake, Mississippi John Hurt, Blind Boy Fuller, Tampa Red and Django Reinhardt, to name a few. These influences are often reflected in many of his own compositions, while retaining their originality.
His inimitable fingerpicking and slide playing is showcased via his 6 and 12 string Maton acoustic guitars, National M1 resophonic guitar, 1968 steel body Dobro for slide and a 1979 Gilchrist F4 style mandolin. The emphasis is predominantly on the music and playing style, rather than his vocal ability, which is warm, expressive and more of a narrative style. The meticulous research of the genre he plays, as well as his extensive knowledge of the early blues mentors he pays tribute to, are always a popular feature in his live sets.  Undeniably, though, it is the dexterity of his fingers, combined with a moving melodic touch that sets his playing apart from many country acoustic players.
To date, Nick Charles has released more than a dozen CDs, both here in Australia through Black Market Music and the USA label, Solid Air Records.
His latest, multi-award winning recording, Into The Blues, once again showcases how well the six self penned compositions sit nicely alongside the cover tributes to his mentors. As Charles states in the liner notes: "Most of the tunes on this album have long been personal, as well as crowd favourites, and since my solo career began I've been asked on many occasions to record them. Some are close to the seminal recordings while some have developed a life of their own – performance does that over time, and I've learnt to let it happen."
One of these crowd favourites on this latest recording is Tilder's Blues; a lilting instrumental and tribute to one of Australia's favourite country blues musicians, Dutch Tilders, who sadly passed away several years ago. Dutch justifiably earned the title "Australia's Godfather of Blues" and was a well respected player and mentor to many, including Nick Charles.
Choosing any album from Charles' vast catalogue envelopes us in a variety of styles and sounds; one moment creating a classical feel, the next a frenetic pace with that intricate fingerwork. Two examples of these totally different styles are Light At The End Of The Road (original) – a bright, happy, thigh slappin' country hoe-down number, and, with  a nod to one of his favourite artists, Tampa Red, we have that familiar stripped down Delta blues treatment, featuring the steel bodied Dobro on Denver Blues Variations.
So you can see, just from this brief descriptions, be it down home acoustic blues, to lilting instrumentals, ragtime, and everything in between, Nick Charles creates a palette of sound, running the gamut of today's country blues players while retaining his own unique, and identifiable sound.