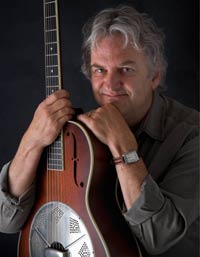 There have always been guitar virtuosos in the country blues. Lonnie Johnson, Robert Johnson, and Scrapper Blackwell are but a few whose style and technique earned them a prestigious position in the history of the blues guitar. Lonnie Johnson was a widely respected and sophisticated player who smoothly crossed over into jazz and other styles. His frequent collaborations with jazz guitarist Eddie Lang, for example, broke the color barrier and aptly showcased his finesse and wide ranging skill. Traditional blues does not have to be limited, as some would argue, to the same basic riffs and 12-bar and well-established patterns. There is nothing wrong with playing eloquently and with sophisticated technique.
Contemporary blues guitar also has its stylists and superlative virtuosos. One of the major guitar players in the genre is Mike Dowling, who used to play with Joe Venuti. The previously mentioned guitarist Eddie Lang was violinist Joe Venuti's duo partner. The duo was influential and innovative, and the precedents to another duo that fashioned themselves after Lang & Venuti – and that was Django Reinhardt and Stefan Grappelli. Essentially, Dowling followed the footsteps of the great Eddie Lang, and that requires a guy who can really play! National Guitar issued its reissue of the 1930's El Trovador wooden body resonator as a Mike Dowling signature series, which is an honor they have seldom bestowed. Dowling is simply incredibly good, a guitarist's guitarist.
Dowling, who also sings, is not stylistically limited and swings the gamut of blues, jazz, ragtime, fandango and more. His repertoire covers the spectrum and it all fits seamlessly, because, ultimately, it's all the blues. Purists will not be short-changed, as a healthy portion of his songs is straight ahead Delta, Piedmont and other acoustic blues- though, like Lonnie Johnson before him, he will play is with raging sophistication and finesse.
Recommended starter:
Swamp Dog Blues, 2000