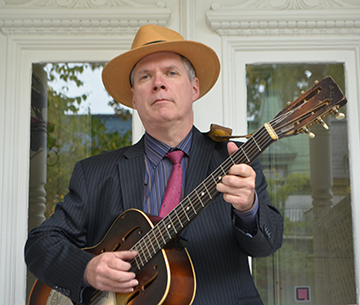 Sometimes you hear people declare that to be a bluesman you have to have endured pain and suffering, hardship and injustice, maybe some poverty right there with it. Others demand that blues is only the natural born right of the originators, African-Americans.
Then, there are people who feel the blues down to their soul. It wraps them up in a blanket, holds them tight and never lets go. This has happened to musicians worldwide, people who play the blues because they have no choice, because it has consumed them and never released them from the magical musical spell. Some end up getting very, very good at it. No matter who they are, where they are from, they are musicians who simply play songs they like.  It's about the music. Loving what they hear – and wanting to play it.
The acoustic blues is African American music. Make no mistake about it. They own it. It represents their struggle and their emancipation, and the centuries of subjugation and existentialism. When someone of other origins plays the music, they must do so with respect and reverence, to honor the original players and the African American culture from where the blues is derived. To do so is to celebrate black culture and history. The international success of this music is no different than the internationalization and wide respect of European Classical Music and jazz. That's not stealing or taking something away, that's the opposite: It is giving respect, but, as said, it must be done in the right way. There is a guy up in Quebec who does that without ever assuming anything other than playing the music he loves, Michael Jerome Browne. If the original masters would hear the devotion, the passion and the musical excellence in his renditions of their songs, they surely would be proud because he does them justice.
Michael Jerome Browne can play! Whatever he delves in sounds great because he is a multi-instrumentalist virtuoso, a true musician. All the rest of the heavy stuff is beyond him. He is a master musician and for him it's about the song. If he likes it, he will play it, be it Appalachian mountain music or traditional blues. He will fiddle, pick the banjo, slide on the guitar or blow the harp. Whatever he plays, he feels it in his soul and has the musical brilliance to give it wings.
Born in South Bend, Indiana, and raised in Montreal, Quebec, Canada, as the son of English professors, attending a French language school, Michael Jerome Browne started his blues journey early in life. He picked up harmonica at age 9 and the guitar at 12, from the outset focusing on fingerpicking blues, a skill he has by now perfected to sheer mastery. He had his first professional gig at 14, started busking at 15, meaning the guy has been a professional for 40 full years. By now he has won Canadian Folk Music Awards – Solo Artist of the Year 2012 and 2008; the Maple Blues Acoustic Artist Award; he was a Kerrville, Texas, New Folk Finalist; a three- time Juno Award Nominee in both the roots/traditional and blues categories.
Listen to anything he's ever recorded or catch any show and you see the results. Michael Jerome Browne is one of top musicians in the traditional music genre, with a propensity for eclectic roots & blues styles.
Many people know him for his frequent tour support of Eric Bibb as the lead guitarist behind the blues aficionado, who now resides in Europe. Bibb and Browne met at the Canadian Folk festival in Calgary and hit if off musically and personally. Eric Bibb called on Browne to play guitar on his Friends album and since then they have made many tours as partners, most recently shortly before the writing of this profile in the Spring of 2015.
Eric Bibb is quoted to have said, "…one of the finest musicians who is well versed in so many interrelated genres… Any chance I get to hear Michael and then play with him is a chance I'll leap at." (Holger Peterson, Talking Music]. Nice words from acoustic blues royalty.
Nowadays, the bi-lingual, bi-cultural  Canadian can be considered as one of the finest players in the acoustic blues. Anyone who questions that should listen to his 2015 Borealis Records release Sliding Delta, which showcases is stunning traditional blues mastery. (The Sliding Delta, so the bluesman teaches us in his fine liner notes, …" according to Bluesman J.D. Short it was an awful slow train, down through Mississippi…the train as so slow, until it almost slide like a turtle.")
There have been many different covers of the old blues over the years, but none better. Browne sings, plays 6 and 12 string guitar – both fingerpicking and slide, mandolin, guitar and harmonica with such musical perfection, he honors the original performers in a profound way. The Canadian bard digs deep into the 1920s and '30s rural blues featuring the musicians that inspired him to start playing in his teens- Mississippi John Hurt, Fred McDowell, Skip James, Memphis Minnie, Charley Patton, Blind Willie McTell, Blind Lemon Jefferson, Barbecue Bob and more. The album, recorded live off the floor without overdubs, includes a duet with Eric Bibb, recorded in Scotland, Choose Your Seat and Sit Down.
He will be at the 2015 Port Townsend Country Blues Workshop and Festival.
If this guy is not yet on your horizon, look over toward Quebec!