At first take, Mary Flower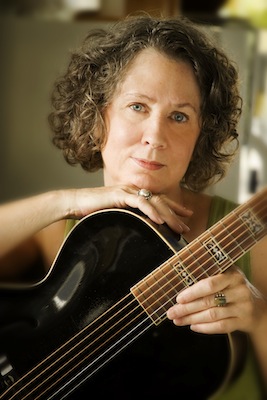 s seems like the average mom next door. You can imagine her carrying groceries in and out of the house and hanging laundry out to dry. But, when she sits on her porch and gets old Gibson guitar out and starts picking some amazingly authentic and sophisticated ragtime and Piedmont blues, it will be like nothing they've ever heard– unless you've had a chance to hear the like of Jorma Kaukonen or the Reverend Gary Davis.
Here is someone just about everyone loves. Gentle, easy going blues, easy to listen to, and great for turning newcomers on to the blues. This is a performer who seems to cross all delineation of demographics. Young & old, men & women, all musical genres, everybody loves Mary Flower. Her unpretentious approach, musical sophistication and accessible song choices make her a popular and widely beloved singer.
One of the quintessential women of the traditional American acoustic blues, Mary Flower is an accomplished fingerpicker and slide guitarist residing in Portland, Oregon. In a genre that is still male dominated, Flower holds a place of high importance along with the small cadre of contemporary blues women. There have always been many superb women singers, but very few female guitarists, in the golden era of the original blues–foremost among them Memphis Minnie, Mattie Delaney, and Sister Rosetta Tharpe (who predominantly played electric). The emancipation of women during the 1960s let more a whole bus load of young girls decide that they could play guitar just as good as the boys and Mary Flower proved it as well as anyone. The list of impressive women blues guitarists today is long, and even in the acoustic sub-genre there are a few real stars who carry the torch of the original blues singers. Mary Flower is certainly a remarkable player among the best, and keeps up with any acoustic guitarist–male or female. All around a wonderful musician, a beautiful stylist and virtuoso, Flower is equally versed in slide, lapsteel and fingerpicking (she even ranks in the National Fingerpicking Championship). Flower plays with a sweet sensibility and eloquent finesse.
She tends to stay close to home, so if you are in Oregon, don't miss her. It would be a real treat to hear her on the East Coast once in a while, but that is a rare occurrence. Look her up in festivals and guitar workshops. The sublime Flower can boogie, but she mostly carries a gentle, lilting approach to the blues– clean guitar lines, sophisticated tunes and finely honed guitar technique, with soft contralto singing. She makes it sound easy, as she stays understated and subtly. All around tasteful
Recommended starter:
"Bywater Dance" on Yellow Dog Records 2005.