Long intrigued by this amazing picker who can seemingly play anything, Frank Matheis finally caught up with the string virtuoso at the Augusta Heritage Center Blues & Swing Week on July 20, 2016. Martin Grosswendt told his own story:
"I've been pretty much absorbed by music for as far back as I can remember. My mother said that I sang from an early age and that I wouldn't eat lunch as a youngster unless the radio was on. And if the Everly Brothers came on, I would really pack it away. I've been singing for as long as I can remember. When I was about 12 or 13 I got interested in sort of alternative music – alternative to what was going on back then, which was – at that point it was sort of bubblegum pop and some of the good English Rock bands coming in, and some of the good American rock bands coming up, like Cream and Canned Heat – people like that. But what really first grabbed my interest was Jim Kweskin and the Jug Band's second record on Vanguard. My sister had a copy of that, which we acquired during the folk scare. I just became obsessed with that music and all the things that went into making that sound, and guitar especially, and banjo as well. And what I really wanted to learn how to play was the 5-string banjo, but we didn't have one around the house. We had an old Kay steel string jumbo guitar that my father had bought my mother after they went to see Segovia and she said she would like to learn to play guitar. It never got used. This was in South Dartmouth, Massachusetts, which was then an agrarian community outside of New Bedford, Massachusetts, down on the southeastern shore. I just started listening and playing and the thing that really got me going was another of my sister's albums, Mississippi John Hurt Today, on Vanguard Records. And that really got my attention. And I just started trying to play along with it, and it took a while and I really got swept up. I was playing other stuff at that point too. I was listening to Pete Seeger and Woody Guthrie, folks like that. I found a book in the piano bench that my grandfather sent my sister when she was taking guitar lessons called "Learn to Play Guitar in Seven Days, or Your Money Back." And what that did was that introduced me to the idea of chord families. If I'm playing in the key of G, then I'm going to use a C chord and I'm going to use a D chord along with that G. And the way that the author of the book kind of grouped that together, all of a sudden I was able to play every Woody Guthrie song ever written. So that was really the start. And then Mississippi John Hurt came along, and that was it. His guitar style intrigued me. It was just so different from anything that I had heard. I mean, you hear all these musicians talk about all these like conversion experiences they have when they're young where someone from Boston will suddenly one night late at night pick up WWVA, you know, the country station in Wheeling, West Virginia, and they'll hear bluegrass or old time music and it will just change their life. That was sort of the experience I had with Mississippi John Hurt, and you know others followed after that.
I was very lucky to be around a very solid folk music scene in New Bedford. There was a coffee house called Tryworks, run by a woman named Maggi Peirce from Belfast, Ireland. She encouraged people to get up and play. She also brought in really amazing musicians from all over. So I was exposed to a lot of great music, and I got to sort of cut my teeth at performing pretty early. I was 13 or 14 the first time I went on stage. At that age I was just observing stuff and spitting it back out pretty fast, so I was able to pick up a good deal of instrumental skill early on.
I'm a guitar player with a short attention span. I play finger-style guitar and flat picking guitar. I play old-time claw hammer banjo and some old-time finger-style banjo. I used to play a lot of Dobro. I don't do that so much anymore because I don't have one. I play some fiddle and some mandolin, electric bass and Cajun accordion.
I'm always still trying to learn and get better. I'm still meeting great musicians, and it's an honor to get to play with them. Boy, there've been a lot of folks. When I was 17 and 18 I was touring with Utah Phillips, the "Golden Voice of the Great Southwest," as his Dobro player. I did quite a bit of work with Jim Ringer and Mary McCaslin, who were great singers and songwriters. I never got to hang with many of the old blues guys, but some of the other big influences have been – well, Paul Geremia, he's from the same part of the country as I am – has been a real inspiration and a good friend for 45 years now. Andy Cohenwas a tremendous influence, and really my first guitar mentor. I didn't really take lessons with him so much as just hung around and watched him play a lot. He gave me a lot of pointers and pointed me to a lot of good music.
My latest experience was with the Ragpickers String Band, which is a project that Rich DelGrosso, a great blues mandolin player, put together a couple of years ago. He and I were playing – were teaching together up in Port Townsend in Washington State at their blues week, and Mary Flower was up there too. He had been playing with an electric band for a long time – electric guitar player, bass and drums; but, he wanted to do an acoustic set at the festival there, so he asked me to play, and a bass player and a fiddle player. We just tore the place up. It was great. The audience really loved it, and Rich got really excited about doing acoustic music together. So a month or so after that he decided that he would like to record something with Mary Flower and me – partly because we could all sing, so we could do harmony vocals, and he wanted that to be a good part of it.
We just did this tour out on the West Coast, Portland Waterfront Blues Festival and then the Vancouver Island Music Festival, then a little festival in Harrison Hot springs, B.C., and then Vancouver Folk Festival. That was great.
I am heading to Europe to England and I will teach over there for a week with Michael Roach, Euro Blues 2016. I was there last year and it was wonderful. I really had a great time.
I would tell everyone to play music, whether any good at it or not. You don't have to be professional to play music. I think it's just really important for body and soul for people to make music together – in any way they can – sing, strum a guitar and sing songs with your family – just any way you can make music. It's a real bridge and it can change your life.
I've been sitting along for 45 years figuring out how to play stuff and then performing it on stage, and then that's sort of as far as that goes. But when I sit down to show people how I do what I do or how somebody else did what they did, then I kind of have to come at it from a whole different direction. And in breaking it down in order to transmit it to other people, I learn a tremendous amount. I learn ten times more than my students ever learn, and that's – if you're a teacher you've had that experience. It's just a great feeling. And it's also wonderful just being able to share this stuff with people – either one on one or in a class situation – and just feel that excitement, he same excitement I had for the music almost 50 years ago.
The Augusta Heritage Blues Week summer camp is absolutely remarkable. In one sense it's commerce. I mean, people pay to come here, and the organization that puts on the camp may or may not make money. Usually most organizations that put on camps need donations as well. But it's a wonderful thing. There's a place where people with very specific interests musically can come and just immerse themselves in music for a week. The first time I taught at a weeklong camp, for the first time in my life I felt that I was exactly where I should be doing what I should be doing – every minute of that week. And that's how a lot of people feel when they're here, whether they're students or they're teaching. It's wonderful."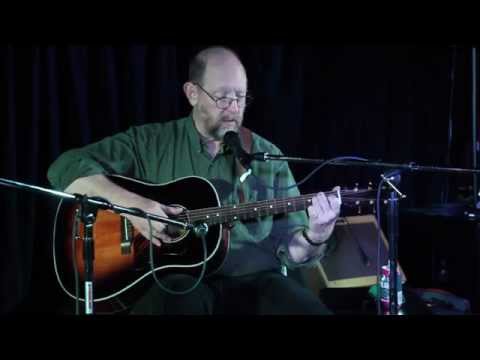 Addendum:
CD review as published in Living Blues magazine Aug. 2015 by Frank Matheis
The Ragpicker String Band
Yellow Dog Records
YDR 2422
They are billed as "the fearsome threesome", "acoustic allstars" and "fingerpicking, harmonizing folk-blues supergroup" and it may even be true. Mandolinist Rich DelGrosso, guitarist Mary Flower and multi-instrumentalist Martin Grosswendt are respectively top seated contenders on the acoustic blues scene, each accomplished virtuosos and superb players. Put them together in an ensemble and you have lightning in a bottle. They got together at Wire Recording in Austin, Texas, to record this sparkling album. It's unclear how far and long-lived this trio constellation will go, as a side project or frequent collaboration, but for now they are The Ragpicker String Band, evoking comparison to the great originals, like the Mississippi Sheiks. They indeed cover two Sheiks songs: Lonely One In This Town and Honey Babe, written by guitarist Walter Vinscon of the Sheiks. Expectedly, they take turns performing their selected songs split-duty, with the others falling behind and harmonizing with the leader. The result is American string music at its best, showcasing traditional music of the golden era of the blues, but with modern sound quality – passionate and eloquently performed roots music for today. They hit the sweet spot, showcasing the power and beauty of the traditional, acoustic blues.
Their debut album, aptly named The Ragpicker String Band impresses on multiple levels, foremost dazzling string-instrumental panache. The refined multi-instrumentalist Martin Grosswendt stands out masterfully with his amazingly clean lap and bottleneck slide guitar skills, playing every note with feeling, giving each note room to breathe and adding just the right touch to a song, holding true to the old wisdom of Virginia bluesman Ernest Banks, "Never play a note you don't believe." He also pulls out the fiddle and mandolin on a few tunes, always exquisitely.
Mary Flowers is one of the outstanding traditional blues guitar fingerpickers and sliders, feeling perfectly at home in Piedmont, ragtime, Delta and any other sub genre. In the acoustic world, where very few women hold court, she is a true gem. She shines on Trimmed and Burning, the gospel blues made famous by the Rev. Gary Davis and his disciples at Hot Tuna. Her slide playing on her original tune Bruno's Dream is impeccable. She daringly pulls out Thelonius Monk's Blue Moon with Martin Grosswendt backing her with aesthetic and tasteful bottleneck slide. Yes, The Monk without piano and she made it fly!
Like many blues mandolinists, Rich DelGrosso, one of the foremost proponents of the instrument in the blues today, likes to play Sleepy John Estes songs because of the obvious link to his incomparable mandolinist Yank Rachel. Here they bring on Clean Up At Home, Black Mattie and Milk Cow Blues by Estes. DelGrosso holds his own on Dobro on Mary Flower's excellent Baby, Where You Been and plays mandola on Motel Town. A powerhouse in whatever he touches, his baritone singing booms like a jukebox in a Memphis corner bar. Though they are all very good singers, who harmonize nicely with each other on this album, this is not a singing album per se as the true strength of all three is their instrumental skill.
Rich DelGrosso belts out Rich Lyon's satirical, cheeky song, played traditional style, Google Blues, a song that you either really love or really hate. Martin Grosswendt is absolutely superb on slide guitar on this tune, interacting beautifully with song leader Rich DelGrosso on mandolin. Some will argue that it makes the blues fresh, pertinent and funny for today – tongue in cheek and witty. Others will maintain that it makes a mockery of the harsh African American experience that gave life to this music. This writer heard an angry rejection of this song by a prominent, usually gentle African American acoustic blues player, who denounced the song choice after stating his high esteem and respect for the Ragpicker musicians, "That song is everything that is wrong with the blues today. Some people think the blues can be about anything at all. They trivialize the blues because they really don't understand the feeling, the conditions under which the black folks lived. The blues is now reduced to She googled up my shady past !…"
Yet, that singular questionable song choice, mistake or not, doesn't detract from the fact that this is otherwise a very fine album with some of the best string players on the scene today. Tip your hat to these Ragpickers who play up a storm. It's a triumphant win for the acoustic blues in the 21st Century.