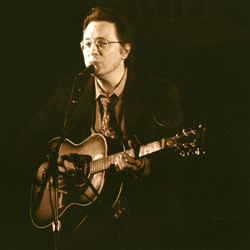 Outside of the Hudson Valley in New York, Lowry Hamner is not well known in the acoustic blues world, but he ought to be. His blues obscurity is no accident. After all, his claim to fame was as the front man of the 1980s new-wave rock band The Cryers. They moved from Meridian, Mississippi, to the East Village in New York City and played legendary clubs like CBGB and Max's Kansas City. They recorded a few critically acclaimed albums on Mercury; but, when they did not have big sales, they were dropped. Hamner went into self-imposed exile to raise a family, and not in small part sour from the music business. So, he spent years in seclusion, playing guitar and writing songs. He supported himself by being just about the best musicologist you could ever find managing a record store, back when there were still actual record stores with, well, records, and knowledgeable sales people who cared about music. Eventually, after a long self-imposed absence, Lowry Hamner waged a comeback with his excellent and critically acclaimed album "Secrets of the Heart", in 1998. It featured his singer/songwriter side, and was very much in the Americana/Alt Country direction; supported by bluegrass, rock and folk musicians.
So why is he profiled in an acoustic blues guide? Because anyone who has ever heard him play the blues will attest that Hamner's blues are as deep as it gets. He usually brings the house down with his fiery renditions of the classic country blues, which makes up more than half of his normal sets along with singer/songwriter folk. He may be eclectic, playing Americana, folk and Alt-Country, but the blues is his essence. (We should remember that this was true for most of the country blues musicians, virtually all of whom had a diverse repertoire). Equally versed as a fingerpicker and slide player, Hamner's approach to the old blues is rooted in a lifelong intrinsic connection to the music. His roots come from way down in Terry, Mississippi, the town from which bluesman Tommy Johnson also descended. When Hamner plays "Big Road Blues", originally by Tommy Johnson, you can hear the connection between these two hometown musicians. Many decades apart, Hamner pays passionate, reverend homage to the old blues master. You cannot be from Mississippi, as a musician, and not be profoundly influenced by the blues. Unlike other blues musicians, he does not need to make up a fancy name to capitalize on his blues roots. He does not walk around trying to be "Mississippi Lowry Hamner". You can tell he's from Mississippi the minute he opens his mouth with that old drawl and says "Aw-rite" for "all right".
When he was a young man, in the early 1970s, he managed a music store in Meridian, Mississippi (which was also the hometown of country musician Jimmy Rogers and Hamner's friends Chris Ethridge and Steve Forbert). One day, he drove to Tupelo to see Sam Phillips, formerly of Sun Records, and his partner Ray Harris, of Hi Records fame. They had started a new production company, and Hamner pitched his songs and even recorded sessions for Sam Phillips, who also recorded Elvis Presley and many of the greats of blues and rock-and-roll. Phillips told Hamner, "You don't sing like Elvis, but you're the best songwriter I've heard in ten years." Still, it didn't work out. His musical career, like that of countless talented musicians, was filled with "almost breaking through", plenty of accolades –"near success", and "near-fame", but he never quite hit the deserved big-time. Still, when he gets out the old Epiphone that he has had since he was a teenager, he kicks out the truest blues you'll ever hear. There is an ethereal, gritty feeling and profoundly moving sincerity and authenticity to Hamner's blues. This is not something he learned. This is something he is and has always been.