article and photo by Australia Correspondent Julie Fox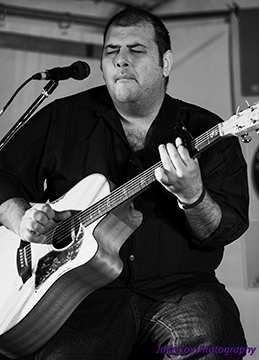 It is hard to imagine Australia's Lloyd Spiegel has just released an anniversary album, 'Double Live Set'; a twenty five-track anthology to celebrate 25 years performing, writing and recording, while still at the relatively young age of 35. This album was recorded over two sold out shows at the Wonderland Spiegeltent, Docklands, Victoria.
Probably not all that surprising when you realize Lloyd began his musical career at the tender age of ten, winning a school talent show and going on to form his first band at age thirteen. He continued honing his skills while playing in many of Melbourne's well-known music venues during this time and at fifteen Lloyd recorded and produced his first CD. The next step was to travel overseas, immersing himself in the blues scene around America where he played at BB King's Beale St. Blues club as well as meeting Brownie McGhee and Luther Allison. Lloyd Spiegel credits Brownie as being a huge influence on his playing. So too were Australia's own 'Godfather' of the Blues, the late Dutch Tilders and Geoff Achison, both from his home State, Melbourne, Victoria.
Lloyd's relentless touring has earned him the title of one of Australia's most respected guitarists and champions of the blues. As well as performing and touring throughout Australia and New Zealand, Lloyd has also performed at many of the major festivals overseas; Japan, Germany and dozens throughout the USA, including the Mid-Mississippi Blues Festival; the Kansas City Blues & Jazz Festival; Columbus Traditional Acoustic Festival; Kansas City Acoustic Showcase; Mayfield Towns Memorial Benefit and the Paola Roots Festival, to name a few. These tours have also provided the opportunity for Lloyd to support acts such as Ray Charles, Bob Dylan and Etta James.
Lloyd Spiegel has always been a passionate supporter of the blues, encouraging and mentoring the younger Australian players as ambassador to 'youth in blues', as well as holding the title of ambassador to the Australian Blues Music festival, Goulburn, New South Wales from 2005-2008. He has picked up many awards along the way, including the Australian Blues awards for Male artist of the year in 2004, 2005 and 2010, Victorian Solo/Duo of the year in 2004 and 2010 as well as Song of the Year in 2004 and Producer of the Year in 2010.
Lloyd Spiegel is held in such high esteem that he was chosen by world famous Australian guitar maker, Cole Clark, as their premier demonstrator and endorsee. He has been invited to perform at countless major guitar events, and has been honoured with two signature model guitars that are now available in stores world-wide.
Watching a live performance by Lloyd Spiegel is an emotional and visual rollercoaster; one minute the audience is mesmerized with some beautiful, and intricate, finger-picking, and the next the pace is ramped up to incorporate his trademark blazing licks, before returning, once again, to a slower pace. Lloyd's dynamic and expressive guitar style works so well in tandem with his huge vocals; from power blues to gentle ballads. Whether Lloyd Spiegel is covering some of the earlier blues artists, such as Blind Willie McTell, John Lee Hooker and Robert Johnson, while injecting his own interpretation, or performing the many original numbers he has written, including the beautiful Mississippi Sun in the clip below, the emotion, both on his face and in the room, is palpable. His style mixes blues with soul, folk and soft rock. Either sitting on a stool, acoustic guitar in hand, while producing those beautiful pieces, or in electric duo mode, Lloyd Spiegel invariably invokes the same reaction every time from his audience; thunderous applause and standing ovations.