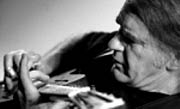 Here is another artists who used to light up the switchboard like a Christmas tree when I played his CDs on the radio. One of the common statements was, "Wow, who was that guy from Canada? I didn't know they play blues in Canada." Well, yes, they do. There is a vibrant blues scene up in Canada with some heavy hitters in the blues such as Colin Linden, Rick Fines and many others.
Ken Hamm, who now resides in Forget, Saskatchewan, just north of North Dakota, where he runs a small music store with his wife selling acoustic instruments, teaching and making instrument repairs for the locals, has been paying is dues as one of Canada's most committed traditional roots and blues players. He's been at it since 1978 and has spread the blues in the vast yonders of Canada. Often he performed in remote places where he was the only live blues player the folks have ever heard; other times he toured the world. Ken Hamm is a truehearted old-time country blues player and a highly skilled virtuoso guitarist who has mastered a wide range of styles. He performs both original songs and a vast repertoire of the blues classics. When it comes to preserving the traditional blues, Ken Hamm is one of the most important players in North America, he just happens to be a little more north than others. Hamm was raised in Thunder Bay, Ontario, and began his musical pursuits as a teenager. To say that he has paid his dues would be a vast understatement. He has carried on tenaciously as an ambassador of the old blues and he is a superlative guitarist, both as fingerpicker and slide player, and by anyone who knows anything he would be respected as a significant musicologist. Just recently he was even awarded the Great Canadian Blues Award.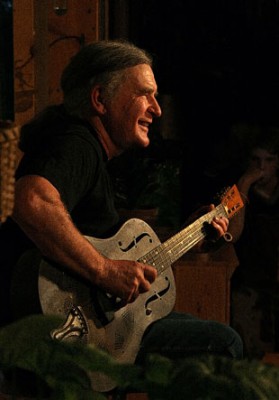 One funny story he sometimes shares with his audience is that in the same year that he won the Juno award, another branch of the Canadian government, "On the same day I received the notification about the Juno award the government sent me a mixed message. The tax collectors who had audited me six times told me that I should consider my music making as a "hobby" rather than a profession because I was not too successful in earning enough income from it." According to his own bio, "Hamm moved to the West Coast in 1982 and has continued to write from his experiences as a silviculturalist, fisherman and rural observer. His songs reflect the land he loves and the lives of the people that live there without being sentimental or overstated. Hamm's song 'Fishing Grounds' is featured on an interactive CD-ROM designed by the BC Folklore to educate high school students." He is also a renowned guitar instructor of fingerpicking and slide guitar. He has toured internationally, especially in Canada, England, Scotland and Europe, playing festivals and concerts and presenting guitar workshops. Your best chance to catch him is in Canada.