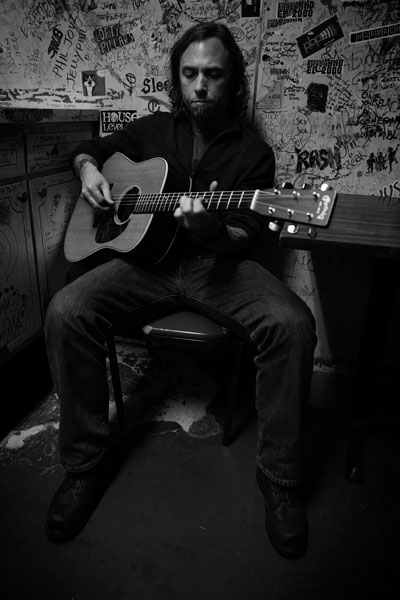 Kelly Joe Phelps is a highly talented guitarist who emerged from the Burnside Records scene in Portland, Oregon in the early 1990s. Kelly Joe Phelps is a superlative musician, deeply rooted in the blues, but also very eclectic in his styling. The term "contemporary acoustic blues" fits well, although anything he plays sways a bit into the realm of the mysterious. Don't expect to hear note-for-note covers of old songs. Kelly Joe Phelps approaches the guitar with broad influences. Like his nickname implies, the "Shine Eyed Mr. Zen" is to the blues what Zen is to meditation (the name is derived from the 1999 album title). Phelps is just a bit more mystical and complicated to understand, but with a trance inducing, meditative quality. You could call it intelligent blues roots with a bit of freeform, jazzy Zen.
Suffice it to say that the innovative virtuoso has pushed the boundaries. He started off on the straight and narrow blues path with his early recordings on Burnside, and expanded his approach ever since. Often , but erroneously, criticized for his monotone singing, an aspect that may have prevented greater fame and fortune in the pop oriented world, his singing style is actually conducive to his unique sound and very fitting. He's not Son House when it comes to the voice but he is an emotive and expressive singer. It all works!
Be clear on one thing. When Kelly Joe Phelps sits down and plays some deep roots blues, he delivers a gut-wrenching, soulful and unique sound all of his own, that is the real, true, but unusual blues.