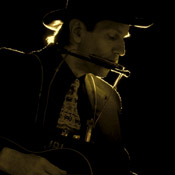 It's almost plagiarism to describe John Long as some kind of reincarnate. Just about everybody who's heard him says the same thing, and we surely would not want to be so unoriginal, but he just totally sounds like he's a reborn bluesman from another place and time that it is eerie and worrisome.
The supposition is that perhaps 500 Million Buddhists are not wrong, and maybe some white guy named John Long could be the actual rebirth of a blues titan, like maybe Tommy McClennan or Tommy Johnson. Who knows, but this guy sure can play the blues and it sounds like you are listening to an old 78 on a Victrola.
His sensational 2006 debut on Delta Groove was a startling jolt of energy. As exuberant and intense as the best of the original vanguard, this  not-so-new newcomer at age 59, has a natural, raw talent and amazing chops that come from decades of playing the blues under the radar. What a long and lonesome trip it must have been. Finally, some recognition for the devoted bard.
His singing is eerie and haunting, sounding as close to a 1930s recording as any country blues player. Perhaps it is because he was an apprentice of Homesick James in Chicago. It is dramatic that this amazing musician has toiled so long in obscurity and that it took so long for him to emerge out of the shadows. John Long, fingerpicker and slide guitarist and harmonica ace, deserves to be celebrated as one of the finest practitioners of the traditional blues. While he sounds like the old masters, he performs exciting and original material with a batch of very cool songs that are as fresh as his arrival on the scene. On this website, we love retro-throwbacks! Hats off to John Long.
"Everybody get together, man, having a real good time, Don't care what color you got on, black, brown, blue or white, you get out there, you make it alright…"
Recommended Starter:
No choice. He has but one CD to date. Go for "Lost & Found" on Delta Groove.