by Frank Matheis published in Living Blues in edited format in the Dec. 2016/Jan. 2o17 Edition #246
John Heneghan & His Henpecked Husbands • Ever Felt the Pain?• East River Records •ERR 1009
There are strange and weird things happening in New York City that would shock the faint at heart. The Jalopy Theater in Brooklyn, a most venturous secret venue surely under FBI surveillance, draws all sorts of cultural misfits and freaky artistic scallywags who unabashedly play roots and blues in an old time frenzy, as if there was no rule against it. The new album by John Heneghan, a well-known 78rpm record collector and still obscure roots & blues precocity, surrounds himself with his cadre of accomplices, including his slinky wife Eden Brower. He openly admits to having lured her into the Eden & John's East River String Band with chocolate and the promise to have her name listed first. The uninitiated would pose as the first question what elevates Heneghan to get the notorious and equally quirky Robert Crumb, of Zap Comix fame, to draw all of his album covers. That supreme privilege evades even the high and mighty of the blues world. Those unpardonable 78-rpm record collectors hold together, is the short answer. Crumb also plays harmonica and mandolin on this album. The other Husbands are Dom Flemons, who shows up with his harmonica on Baby All Night Long, Pat Conte, another New York roots & blues deplorable, on fiddle, vocals and guitar, Geoff Wiley, Eli Smith, and Jackson Lynch on fiddles, bass,banjo, uke and on other strings.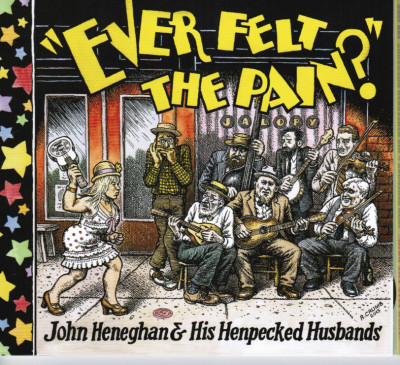 Ever Felt the Pain? sounds like a wild, free-flowing late night country hoedown in 1928 in the back of the hoochie coochie show tent, after all the townies have gone home. The country string band and the black Vaudeville players stayed late, letting loose, drawn by moonshine and leftover roasted pork, and the desire to see Eden Brower sing, dance and play the ukulele. They gathered around the goateed Heneghan with their instruments and the bandleader/singer amazes all with his guitar string virtuosity. Everybody gets down, sometimes harmoniously, other times a bit discordantly, but always with sheer fun. Heneghan and his lot of lawless songsters sound like they just raided the treasure drove of long forgotten 78s, but all are his originals and that is a musical joy in our modern day. What is it? A bombastic mix of exactly what the musicians of the golden era would play– everything: Country blues, pre-Country hillbilly, jug band, music of the black and white before somebody decided to split it all into different rooms. They get down on weirdly infectious pieces like Cornfed Indiana Gal and Baby, All Night Long.
There is nothing smooth or finely produced with pretty ribbons here. It's raw, rough-hewn, wild, shit-kicking goodtime music, beautiful in its imperfection and sheer devotion to fun and liveliness. Out of the generous portion of 16 songs, Heneghan, a versatile roots guitar virtuoso, does about half as country blues, solo or mildly accompanied, singing with his gruff but affable mountain holler style. The rest is fiddle intensive full hoedown band stuff.
Standout country blues are Rattlesnake Blues, M&O Blues, Love My Stuff, Ride Away – with a tip of the hat to John Hurt, and Woke Up Blind, with Heneghan on 9-string guitar. Ever Felt the Pain? is a perfect antidote to the ordinary. It really doesn't hurt but it will sting a little.