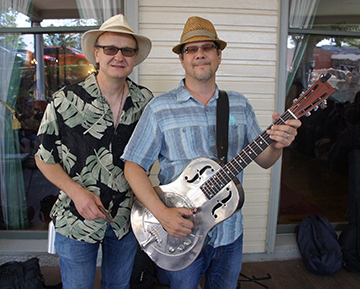 The brilliant Chicago based guitar-harmonica duo is among the few remaining, long-term duos devoted to carrying on this roots & blues musical constellation, notably preceded and popularized by Sonny Terry and Brownie McGhee and later Cephas & Wiggins. Duos come and go, but the Windy-City pair managed to make a full time, successful career, with longevity and artistic diversity. They manage to make it new and interesting, yet keep it preservationist and traditional. Their 14-year long run, so far, is nowadays considered a virtual musical lifetime, and the longtime of fitting together as a tight ensemble is evidenced by their profound skill and harmony. Anyone witnessing their shows will attest that they have it all going: superb instrumentation, a huge repertoire, genuine passion for the musical traditions and sheer fun. That's perhaps the magical ingredient in this musical amalgam, the undeniable, unbridled, infatuating fun these guys are having. Perhaps that's why they are regular and popular teachers, because they have all the chops, the history and the knowledge, and also the infectious drive and the heartfelt love for the music, which then quickly metamorphoses into that ever-important enjoyment of music we call, after all, entertainment. Keeping the blues alive, indeed.
Since 2003 they produced three critically acclaimed CDs and traveled internationally, enthralling audiences young and old, and many hundreds of students have benefitted from the musical classes and workshops.
thecountryblues.com caught up with the players at the 2016 Augusta Heritage Center "Blues Week" at Elkins Davis College in Elkins, West Virginia, where both were teaching.
Eric Noden is a superb fingerpicking and slide guitarist who carries on the acoustic country blues masterfully, while his partner Joe Filisko is an eloquent, refined and sensitive harmonica player who can match his skills pretty much against anyone globally.
Eric told thecountryblues.com, "I got into music when I was really young –about 8 years old. My dad plays guitar and he inspired me to pick up the instrument. He was also was a big fan of the country blues and he had a lot of records of Mississippi John Hurt, Fred McDowell and all the different country blues artists. I didn't really start off with that music – I played electric guitar for a while and classical guitar. I got into playing fingerpicking blues when I was about 19 or 20. In my early 20s I moved to Chicago, and I wanted to go somewhere where there was a more vibrant music scene. Originally I am from Monroe Fall, Ohio, the town that I grew up in. Around 1994, I moved from Northeast Ohio to Chicago and started teaching in the Old Town School of Folk Music, which is a really great institution that teaches a lot of styles of music that you can't usually find. You can't usually learn blues and old timey music. That's where I ran into Joe Filisko, because he also has been a teacher there for quite a long time. But we didn't start doing our duo until 2003. So we knew each other for a while before we started playing together. Before, I was doing solo acoustic blues. That was kind of my thing for quite a while. I was looking to do something a little different and to form a duo. I thought of Joe, thinking, man, he would be a really good person to do a duo with. We started off and did some of the gigs basically playing a lot of the repertoire that I already had worked up –mostly '20s and '30s or prewar blues. Really quickly we found we both really liked these prewar styles, and also a lot of the sort of different styles, because we don't just play Delta blues, or just Piedmont blues. We like the variety of repertoire, and that's one of the reasons why we were drawn to each other. We are both grounded in the idea to keep on progressing and learning new stuff and growing as musicians and artists… I think there are advantages and disadvantages of being an acoustic duo. Some of the advantages are that we fit into some other genres outside of blues, like folk music. I think for the blues establishment, we're considered kind of a folky blues act. When we play for folk audiences or folk venues we're considered a bluesy act. It's sort of opposite depending on who we are playing for. We've found that a lot of people who really understand the history of the blues appreciate and understand what we're trying to do in all these different somewhat obscure styles that we're drawing on… We've gotten quite a bit of airplay across the country on our last several records, and we've been reviewed in a lot of the blues magazines. We label what we do kind of "roots music" more so than "blues music", because it encompasses a little more than maybe what people think of as just blues…We play a lot of concert type venues where people are really listening. We have a pretty good following in Europe and have been touring there for at least 9 years. That's worked out well for us. We do a variety of venues, but mostly listening room concerts… We release all of our own recordings and have never dealt with a record label and we're very happy to have total artistic control over what we're doing. It's not easy. We've definitely noticed a little bit of a decline in terms of people buying physical records. The landscape of music (business) is changing a lot… We're just looking to continue what we already established. After the first recording that we made – it was called Live, and it was all traditional material, we then moved into our second recording, which is called I.C. Special, we made the transition into writing our own material. Even though we're playing in highly traditional styles, by the fact that we're writing our own material allows us to really customize the music, by the strength of the styles that we want to present and our own playing, our own music tastes. I think we are just going to continue what we have already established – maybe explore a few new styles that we haven't touched on, and continue traveling, continue playing concerts. We started doing online concerts as well. We're also interested in using technology to reach more people or reach people that we only get to see maybe once a year over in Europe or Australia or different locations… I'm working on making more online teaching materials available so that people can access my teaching online. And, Joe has a thing called Filisko Store, in which you can buy transcriptions of his songs and harmonica techniques. Our main website is www.rootsduo.com. "
Harmonica virtuoso Joe Filisko explained, "My hometown is Joliet, Illinois, just south of Chicago along I-55 on the way to St. Louis. I was actually born in Giessen, Germany, but came to the United States with my parents as an infant. I fell in love with music, and when I was a teenager and really started focusing, studying on acoustic music –blues and ragtime. When I was in college, and really very shortly after that I first heard the sound of the harmonica and was endlessly intrigued, fascinated and hypnotized by the sounds that could come out of the harmonica, mostly in the blues context. I am very much a fan of solo harmonica of players like DeFord Bailey or Sonny Terry. I started teaching at the Old Town School of Folk Music in the early 1990s and that is in fact where I met Mr. Noden. Music wise my outlet is with Mr. Noden these days. I don't really have any active music projects going on that take any sort of time away from me, although I can, from time to time, reignite my interest in solo performing, although there are not many outlets for that sort of things… I think one of the key things that has made our relationship work really well is the openness of doing a variety of music and Eric's mastery command of numerous guitar styles. So what I've always been trying to do, because in my mind I think of myself as a teacher and historian, I am trying to understand, comprehend and explain all or as many musical styles and styles of players that I possibly can on the harmonica. So it's not really been that important to me to develop my own style or my own sound. I have been much more interested in taking the best of everybody else's style and sound and incorporating it into what we do as a duo. So this last song, for example, is very much the attitude and embodiment of the harmonica player who played with Mississippi Fred McDowell called Johnny Woods. It would not really work, in my opinion, to recreate the style of Sonny Terry in a song like that or Sonny Boy Williamson in a song like that. That works, because Johnny Woods developed a very specialized complement to that guitar style. So, I have been really looking through all the recordings that I have available, really trying to find out how to make the harmonica as varied and interesting for as many songs as possible throughout an evening. I think we're trying to keep people's interest for the maximum length of time in what we're doing. Sometimes the harmonica sounds more like an accordion; sometimes it sounds more like a weird chirping thing. Sometimes it has droning effects going on. Sometimes it has the explosive drive of somebody like Big Walter Horton. I have been very much trying to take the best of everything that everyone has done and put it into our own songwriting and our own music – of course not trying to take credit for it, but I'm always thrilled to be able to tell people that this thing that I just did really is a homage to the harmonica player Glen Foster, which very few people have even heard about, but the song "Now She's Gone" is very much a tribute to his highly individualized unique harmonica playing style. So I'm trying to learn from everybody…I prefer the Hohner Marine Band harmonica. The Marine Band model 1896, which came out in the year 1896. Nowadays they have the crossover Marine Band, which I do play a lot of. They are very friendly harmonicas for somebody that doesn't want to travel with lots of backups. They're very consistent out of the box, and if I have any trouble it's very easy for me to do quick disassembly and remove a hair or a clump of lint or something. So I like the Hohner Marine Band harmonica… On my instructional page www.filiskostore.com there are lots of these blues harmonica "etudes"– study songs and my attempt to try to get people to play more with a big tone, big sound out of the harmonica. I am also a contributor to the bluesharmonica.com monthly subscription website with lots and lots of videos. You probably never thought that there was all the different ways of doing harmonica train imitation – videos that I posted up there."