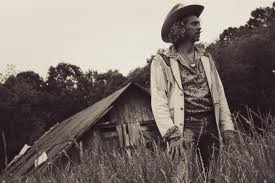 If you like it bland and boring, following a precise formula and if you want the old blues played note for note just like the old 78 rpm records for you to accept it, look away now.
Here comes Jimbo Mathus, a man with something to say.
You can't make this guy up. Ol' boy Jimbo is like a colorful character of out a Wim Wenders movie. You can imagine him stepping onto the big screen in "Paris, Texas", dressed in his semi-hippie meets Outlaw Cowboy singer outfit, singing his Mississippi mud, Americana honky-tonk, beatnik twang, gut bucket blues. Is he country, is he blues, is he country-blues? Yes, to all and then some. He may be the personification of eclectic and eccentric, but that boy sho' can play.
In fact, he is one of the most prominent, most original voices on the American roots music scene today: an edgy, rough-hewn performer, producer and protagonist of American freedom , that is free to be a wickedly wild poet and bard. He fits no type of description and can't be tied down to nothing. Jack Kerouac would be like a conservative accountant compared to Jimbo, who is just about the coolest guy on the music scene today. Some people call him "retro-chic" because he was a founding member of the famed Squirrel Nut Zippers, or because he fully understands the deepest nooks of American folk, roots & blues music, but that just implies that he is a throwback to another place and time. He's not. He is here and now, playing a very progressive style of music that is at once ancient and new as it could be. Like any great artist, he carries on traditions but has his own unique, individualistic style and expressiveness. In coming generations he will surely be venerated as one of the great alternative voices of our time, along with Tom Waits, Jim Dickinson, the Beat poets and performance artist Laurie Anderson.
So why include him, as much hillbilly as he is blues, in a directory of the traditional, acoustic and country blues? First and foremost because it is a key element of his musical soul. Secondly, because if he feels like playing that, then there are few people alive today who can play it with such power and fury as Jimbo Mathus… Because he mixes it into everything… Because he is one of the most important of a country blues players alive today and not because he is a purist, but because he is not. ..Because he is triumphantly chaotic and dares to be free.  So there.
Jimbo Mathus, born in Corinth, Mississippi, is also an excellent visual artist, a true American original who played as a lad in the family band and who now operates a recording studio in Como, Mississippi, where Elvis Costello himself recorded.  Jimbo has a musical resume long enough to stretch from there to Baltimore. There is a Deep-South vibe to everything he plays, and if you listen long enough you can hear it all. The singer/songwriter, guitarist, multi-instrumentalist and wild man persona is a musical radical.
But if you love acoustic, old time blues, and all that alt-country, Country-Western, edgy blues, post punk rock and North Mississippi trance boogie music is too much for you, rejoice, there is plenty to love, not the least of which is his work with the South Memphis String Band, a trio with Jim Dickinson and Alvin Youngblood Hart. They have been dubbed "an acoustic supergroup" – but not by this writer. They just plain out understand the old music and play it with (to steal a term) nitty, gritty dirt. They recorded two albums on the Memphis International Records label – "Home Sweet Home" 2012 and "Old Times There" in 2012. Between them they cover blues, folk, gospel and songster music covering the past hundred years on guitar, mandolin, banjo and more. Amazing stuff.
If you want all the details go to Wikipedia. If you want your blues with a bit of fire spice, check out Jimbo's music.