by Australia Correspondent Julie Fox 2015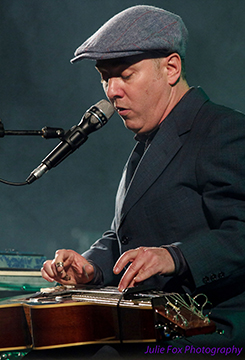 Jeff Lang was born in Geelong, Victoria, Australia in 1969 and his interest in music was sparked at an early age, inspired by the records his parents played at home. His early influences were Blind Willie Johnson, Bob Dylan, Leo Kottke, Ry Cooder, Roy Buchanan and Neil Young.
Jeff Lang has been described by John Butler as "the man", while Rolling Stone magazine's editor labelled him a "guitar genius", yet despite the accolades, Jeff Lang isn't one to rest on his laurels. Jeff Lang also hates to be pigeon-holed into one genre of music, and to do this would be to underestimate his true talent as a songwriter, singer and highly accomplished guitarist. Over the last two decades Jeff has embraced many styles of music; experimenting with blues, Celtic, Indian, African – you name it, Jeff Lang is prepared to broaden his musical knowledge and expertise to introduce us to the many extensions of one of the original art forms, known as 'the blues'.
Jeff's song writing leans towards folk, while his guitar playing is a mixture of folk, blues, rock, Indian and African styles. Playing various types of guitar; lap steel (acoustic, electric and bass), acoustic, national, Supro resophonic, bottleneck, as well as drums, chumbush, ukulele, mandolin, Weissenborn, harmonium and tenor banjo demonstrates his constant desire to create a palette of sounds, extending, and pushing, those musical boundaries. For many, attending a Jeff Lang concert is equivalent to taking a musical world tour.
So you can see that, initially, there might be a dilemma slotting Jeff Lang into the country blues category, but then again, we face that age old question: "What is blues?" Reading the mission for thecountryblues.com site: "Currently actively making a contribution to the genre", as well as "playing acoustic, traditional, country and folk style blues at least a good portion of the time", we have to say: "Yes he does" – rightfully taking his place alongside the first, second, and even third generation of blues musicians who have given their heart and soul to this genre, while sharing their music and inspiring new generations of devotees. Jeff Lang manages to do this through constant touring and recording – performing at festivals and venues throughout Australia, England, Ireland, Europe, Canada and the United States each year.
In tandem with Jeff Lang's masterful guitar playing is his powerful song writing skills; lyrics seemingly produced by the same genius, and occasional warped sense of humour, that pervades the mind of one of his idols; Bob Dylan. These can be found throughout the 24 albums Jeff Lang has released to date, interspersed with beautiful folk and Celtic ballads as well as heartfelt instrumentals, produced with the sweetest of slide playing on either the acoustic Churchill or Beeton resonator.
In addition to other awards, Lang's 1996 album Native Dog Creek was named 'Best Australian Blues Album' in a Rhythms Magazine readers poll, as were his 2005 release, You Have To Dig Deep To Bury Daddy and the 2006 album Dislocation Blues, a collaboration with the late Chris Whitley, while his 2002 collaboration with Bob Brozman won an ARIA award for Best Blues and Roots Album. In 2012 Jeff was presented with the National Film and Sound Archive of Australia's National Folk Recording Award.