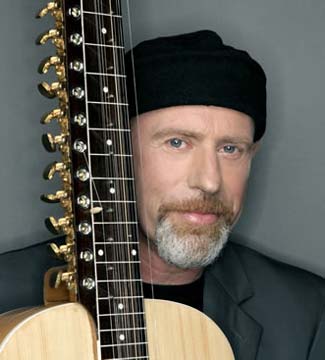 This lapsteel guitarist was born on the Isle of Man (Manx in its own language) and now resides in Canada. He also lived in Japan for a long time, and studied slide guitar in India as a disciple of the famous Vishwa Mohan Bhatt, who also made a renowned album with Ry Cooder. Manx is a proponent of an East-meets-West musical style that combines clearly undeniable blues with Indian music. It's not that far of a stretch. Bhatt had adopted the acoustic lapsteel guitar and formed his own sound, complete with modifications to the instrument, and employed tunings comparable to Indian raga. Manx and others just took this building block and pulled it back into the blues.
Along with Bob Brozman, Taj Mahal, Ry Cooder, Corey Harris and Markus James, he is one of the trailblazing blues universalists, musicians who have traced the blues back to its source in West Africa, Hawaii and over to India. They have blended contemporary African music, not dissimilar than blues, for example, the music of Ali Farka Toure. Yet, others went back to the great Hawaiian Hula Blues of the 1920s to slide back to the languid sounds of the early lapsteel, as played by the great Sol Hoopie and others during the heyday of that blues-drenched sound. The music played by Bhatt in India is a stretch when it comes to blues, and purely Indian in structure, tuning and overall sound. However, Manx merely took back the lapsteel from the Indians and remerging what the Indians had progressed back to the more original sound.
What you get is a potent amalgam, a heavy brew, but it sounds good. It's the blues all the way. Manx can also get back to the roots of the blues and there is shortage of traditional blues. Manx plays the Indian lapsteel as modified by Bhatt, called the Mohan Veena; the standard 6 string lapsteel, banjo and harmonica. He sings in a trance-like monotone chant.
Often compared to Kelly Joe Phelps, he could just as easily be compared to Bob Brozman.
Blues purists who reject the inspiring new sounds that came out of the whole world-music scene are missing out on some exciting and interesting music that is at its core honest and directly linked to the blues. Manx is one of the best in that sub-genre and a musician who has built bridges, not away from, but to the blues.
Recommended starter:
Wise and Otherwise, Northern Blues, 2001