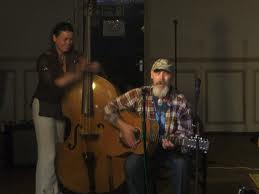 You may not know him, but you ought to.
Over in the medieval walled city of York, England, a once itinerant country-bluesman lives on a barge on the river Ouse. He doesn't play the US circuit and is known mostly around York, but he's as good as they come, one of the great country bluesmen on the scene today.
The traditional blues has long been a beloved genre in the UK and, arguably, the love and passion that the English and other Europeans have for the blues has significantly contributed to the revival and sustenance of this music. There have been great acoustic players in Europe since the original blues revival of the 1960s. Rory Gallagher, Peter Green, Hans Theessink and Willie Salomon come to mind. Any of those could deliver amazing renditions of the old blues, and Gypsy Bill is a fiery and powerful player that deserves more than a dose of respect. This guy can play with amazing prowess and he is a direct continuation of the original bluesmen. He's been at it for 30 years now and has paid his dues as an itinerant musician, busking on the streets for change all over Europe for over 20 years. If you are going to stand out on the street you have to be good, deliver a raucous and fancy sound and get attention. Anyone who has done it knows that this is the best training ground for a musician. You have an instant audience, but to keep them with you and  to get them to pay you need the skills and the showmanship to get them to stop and listen. To succeed in this scene  you need to be really good– and he is. Gypsy Bill has a nice 1933 L00 Gibson and a 1929 National Triolian and when he gets going he rips up the blues like a man possessed with the spirt.
He got the name Gypsy because of his wandering, rambling ways. He worked the fairgrounds when he was 16 and then took his guitar on the road, living the busking life. First he played the pop and rock scene and late in life, by age 30, he completely devoted himself to country blues after having fallen in love with the music of Fred McDowell and Son House. Nowadays, he is backed by his wife Adele on standup bass and prefers indoor gigs because of arthritis, and he holds several residencies in and around York.
In the Southern US, they say, "Talk the talk and walk the walk," which means "show me what you got." Gypsy Bill Williams may not be well known internationally, but when it comes to having the chops and skills built over years of living the life, he's the real deal and can hold his own against the best players anywhere in the world today. He's lucky to be in a place where the blues is beloved and respected and he has been able to make a living doing what he loves to do, busking as a one-man-band, other times in ensembles.  You could easily compare him to Seasick Steve and the Memphis buskers Richard Johnston and Ben Prestage. Gyspy Bill Williams has backed up John Hammond and the late, great John Jackson, who was a strong inspiration on his playing.
He takes it all in stride. "I am just an English guy. I consider myself a student of the blues, a music I love. It belongs to the people where it originated from. I just try to play it the best I can," he said, somewhat modestly.
The Gypsy  has now "settled" in York, England. If you pass through there make sure you catch him.
He does not seem to have any YouTube videos up so click on this nice collage of his music in this vimeo film.