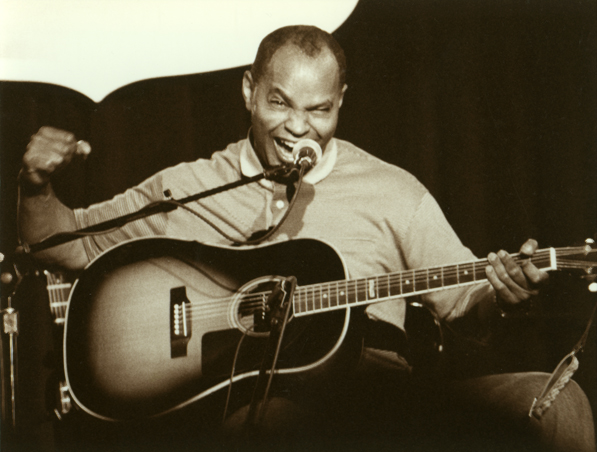 Musician, composer, actor, director and writer, Guy Davis, is a city-guy from Harlem, who never got too far away from the country roots. The blues stayed alive in Harlem, even when other musical forms took prominence in the black community, and Davis made sure of that. He sings and plays acoustic guitars, banjo and harmonica, performs it with gritty genius, charm, style and musical sophistication and a foot stomping beat.
Davis played the lead in the Broadway show "Robert Johnson: Trick the Devil." The audience and critics marveled at his amazing portrait of the old Delta Master to the point where some openly contemplated whether Davis might indeed be the very incarnation of the infamous bluesman, who was rumored to have sold his soul to the devil at a country crossroads in exchange for magical musical prowess. Heaps of critical acclaim came Davis' way when he starred in "Bed With The Blues: The Adventures of Fishy Waters and Mulebone," which featured the music of Taj Mahal. Most notably, renaissance man Davis is one of the finest practitioners and composers of the traditional blues genre and a cultural historian with a long list of accolades, awards and recognitions. He has issued a string of even, consistent releases on the Red House label, featuring both old blues and new, original compositions.
Pick any of his Red House releases and it's a folklorist's sojourn as he always uncovers and revives some obscure, long-forgotten tunes from the old minstrels, songsters or bluesmen of the golden era. Very much a blues musicologist who stays true to the old ways, he is essentially is a country blues/folk-performer who delivers an engaging and buoyant stomp and holler blues, alternating steaming hot slide guitar with virtuoso fingerpicking. His rich fire spitting blues voice carries the harrowing down-home essence. Davis approaches the music with a distinct sense of originality while keeping close to the lyrical and structural framework of acoustic blues, achieving the singular element which distinguished the blues from anything that was ever heard before or after: the profound and deep feeling. Davis is a superb songwriter whose lyrics evoke the storytelling, poetic traditions of the blues- always simple, yet poignant and evocative.
Recommended starter:
All of his Red House releases are similar and consistent. "Stomp Down Rider", the 1995 debut, and the sophomore "Call Down the Thunder" 1996 are a good introduction to this artist.