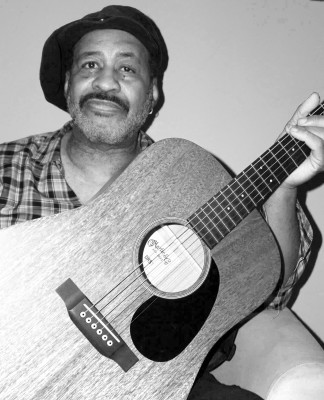 The bad thing about the blues as a genre is that it is fundamentally unfair. That's why it is the blues, after all. It was rooted from the get-go in unfairness, the musical expression of poor, oppressed and exploited rural black folks in the bleak Jim Crow period of the deep south. For some bluesmen today it just keeps on going. That's what puts the literal blues in the figurative blues, the daily existentialist hardship and tribulations. It ain't easy and sometimes it makes a fine bard make haste slowly, way too slowly! There is this major guy up in the windy city Chicago who has seen his share of respect and success while trying to saddle that wild horse called the acoustic blues, but as Poor Richard knows, the man who saddles the horse has one idea, but the horse has another. Times are hard for the American acoustic blues. It is more difficult than ever for the players to find competent management, to get decent bookings and to manage a career when blues record companies are floundering and when young audiences, black and white, are not exactly flocking to the blues. Even the Europeans, who used to come over to sign anyone they could find to feed their once vibrant hunger for the authentic blues, have since gone missing. That's the blues for you.
Mississippi born Fruteland Jackson should be an international acoustic blues star en par with the big names in the genre. You can catch him here and there in festivals, but he should be an international touring star gracing the major venues. His record company bio reports, "He was born June 9, 1953 in Sunflower County, Mississippi, the fourth child of six. He was raised in a musical and church going family. Fruteland's parents  were like many other blacks living in the South in the early 1950s. They headed north to the bright lights of Chicago in search of better employment, civil rights and education for their growing family. His early childhood was spent between Chicago and Mississippi. Fruteland's early exposure to church singing, and growing up in a household where blues music was the norm, set the foundation for what would become his life's work. He soon fell under the spell of the musical influences of his favorite Uncle, Woodrow "Dick" Chandler, who was a locally known guitar and piano player in Inverness, Mississippi and he gave Fruteland his first guitar at 12 years old. Fruteland later attended Columbia College in Chicago as a performing arts major (theatre and music) as well as Chicago's Roosevelt University where he studied voice. He started to play blues while living in Beloxi Mississippi."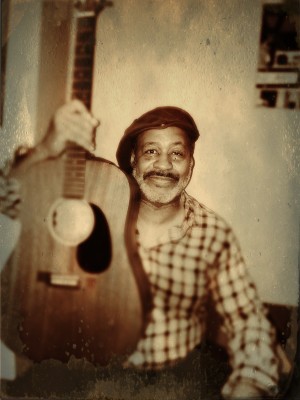 As said, the blues is unfair, because here is an intelligent, deep-roots player of the first degree, one of the most important performers in the acoustic genre in America, who is still largely under the radar. He is as good as anyone. He is an author, storyteller and oral historian who from Chicago's West side, trying to make a career. Along the way he has seen his share of well-deserved accolades as a three time Blues Music Award Nominee and a recipient of the Blues Foundation's "Keeping the Blues Alive" award. Fruteland Jackson created the award winning "All About the Blues Series – Blues in the School Programs" which has let him travel all over the US to educate the next generation. He has also kept the storytelling tradition alive and actively engages in the rich African-American oral history tradition, both in person and on record. Fruteland Jackson is also the recipient of the Illinois Arts Council Folk/Ethnic Heritage Award the "Keeping the Blues Alive" for Blues in Education. He presents programs at civic, cultural and educational venues. He is an Electro-Fi recording artist who has rubbed elbows with the big names in the acoustic blues, performed internationally and has gained the respect of his peers in the contemporary traditional and acoustic blues scene. He is a fixture in Buddy Guy's Legend Club in downtown Chicago. On every level he is a true blues preservationist and historian. So how come you don't know him?
Fruteland Jackson is a skilled multi-instrumentalist who sings in a powerful rich and warm tenor in the old country blues traditions, incorporating ragtime, Piedmont, Delta, and folk. He plays mandolin, lap steel and the bowed psaltery and sings in an easy-going, natural and unpretentious style that is personal, accessible, and compelling – sometimes with a light falsetto reminiscent of Johnny Shines.  He will give you everything from field hollers to call-and-response, from fine instrumentalism to traditional style ballads and old time blues. He is truly American folk-treasure, someone you got to know.
Recommended starters: Electro-Fi "I Claim Nothing But The Blues" (E-fi 3364) was released in 2000, followed by "Blues 2.0" (E-fi 3380) in 2003. Blues 2.0 was nominated for the prestigious W.C. Handy award as "Acoustic Blues Album of the Year." Blues Revue magazine in a spotlight review hailed it as "one of the finest blues albums of this young decade."