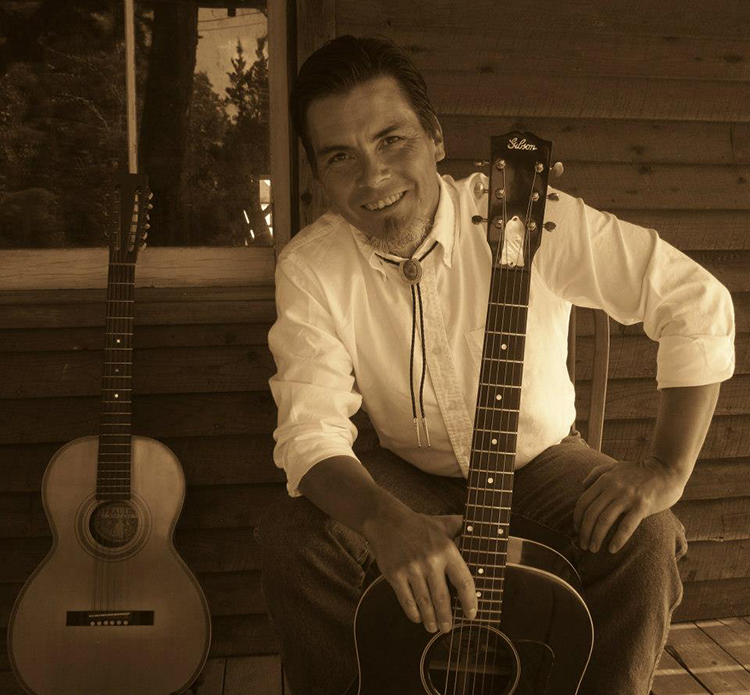 Way up north in cold Portland, Maine, in a listening room that appreciates fine acoustic guitar music, you will find a Piedmont picker of the first degree.
Piedmont is one of the sweetest blues styles, yet requires serious guitar chops. This syncopated fingerpicking style migrated worldwide, as people instantly have an affinity for the gentle and melodic blues style native to the mid-Atlantic region of the US. Thi style is mostly played in the Carolinas and Virginia over to Tennessee, but practiced along the entire mid-Atlantic region of the US. The rich folk tradition in the Piedmont country blues owes much to ragtime, traditional Appalachian Mountain music and the early country music of the 1930s, as well as African American songster, early blues and gospel.
This blues is music beloved, in part because it is simply good guitar music. Many people have heard it but can't identify it by name, but they know it when they hear it, and just know they like it. Piedmont blues is the blues everyone loves, even people who don't know what blues is all about, because it is lovely, accessible and warm, with high skill required to sound right, smooth and seemingly effortless. It's the one genre when the song can be about killing, murder and mayhem, but sound as if the song is about picking flowers in a summer meadow.
When Frank Fotusky plays, listeners are moved by the sweet sadness, the fine instrumentation and his melancholy singing. He is a fine picker that he can hold his own against the best guitar virtuosos in the land. Upon first listen, he will remind you of Paul Geremia and Jorma Kaukonen, two very comparable musicians with a similar style, drawn from the original 1920s and 30s blues of Blind Blake, Blind Boy Fuller, Blind Wille McTell and later Rev. Gary Davis.
Singer/songwriter/guitarist Frank Fotusky, is originally from Southern New Jersey and has been a professional player since age 18, essentially a lifetime. He started out on the banjo when he was 12 and a fan of the Hee Haw TV show, like so many American kids in the 1970s. He loved banjoist Uncle Dave Macon the most, which surely had an impact on his chosen profession. Then, he got  an Epiphone guitar from his brother, and influenced by his musical grandmother, a Vaudeville pianist, he found his way to the blues, like so many white kids at the time. "The blues just got to me, and never let go," says the masterful instrumentalist, without much need to reveal more. "I was a kid and it hit me and that was that."
He looked for inspiration to the old time Piedmont greats, as well as the guys who were "the players" at the time, Paul Geremia, Taj Mahal, Roy Book Binder and Duck Baker. Many years after becoming a pro, he also came to know the late John Jackson at the Philadelphia Folk Festival, a wonderful, kind man and an inspiration to all who met him, who was impressed with Frank Fotutsky's skills, and encouraged and inspired him immensely.
If the acoustic blues survives for another generation, it will be because of the guitarists who carry on the repertoire. While the current audience of acoustic blues, the baby-boomer generation is aging, and no measurable new audiences flocking to this music, the exception is the young guitar pickers who hear guys like Frank Fotutsky play his perfectly executed, sophisticated fingerpicking. This is the last vestige of young blood influx into the genre.
Fotusky's mix of "Acoustic Blues, Rags and Originals" is an exciting and huge, albeit under-appreciated, contribution to the country blues today. Simply a superlative virtuoso, his 1999 album 'Teasin' the Frets' established him as one of the heavy hitters of the living acoustic blues scene, a man who deserves some big time attention.
Nowadays you can often hear him in duo combinations with hot lick harmonica players like Grant Dermody, Dennis Gruenling and Will Scarlet. He tours quite a bit with his Gibson J 35 and Fraulini Angelina 12-string, and if you are lucky you can catch him at the summer festivals, up and down the Northeast USA. Make sure you check him out in Portand , Maine when you are up there. His shows are about a quarter originals and the rest traditionals, drawn from his vast repertoire of many hundreds of songs.
"My guitar style is strongly influenced by the piano. I am listening to everything from Jelly Roll Morton to Chopin. I am no piano player, but it all had a big impact on my guitar style. I think I got it all from my grandma, the pianists, who had a big influence on me."
Frank Fotusky, who for some time taught college level sound recording arts, carries on an important musical tradition, playing just beautifully. An impressive guitarist and singer, and someone who gets it just right. No easy path, but he's making a good living with the motto "Endeavor to persevere." When asked to elaborate, he admitted, "I could have given it up 30 years ago – but I still love it.
It shows in every note.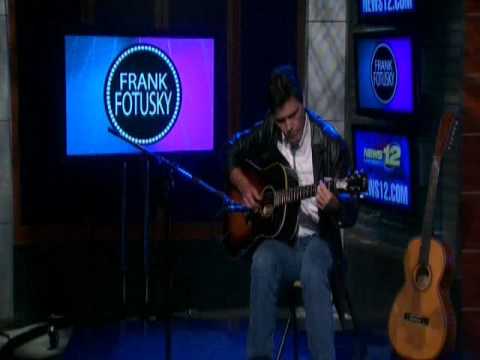 Photo by Lynn Fotusky. Thanks.