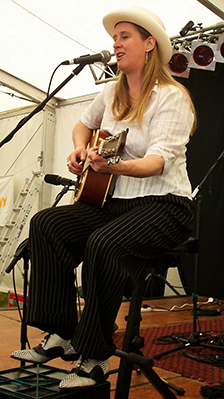 Article and photo by Australia Correspondent Julie Fox 2015
Fiona Boyes has justifiably been described as 'Bonnie Raitt's evil twin', while Hubert Sumlin nailed it in one with his comment: "She's got it…you know what I'm talkin' about, she's got it! I've played with all the great players and she's got it!" Anyone who has experienced the unique performance style of Australia's own Fiona Boyes definitely knows what Hubert Sumlin is talking about, as did the legendary Pinetop Perkins, who stated: "I ain't never heard a woman finger pick a guitar like that since Memphis Minnie."
Fiona Boyes doesn't just pick a guitar like Memphis Minnie, she stamps her own individual style onto every note; vocally and musically. With gritty powerhouse vocals, combined with masterful guitar playing, Fiona has earned comparisons to Bonnie Raitt, Susan Tedeschi and Rory Block – blues women who have all been influenced by a much earlier generation, while retaining their own unmistakable individuality.
This individuality is what catapulted Fiona Boyes to international recognition when she took out the Solo/Duo division of the International Blues Challenge, Memphis in 2003, representing the Melbourne Blues Society. This achievement was even more outstanding as Fiona was also the first woman, and the first Australian, to earn the title. So impressed with her style and performance was the mayor of Clarksdale, Mississippi, birthplace of the Blues, that he presented Fiona with the Key to the City, recognizing her as an Aussie ambassador of the Blues. Can't ask for two more impressive stamps of approval right there!
Fiona Boyes has been recording and performing for more than 25 years, constantly travelling from Australia to New Zealand, North America and Europe, carving out a reputation as a guitarist, vocalist and songwriter, introducing new generations to her captivating take on pre-war Delta slide, Mississippi Hill grooves, intricate Piedmont finger picking, New Orleans barrelhouse, Memphis soul, classic Chicago sounds, Texas swing and the uptown sounds of the West Coast. Whether Fiona is performing in front of thousands at a festival or a smaller crowd at a local country pub the reaction is always the same; jaw dropping awe that this Aussie gal, with the long blonde hair and infectious smile, can produce such a huge, captivating sound. Combine this with a history lesson about some of her favourite performers who have influenced her love of this genre, such as Ma Rainey, Bessie Smith, Memphis Minnie, Leadbelly, Robert Johnson, to name just a few, and you have the whole box and dice.
This leads me nicely into the name of her latest recording; Box & Dice! This powerful little eleven track package introduces us to the newest 'babies' in her extensive collection – a selection of cigar box guitars made by guitar maker, Shayne Soall, from Oz Blues & Roots Music Store. Found in the most unlikely of places, a small pub in the township of Yackandandah, rural Victoria, Australia.
Fiona describes this moment perfectly: "In an uncharacteristic move, I took it off the wall and played it at my gig that night. While it proved to be a bit of a mongrel, there was something strangely compelling about this little junk yard dog of a guitar. I bought it and dubbed it the 'Box & Dice' – the beginning of an inspired run of new instrument acquisitions."
One week before the recording session for this latest album, Fiona made a return visit to the little goldmining town of Yackandandah and was presented with another new 'baby'; a 4 stringer with a faceplate featuring the iconic Aussie FB Holden car. Fiona says: "I went into a creative frenzy and two new songs were written in time to make this recording session!"
Box & Dice (2015) is Fiona Boyes' 9th solo album. These, and earlier recordings with her first band, The Mojos, can be found on her website: www.fionaboyes.com