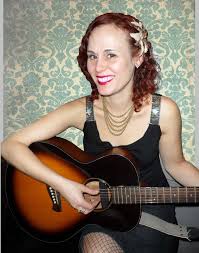 There is nothing more refreshing than seeing superb new talent emerging in the acoustic blues, especially a talented young woman. Many blues fans conduct searches for "Red haired acoustic female blues singer guitarist" as is evidenced by the statistics received by thecountryblues.com for web searches leading to this website. Until recently, that road would lead straight to Bonnie Raitt. Not so fast! There is another hot-shot redheaded woman in the roots blues who is getting some well-deserved attention and accolades, a fiery young woman who is keeping the acoustic blues exciting and vibrant…meet Erin Harpe. There are very few young women who have the drive, the history and the chops to keep up with the old guard, another is Emily Druze over in the UK, but Erin has it all to be the next star in the acoustic blues: the musical skills as an exceptional guitar fingerpicker on her little Epiphone, the musical heritage and knowledge, a wonderful voice, great stage presence and star-quality good looks to boot.
One of the most promising ascending blues women, Erin Harpe is from Annapolis, Maryland, who now makes her home in Boston. She is one of the rising stars of the blues, and acoustic guitarist and singer who performs both solo and with backed by her full band, the Delta Swingers, a rollicking, rocking roots band. As Erin said, "It's more the Charles River Delta Blues than the Mississippi Delta Blues." Ironically, while the band plays a diverse set, Erin Harpe's musical heritage is essentially Piedmont fingerpicking blues, a musical form that has surrounded her for her entire life. Simultaneous to her band engagements, she performs often as a solo acoustic performer, presently mostly on the East coast and around Boston.
Erin Harpe was exposed to the blues from childhood on, and she mingled in the epicenter of the Washington, D.C. roots blues scene in and around Archie's barbershop.
She the daughter of the famed musician and old-time guitar expert, Neil Harpe in Annapolis. Neil is well known in the blues community for his vintage guitar instrument business www.stellaguitars.com and he was himself an integral part of the Maryland and D.C. blues scene, as a friend of the Archie Edwards barbershop cadre and the D.C. Blues Society. He was friends with all the players of that core, including Archie Edwards, John Cephas, Phil Wiggins, John Jackson and Eleanor Ellis. Young Erin grew up in the  music world her father exposed her to, the blues all around her, and she particularly looked up to Eleanor Ellis, who is today one of the foremost women practitioners of the acoustic Piedmont blues. Eleanor used to play with Flora Molton, and over the years has emerged as a leading fingerpicker in the Piedmont style. With a musical milieu like that, learning literally at the feet of the best acoustic musicians on the East coast, Erin had some big shoes to fill, and it looks like she feeling quite comfortable and making big strides.
She didn't pick up the guitar until her teen years, but once she did it came fast and natural. Seemingly everything she had internalized musically manifested itself and she soon emulated Memphis Minnie, as so many other women blues singer before her have done. Her mentor, however, was Eleanor Ellis, both as role model and as occasional teacher, while Neil Harpe was undoubtedly her greatest musical influence. She has quite an assortment of guitars, undoubtedly influenced by her father Neil Harpe, a guitar collector and expert. Erin owns Tacoma PM28E with an added sunburst – her gigging acoustic guitar; a 1932 Gibson L00; a 1948 Martin 00-17; a 1939 National Steel and a Stella and a 12-string!
Her current repertoire includes a wide range of deep blues including Memphis Minnie; Randy Newman/Bonnie Raitt; Mississippi John Hurt; Hammy Nixon; Bessie SmithLonnie Johnson; Slim Harpo; Fred McDowell; Texas Henry Thomas/Taj Mahal; Tommy Johnson and many more – a set list that will lighten the fire of any country blues fan.
Harmonica ace Phil Wiggins played in a duo with Erin, who he had knows since she was a young child. "She was fabulous. An incredible payer who had really found her own stride. It was one of the best performances. I loved playing with her. She was so amazingly good. The little girl I knew turned into a world-class blues singer."
Things are taking off for the young blues singer. The Delta Swingers are again going to Memphis for the Blues Society's International Blues Challenge. It wouldn't be a surprise if this band fronted by the up and coming Erin Harpe would shock and awe the blues world.
Look for her Delta Swingers debut album Love Whip Blues on the Vizztone label (owned by Bob Margolin and Richard Rosenblatt of Tone-Cool fame). Or, check out her acoustic records Blues Roots (2002) and Delta Blues Duets (2008).
This wonderful singer's big time is yet to come and as she emerges to meet her full potential, she is sure to be an important next-generation blues singer. keep your eyes and ears on Erin Harpe, for sure.