The man hardly needs an introduction.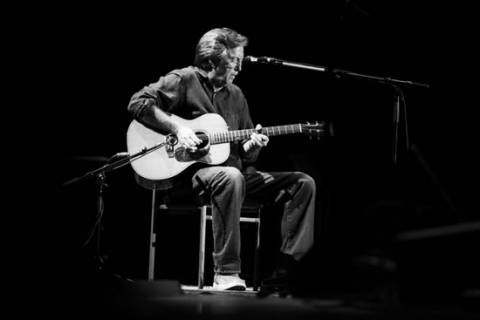 Not much can be said without repetition, other than perhaps to advise worshiping devotees that he is actually not a demigod, but, ultimately, just a mere fallible human being, a mere mortal guitar player–although a very good one. Superstar, guitar hero, rock icon, all this and all that! Love him or hate him, Eric Clapton was and is the single most conspicuous proponent of the old time blues who has turned more people on to the music of Robert Johnson and the traditional blues than anyone in the world. When Clapton recorded "Steady Rollin' Man" and "Crossroads", and publicly espoused his devotion to the music of Robert Johnson in the 1970s, hordes of converts went out to buy the music of the old master. When Clapton spoke they all listened. Many started their exploration of the blues, to follow the path of the early blues musicians who originally performed the music now being covered by the big rockstars.
While Clapton plays the gamut of pop, rock and reggae music, and would conventionally not be classified as a traditional blues musician, he has maintained his love for the genre and for Robert Johnson in particular. Clapton, a passionate blues performer, has been the front PR man for the country blues for forty years. Whether it is special projects like the "Me and Mr. Johnson" from 2004, an album of Robert Johnson covers, or his on-going live performances of the traditional blues, Clapton continues to be one of the champions of the genre.
Not coincidentally, some of the most important music in the genre has been recorded by Clapton. Noteworthy among them is his version of "Nobody Knows You When You Are Down And Out" in the "Unplugged" CD and his numerous covers of Robert Johnson, like "Terraplane Blues" on the RJ Sessions. His acoustic covers of the traditional blues have reached millions more listeners than virtually any other blues recording. Indeed, a case can be made that the acoustic blues would not be as popular as it is today, were it not for this major superstar's emphatic advancement of the genre.
Besides, one listen to his duo version of "Mean Old World" by Little Walter, as recorded during the Layla Sessions with Duane Allman, should silence any critics. Eric Clapton is as important to the acoustic blues as any bluesman that ever lived.