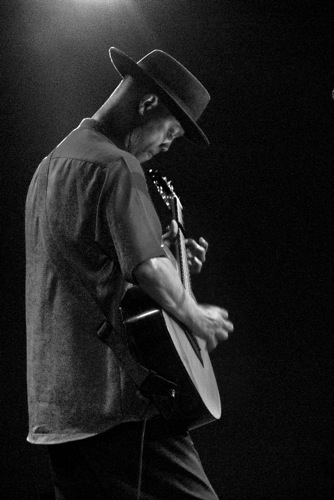 This critically acclaimed bluesman is a favorite in Europe, where he established himself as an American expatriate. Eric Bibb made good use of his blues chops in Sweden's burgeoning blues scene. Like many African-American jazz and bluesmen before him, he wisely taped into the devoted, black-music loving European audience.
The European know the real deal when they see it, and Eric Bibb, son of the 60s Greenwich Village folkie, Leon Bibb, started his career on rapid ascent. Since his debut release in 1997, he has emerged as one of the leading bluesmen of his generation. He has all the ingredients for stardom- handsome good looks, a voice as strong and soulful as they come, the guitar chops to hold is own against the best and he writes compelling, sensitive songs. His blues are clean, beautifully sung, soulful and upbeat, in the same stylistic direction as Keb' Mo', with whom direct comparisons are not out of order.
This type of blues is appealing and accessible to a wide audience, with a light, folk-pop-oriented and joyous-gospel tinged edge. Let's just say, Eric Bibb is to the blues what Nora Jones is to rock. Eric Bibb is a fiery singer with true soul and gospel roots, and his blues is honest and powerful, with the resulting ecstatic fan reaction.
No wonder he is so popular, and that's all good. Bibb has been at the craft since he was a teenager and by now, he is a smooth blues sensation. Don't go looking for Eric Bibb if you want house rocking, scorching delta blues or funky, deep barrelhouse blues, as he delivers a milder, smoother version of the genre – enjoyable, accessible and appealing to a wide audience.
Recommended starter:
A Retrospective – Livin' Lovin' & Doin'